If you're covering a load from Buffalo, NY, there's a good chance it actually originated in Canada. The city is on the border, less than 100 miles from Toronto, our northern neighbor's largest metro area.
Buffalo's nickname, "The City of Good Neighbors," describes its importance in the U.S. relationship with our biggest export market. No surprise – the Buffalo metro area is home to countless warehouses and distribution centers to support cross-border trade, and they've been busy this month.
Weather is another big factor in Buffalo at this time of year − it's one of the snowiest cities in the U.S. Luckily, there's no snow in the forecast this week.
DAT load boards provide the largest and most trusted digital freight marketplace in the trucking industry, with more than 279 million loads and trucks posted annually, plus insights into current spot market and contract rates based on $57 billion in real transactions.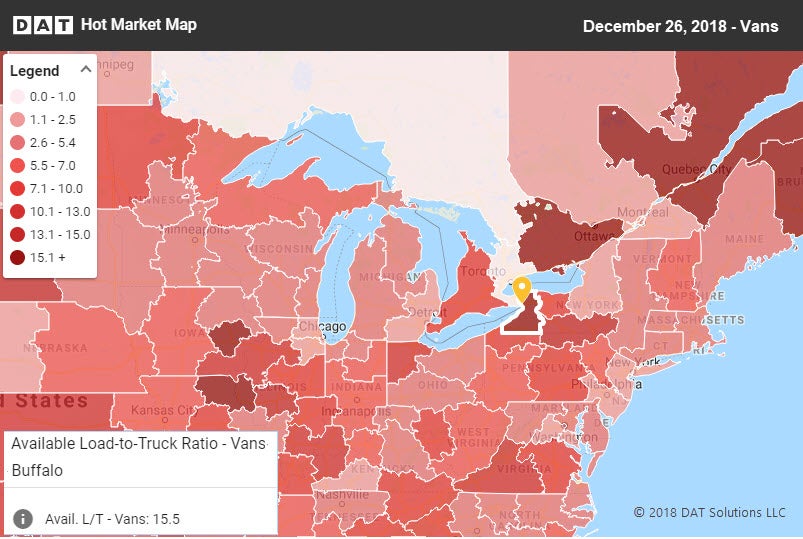 The load-to-truck ratio shot up to 15.5 on the day after Christmas, for van freight leaving Buffalo, NY. That's a big change from the average of 4.7 van loads per truck for the month of December to-date.
Last week, rates rose on a couple of lanes in and out of the Buffalo market, rebounding from the previous week. Since Christmas, however, rates are starting to lose traction on eastbound lanes, while some of the westbound lane rates are still trending up.
Eastbound:
Chicago to Buffalo gained 10¢ to $3.10/mile, while the return trip lost 2 cents. Since Christmas, rates are starting to drift down in both directions.
Buffalo to Allentown added 27¢ last week, to $3.49/mile – but those rates have retreated a bit since Christmas.
Westbound:
The rate from Philadelphia to Buffalo shot up 31¢ to $2.80/mile, and that rate continues to rise as we get closer to the end of the quarter and the year.
Find loads, trucks and lane-by-lane rate information in DAT load boards, including rates from DAT RateView.