Everything You Need to Know About Gooseneck Cargo Trailers
Everything You Need to Know About Gooseneck Cargo Trailers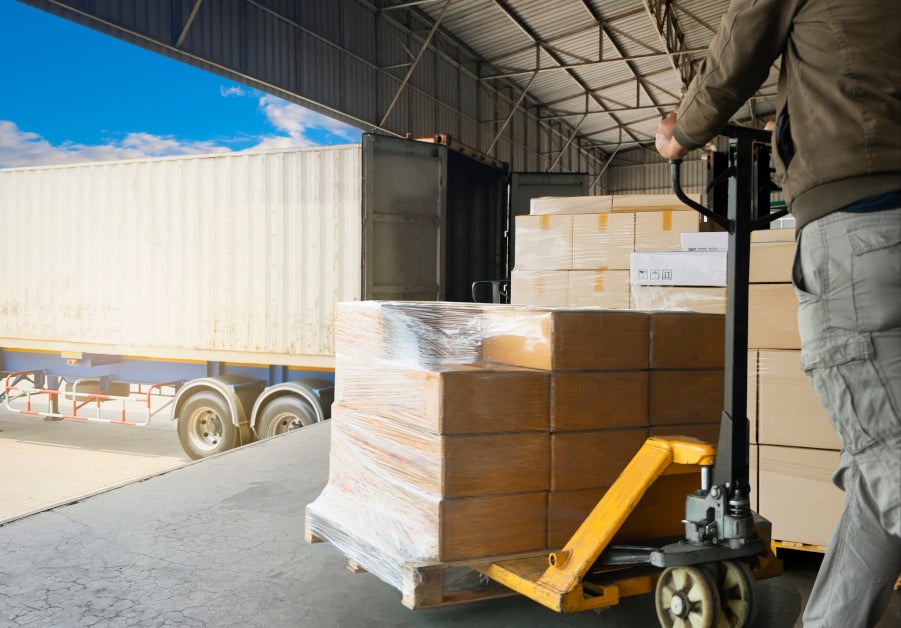 As a carrier, you likely need a trailer to deliver your freight, but with so many options to choose from — everything from semi-tractor trailers to flatbed trailers to refrigerated trailers (reefers) and more — it can be hard to know where to begin. If you haven't thought about it yet, one popular type of trailer that's worth considering is a cargo gooseneck trailer.
But what exactly is a gooseneck? In this guide, we'll go over everything you need to know about gooseneck cargo trailers, from the types of loads you can carry with a gooseneck to how to properly hitch a gooseneck. You'll learn:
What a gooseneck trailer is

What types of freight you can carry with a gooseneck

The differences between goosenecks and other enclosed trailers

The advantages of using a gooseneck trailer

How to hook up a gooseneck cargo trailer
What is a gooseneck cargo trailer?
Named for how the trailer's hitch resembles a goose's long, arching neck, gooseneck cargo trailers are popular among many carriers who drive pickup trucks. Gooseneck trailers are longer, wider, and heavier than bumper-pull trailers. As a result, they are more stable and capable of carrying more weight. In fact, gooseneck cargo can weigh more than 25,900 pounds without negatively impacting the trailer's stability.
Both large and small gooseneck cargo trailers require a unique hitching system, which must be installed directly over your truck's bed, as this placement allows for a more even distribution of stress across your truck's frame and fewer points of failure. Expect to pay anywhere from several hundred to a few thousand dollars to purchase and install a gooseneck hitch. The exact price will depend on your location and chosen gooseneck hitch brand.
Driving a gooseneck cargo trailer
It's important to remember that, as with any large trailer, you'll need to be extra careful when driving a gooseneck cargo trailer. In addition to obeying the speed limit (you'll need to pay extra attention here given that some states require vehicles with trailers to drive more slowly), keeping good sight lines, and leaving plenty of space when changing lanes or passing other cars, you'll want to take every turn cautiously. If you take a turn too fast or don't leave enough space between your vehicle and the curb, you might lose control or find your trailer on the curb.
With a gooseneck cargo trailer you will also want to accelerate and decelerate gradually to ensure your cargo remains secure and to help extend the lifespan of your gooseneck trailer's brakes and tires. If you're driving on a downward slope, try to downshift to reduce your speed instead of solely relying on your gooseneck trailer or tow vehicle's braking systems. You should also give yourself extra room to stop, as heavy, fully loaded trailers will take longer to come to a complete halt.
What freight can you carry with a gooseneck cargo trailer?
Since gooseneck cargo trailers are long, wide, and capable of carrying heavy loads, they are often used in heavy haul trucking — also known as oversize, overweight, or superload trucking. You can use a gooseneck trailer to haul everything from farming equipment, to industrial machinery, to lumber, to tiny homes. Gooseneck trailers can even deliver livestock, tow vehicles, or transport racecars from one track to the next.
You can also use gooseneck trailers to deliver hot shot loads. These time-sensitive loads are relatively small, meaning they can be delivered with smaller trucks and removable gooseneck trailers. The oil, construction, and gas industries often hire hot shot truckers when they need to quickly move equipment and other machinery from one site to another.
No matter what kind of freight you deliver with your gooseneck trailer, success depends on finding loads quickly. After all, the more time you spend searching for the perfect load, the less time you'll spend earning money on the road. The best way to find gooseneck cargo trailer freight — or any freight for that matter — is to use the DAT loadboard.
With over 448.5 million new loads and trucks posted annually, DAT offers one of the most extensive freight networks in the industry. DAT's load board is updated in real time and offers insights into current truckload rates, market conditions, shippers and broker details, and much more. Plus, the DAT load board is super user-friendly, making it easy to filter loads by weight, trailer type, origin, or destination to find the best loads before your competition. If you don't see a match, you can set a customized alarm, so you're notified as soon as someone posts a load that matches your search criteria. You can even search for freight on the go with DAT's mobile app.
Cargo gooseneck trailer vs. other enclosed trailers
Gooseneck trailers stand apart from traditional enclosed trailers due to the shape of their hitch attachment and the fact that the trailer attaches to the vehicle over the rear axle rather than via receiver or bumper hitch at the rear of the truck. Additionally, gooseneck trailers can be longer, wider, heavier, and more stable than many other enclosed trailers. They also usually have a tighter turn radius because the trailer is closer to the truck.
While bumper pull hitches are the most common type of hitch, most pickup trucks aren't automatically equipped with a gooseneck trailer ball. So, you'll need a mechanic to correctly install the ball in your truck's bed before you can attach a trailer.
However, the differences between bumper pull and gooseneck trailers don't end there. Bumper pulls are smaller than goosenecks, which means lower fuel costs. Plus, you won't need to drill a hole in the bed of your truck to install the hitch. In fact, you won't necessarily need a pickup truck to tow a bumper pull trailer, as a motorhome or SUV can sometimes do the trick. Of course, the bumper pull's smaller size also means less space for your cargo and an increased risk of swaying or loss of control when delivering heavier loads.
While goosenecks can carry more weight and are more stable than bumper pull trailers, they aren't as stable as fifth-wheel trailers. However, they are less expensive and intrusive, leaving more room in your truck's bed for additional cargo than a fifth-wheel trailer might.
The advantages of the gooseneck trailer
While most pickup trucks aren't equipped with a gooseneck trailer ball and storing gooseneck trailers can be a little tricky due to their large size, these trailers also offer plenty of benefits that can make them a great fit for carriers. Not only are they durable, but they also simplify towing and can increase your cargo capacity.
When you use a gooseneck trailer, you'll enjoy:
Increased stability and a smoother ride
Gooseneck trailers are known for their stability. After all, while other trailers place their tongue weight at the bumper at the back of the truck's frame or pivot on a small hitch, the tongue weight of a gooseneck trailer centers over the pickup truck's rear axle. This reduces trailer swaying and increases driver control, especially when driving in windy conditions or on windy backroads. It also makes it easier to regain control when you need to swerve, as any lateral pressure will be transferred to the ground through your truck's tires.
The ability to safely haul heavier cargo
The additional size and stability combined with the weight distribution concentrated on the rear axle rather than the bumper also enable gooseneck cargo trailers to carry heavier loads, such as cars, without sacrificing safety. Additionally, when you use a gooseneck trailer, you'll have more space for your hauls, whether you're delivering cargo or livestock, which means fewer trips and lower gas costs.
Improved security
Gooseneck trailers require gooseneck hitches, which means they are rarely stolen. After all, installing basic ball hitches to the back of a car, truck, or SUV is simple, which makes stealing bumper-pull trailers relatively easy for thieves, regardless of their vehicle. On the other hand, gooseneck trailers require a truck bed and a gooseneck hitch, giving thieves more hoops to jump through before they can make off with your trailer.
Plus, the process of unhitching and hitching a gooseneck trailer isn't as straightforward as a basic ball hitch, making it all too easy for a thief to waste time trying to properly connect the trailer to their vehicle or draw attention to themselves mid-heist. Additionally, if a thief doesn't hitch the gooseneck trailer correctly, they can damage their truck, which can mean getting caught by the police or paying a hefty repair bill. All of that means that the cargo in your gooseneck trailer is more secure simply because it's in a gooseneck as opposed to another type of trailer.
The ability to take tighter turns
Since a gooseneck trailer will sit closer to your pickup truck than a bumper pull trailer and your truck can pivot beneath the hitch, you can take tighter turns without your trailer hitting any curbs, walls, or gas pumps nearby. This also means you'll be able to maneuver your trailer in tighter spaces. For example, after a bit of practice, you'll be able to turn around in a cul-de-sac, back your trailer up, or make a u-turn much more easily than with another cargo trailer.
Plenty of versatility
Just as there are many trailer types, there are many different types of gooseneck trailers, from small gooseneck cargo trailers to rigs longer than 40 feet. Plus, these trailers give you more options when it comes to freight since you can haul wide or unusually shaped loads thanks to the generally larger width of gooseneck trailers. So, whether you're planning to transport livestock or heavy construction equipment, you'll be able to find a trailer that suits your needs.
How to hook up a gooseneck cargo trailer?
It can be intimidating to hook up a gooseneck cargo trailer if you've never done it before, but don't worry! We'll walk you through what you need to do.
First, you'll want to raise the trailer coupler — or the connection point on your trailer — above your truck's ball. Though there are many different trailer coupler types, they all attach to hitch balls with a latching mechanism. Once locked in place, the coupler can pivot around the ball during turns. However, remember that your coupler needs to be the same size as your hitch ball and have an equal or greater weight capacity to ensure the connection is safe.
Next, slowly back up your pickup truck, carefully align the trailer coupler above the ball, and ensure that your coupler is unlatched. From there you can lower your gooseneck trailer onto your hitch ball, secure the jack handle, and raise the jack feed by releasing the pins.
The next step is to connect your breakaway cable and safety chains. If your trailer becomes disconnected from your truck, the breakaway cable will apply the brakes before breaking away, while the safety chains will keep the trailer from falling off the back of the truck bed or ramming into the truck's cabin should the coupler disconnect from the ball.
Then, you can close your coupler, latch the safety pin, connect your 7-way plug, and check your trailer and truck to minimize your chances of having a component fail mid-route. Make sure to check your:
Lights: It's illegal and unsafe to drive without working lights, so make sure that all your lights are working before hitting the road. Check your brake lights, turn signals, and running lights, and don't forget to look for any wear in your connectors.
Cargo: Make sure to secure your cargo before towing, especially if you're hauling a large or heavy load. After all, if you need to brake or swerve at the last minute and your cargo isn't tied down, it could shift, making you lose control of your trailer. Also, pay attention to your cargo's weight distribution.
Tires: Having overinflated or underinflated tires causes uneven tread wear and increased engine wear. Improperly inflated tires can also reduce your gas mileage or result in a blowout, so you'll want to regularly check your tire pressure. Since lugs can become loose under strain from towing, tighten your tires' lugs if necessary, and don't forget to grease your bearings every now and then.
Connection: The last thing you want is your cargo trailer gooseneck and vehicle to disconnect while driving. Not only could this damage your equipment, costing you thousands in repair costs, but it could also injure others on the road if your safety chains fail. So, always ensure that you have the proper ball size and that the connection between your vehicle and trailer is secure.
Find gooseneck cargo loads with DAT
After you've hooked up your gooseneck cargo trailer, it's time to start finding loads! However, that can be easier said than done. Some people resort to calling local shippers or scouring for gooseneck loads across multiple load boards, but using the DAT load board is a much better option.
With DAT, you can quickly filter for gooseneck cargo loads to maximize your time on the road. You'll be able to quickly find loads along your preferred route and set alerts for loads that match your requirements, allowing you to stay ahead of the competition. You can even use the DAT Directory to find partners you trust or post your gooseneck trailer and let shippers and brokers come to you! DAT also provides current rate data, so you can enter rate negotiations more confidently and grow your business. Plus, you can use DAT's TriHaul tool to minimize deadhead and increase productivity.
With many different subscription options to choose from, you'll be able to access the tools you need, no matter how big or small your carrier business is. Get started with DAT today!
Find the perfect gooseneck cargo load every time!
As a carrier, one of your top priorities is finding freight. However, finding gooseneck cargo loads in the right place, at the right time, and at the right price is easier said than done.
Fortunately, the DAT load board makes finding gooseneck cargo loads a breeze. Start booking freight today!