Solutions for Freight Brokers
Get the flexibility and agility you need to navigate dynamic freight markets, with analytical insights and the tools to take action.
Solve any problem thrown your way
  Find trucks fast
  Truckload rate insights
  Bid in RFPs
  Streamline operations
Need to find trucks and cover loads faster?
Get access to the largest carrier network in North America, plus the tools to book, qualify and onboard in minutes.
Load Board and beyond
Move more freight with access to over 1.7 million trucks on the DAT One Load Board network, plus tools to maximize your private network of carriers.


Automated booking / negotiation tools

Qualify carriers in minutes
The Power of Prediction: A Data Analytics Solution for Forecasting Freight
Freight is fraught with uncertainties, but with more and more technology and data science entering the industry, artificial intelligence-assisted forecasting can now predict where prices are going with an ever-increasing level of clarity and accuracy.
Case Study: How Kingsgate Reimagined the Supply Chain Through Automation
Kingsgate partnered with DAT Freight & Analytics to fully automate the load-tendering process for their motor carrier network. Using the Book Now tools within the DAT One platform, Kingsgate uncovered new efficiencies, new opportunities and set new land speed records.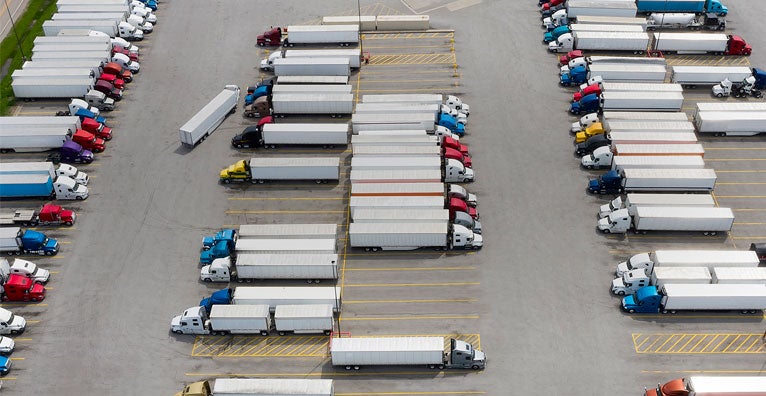 3 truck-finding hacks for freight brokers
You may not have a problem getting carriers to cover a load, but every freight broker occasionally hits the wall with those hard-to-book shipments. Maybe the shipper requires a less common trailer type, or maybe the load is going into or coming out of a less desirable location.
Looking for the most current freight rates?
Take advantage of the most comprehensive database of past, present and future truckload rates.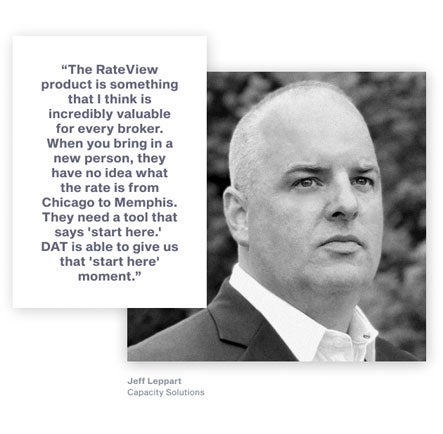 Market Insights
See the most up-to-date market rate on every lane for any trailer, so you can quote customers instantly.

Compare spot vs. contract rates


Are you bidding on RFPs?
Get the insights needed to win new business from shippers.
Get on the routing guide
We provide the most accurate freight rate predictive models so that you can bid on freight with confidence and win business that boosts your bottom line.


Forecast up to 1 year out

Need to streamline your operations?
Get the Transportation Management System built specifically for freight brokers and 3PLs.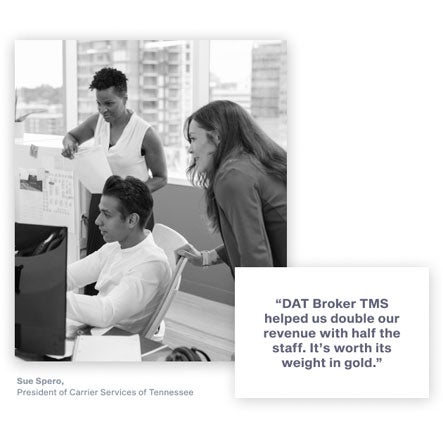 Broker TMS
Expand your operations without growing your back office. Operations and accounting integrated into one system that expands with your business.



Find the Plan That's Best for You
DAT One
Express
Formerly Express
Spot Lane Rates
See the average broker spot market rates for the lanes you're searching. *DAT One Express plan includes 30 day rate Powered by DAT iQ, DAT One Select & Office plans include Market Rate Powered by DAT iQ spot market + contract.
Truck Search
Access the full North American load board network.
DAT Directory with Reviews
Research new or current companies you are working with, including reviews from your peers.
Perfect for new brokers: Get access to North America's largest truck marketplace
DAT One
Select Broker
Formerly DAT Power
Multiple LIVE Truck Searches
Setup multiple truck searches and filter your results by the info you care about.
Market Conditions Map
Supply-and-demand metric that provides the clearest view of where the freight markets are and forecasts where they're headed with historical trends, normalized post and search behavior and accounted for outbound volume.
TMS & FTP Integration
Post your loads via FTP or connect with a pre-approved TMS.
DAT CarrierWatch
Access MC authority, safety ratings, insurance rates and more.
Tools for growing businesses: Onboard, vet, monitor, and expand your existing carrier network.<.span>
DAT One
Office Broker
Formerly DAT Power
LaneMakers
Find carriers who are searching for loads in your lanes.
Preferred & Blocked Companies
Block companies you don't want to work with and see results from the companies you prefer.
Add Users with Group Postings
Help manage your team's load and truck postings.
CarrierWatch with Insurance Certificates
Check MC authority, safety ratings, insurance status, and more. DAT CarrierWatch includes insurance certificates.
Enterprise brokerages can make informed decisions and grow profits with streamlined operations and intelligence.
What our customers are saying
---
"We really use DAT every day to post loads, find carriers, track loads and bids. Whenever I have a problem, it's really easy to get it answered."
-Bailey Dillenburg, T-Brothers
We have even more solutions for brokers, including carrier qualifying and onboarding, load tracking, broker bonds and more.
Need resources? We got you covered.
We have been in the industry since 1978 to bring you the most knowledge and insight to help you find your path.