Satish Maripuri

CEO & President
Satish is the CEO & President of DAT. He joined DAT's parent company Roper Technologies four years ago as a group executive for the software portfolio. He joined DAT in 2023, bringing 30 years of experience in enterprise software, driving strategy to profitable growth, technology innovation leveraging the cloud computing, artificial intelligence and data sciences, global operating models, mergers and acquisitions.

Satish holds a MS in Computer Engineering from Northeastern University and a BS in Mechanical Engineering from Andhra University, India.
Jeff Hopper

Vice President and Chief Marketing Officer
Jeff joined DAT in 2019 and brings a strong track record of delivering growth and powerful brands through customer-driven innovation. Before joining DAT, Jeff led marketing and strategy at Intel Sports and served as Managing Director at Ziba Design and Chief Marketing Officer for T-Mobile and Polaroid. He has been on the forward edge of digital transformation, leading market innovation in web services, media, mobile/wireless, imaging, and innovation in digital marketing.

Jeff received his Bachelor of Science in Computer Information Systems from Chapman College and is a United States Marine Corps Veteran. He was awarded Top 100 Marketing Executive by Advertising Age.
Tony Salazar

Vice President and Chief Financial Officer
Tony joined DAT Solutions after serving as the Senior Director of Finance and Business Operations at Intel Corporation. With nearly 20 years' tenure in the technology sector, Tony has deep experience in strategic planning, budgeting, forecasting, analytics, revenue optimization, and management. As part of the leadership team for two internal start-ups at Intel, Tony played a critical role in developing business plans and assembling high-performance staffing teams.

Tony has an M.B.A from the UCLA Anderson School of Management and a B.S. in Mechanical Engineering from Washington State University.
Mike Weaver

Vice President, Sales
Mike has over 25 years of direct sales experience, holding sales and management positions in B2C and B2B marketplaces, including telecommunications (USWest), financial management (Citigroup), and non-profit promotion (United Way).

Mike joined DAT 15 years ago and is a transportation industry expert, focusing on delivering value throughout the customer experience. He has held progressively responsible sales leadership positions, managing all aspects of the DAT sales process, from lead generation to outside sales. Most recently he served as Director of Enterprise Sales, focusing on DAT's largest partners.

Mike earned his Bachelor of Science in Marketing and Finance from the University of Oregon.
Lisa Henshaw

Vice President, Human Resources
Lisa is responsible for creating and maintaining a workplace culture that engages our employees and ensures each employee's talents are developed and utilized to their full potential. With over twenty years of experience in human resources and facilities management, Lisa has held HR positions in the cable and pharmaceutical industries prior to joining DAT in 1999.

Lisa earned her bachelor's degree in Applied Mathematics from the University of California, San Diego, and holds certificates in human resources management and compensation.
Joe Doyle

General Counsel
As General Counsel, Joe provides a broad range of legal services, with a focus on DAT's technology transactions, contract drafting and negotiation, regulatory compliance, and product development. He works closely with Sales and Marketing, Customer Support, and Tech/SaaS Operations to identify and implement practical business solutions and risk management. He joined DAT in 2022 after serving as Senior Corporate Counsel at Roper Technologies (NYSE: ROP), where he oversaw an international real estate portfolio, performed diligence on targets during mergers and acquisitions, and provided support to many of the company's business units on a wide array of commercial and litigation matters.

Joe earned his juris doctorate from the University of Denver Sturm College of Law and bachelor's degree from Rhodes College.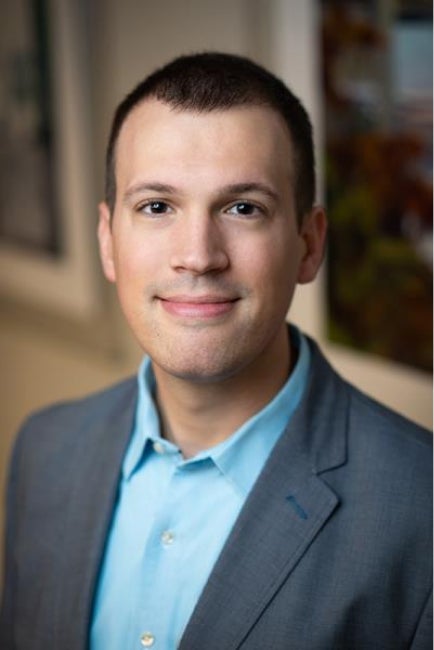 Ken Adamo

Chief of Analytics
Ken Adamo serves as Chief of Analytics at DAT Freight & Analytics, where he is responsible for driving new product development, customer engagement, and industry analysis. Prior to joining DAT, Adamo led pricing and decision science teams at FedEx Logistics. During his tenure in the industry he built innovative pricing and forecasting models, leveraging internal and external data sources to improve internal decision-making and increase profitability. Ken has been quoted in the Wall Street Journal and extensively in trade publications as a leading voice on freight market trends. He leads a team of market experts who study every facet of the logistics industry to bring the best available insight to customers.
Prior to his career in logistics, Adamo worked in pricing and analytics at a deregulated energy provider. He earned a bachelor's degree in Finance from the University of Akron and lives in Northeast Ohio with his wife and three children.
Sarita Benjamin

Senior Director of Product Management
Senior Director of Product Management at DAT, Sarita is responsible for defining and building the industry's leading freight management products for freight carriers, brokers, and shippers. Sarita has held various leadership positions over the past 15 years, working in strategy and technology development, quality, and product delivery. Prior to DAT, she served as a product leader in fortune 500 companies that include Intel, directly impacting operational cost savings and EBITDA margins.
Sarita has a Masters degree in Electrical and Computer Engineering from Fairleigh Dickinson University, and holds a Masters certificate in Product Management from George Washington University, School of Business.
Shelley Bower

Vice President of Engineering
Shelley Bower is the Vice President of Technology and Engineering of DAT, leading the engineering teams responsible for data centers, computing, networking, storage, data, search, monitoring, developer productivity, tooling, and corporate IT infrastructure.
Before joining DAT, Shelley spent over 20 years in the technology industry. Her background includes leading engineering, architecture, and technical program management at AWS, building technology for retrieving satellite imagery for Ground stations as a service; creating high-definition maps for the leading German car vendors' autonomous driving programs at Here Technologies; leading the program to break up the monolith and also their autonomous driving involvement at Uber for the company's Artificial Intelligence; and leading areas for developer productivity and initial development of Spinnaker at Netflix. Shelley co-founded a software consulting company that developed and sold technology solutions for small businesses.
Shelley has a BS in Computer Science from Colorado State University and a BS in Architectural Engineering from the University of Wyoming.
About DAT Freight & Analytics
DAT Freight & Analytics operates the largest truckload freight marketplace in North America. Shippers, transportation brokers, carriers, news organizations and industry analysts rely on DAT for market trends and data insights based on more than 400 million freight matches and a database of $150 billion in annual market transactions.
Founded in 1978, DAT is a business unit of Roper Technologies (Nasdaq: ROP), a constituent of the S&P 500 and Fortune 1000 indices.
The Original Load Board - Trusted Since 1978
The company was established in 1978 as the Dial-A-Truck (DAT) load finder service at Jubitz® truck stop in Portland, OR.