How to Start a Transportation Business with One Van
How to Start a Transportation Business with One Van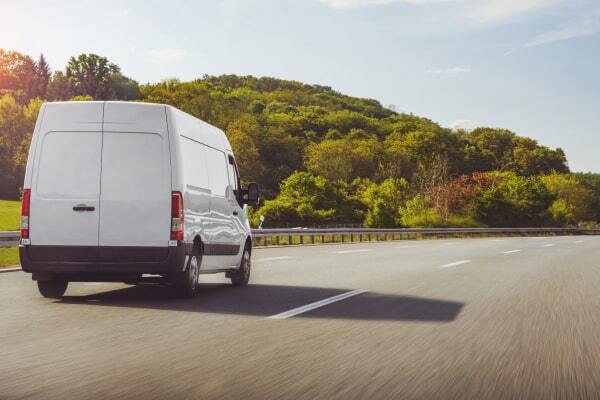 Are you wondering how to start a transportation business with one van? You've come to the right place. This blueprint is designed to help you get your business off the ground and build staying power. But before we can get into the specific steps of starting your own transportation business with a single can, it's important to take a step back and understand the types of vehicles you have to choose from and the types of businesses you can start with a single van. Only once you've made those first critical decisions can you begin the process of actually starting your business.
Types of vans and their costs
When it finally comes time to pick out your vehicle, you want to enter the market as an informed buyer, with a firm understanding of what type of van will best suit your business needs. In other words, the kind of van you choose should align with the type of business you want to run.
With that in mind, if you're building your transportation business from scratch, as far as purchasing your first van goes, you have two main options: a passenger van or a cargo van. If transporting people will be central to your business, a passenger van is your best bet. But if your business model dictates you will be transporting goods, a cargo van will prove to be more suitable.
Passenger vans and cargo vans share many of the same characteristics across size, price, and driveability. The key distinctive feature of passenger vans is that, as opposed to cargo vans, passenger vans contain several rows of seats. Passenger vans are designed for people to travel comfortably, whereas the interiors of cargo vans are designed to move freight.
Passenger vans are perfectly suited for charter services, group taxis, or ride-share companies, which only continue to gain steam in popularity. For consumers, the appeal is obvious: by sharing a ride with a fellow traveler already going in your same direction, you can split the fare at a deeply discounted rate.
Cargo vans, meanwhile, are built to move freight quickly and securely. A cargo van is an easy-to-park, easy-to-drive vehicle that has significant cargo capacity to transport loads. Cargo vans are commonly deployed in urban areas and prove a reliable option for smaller moving jobs.
New cargo or passenger vans can be a steep investment for any newcomer to the transportation business. Recent estimates indicate new cargo vans cost between $25,000 to $30,000, while new passenger vans can range from $28,000 to $43,000. In both cases, at the possible expense of reliability, going with a used vehicle can save you thousands of dollars in startup costs. If you choose to go this route, make sure to do your research beforehand. Additionally, remember that you may have additional costs if you need to outfit your van for a specific type of business. These costs can add up and should be calculated as part of your initial business plan.
Businesses you can start with one van
Whether you choose a passenger van or a cargo van, there are plenty of van delivery business opportunities to choose from.
Passenger van businesses opportunities
App-based taxi systems– You don't need us to tell you how popular app-based taxi systems like Uber and Lyft have become. App-based taxis are convenient for consumers and drivers alike. Joining a platform like Uber is usually as easy as submitting basic paperwork and registering your car number with your regional office.


Employee car shuttle service – With employees coming back to office settings, many enterprises hire third-party car shuttle services to transfer employees from point-to-point locations. You can make a healthy profit if you manage to negotiate an exclusive deal with a company requiring employee shuttle services.



Medical emergency transportation

– Hospitals retain a clear and obvious need for ambulances and other emergency service vehicles. While the initial investment costs for a single van can be steep given the significant equipment requirements, partnering with a hospital or healthcare provider can ultimately have huge payoffs down the line.


Non-emergency medical transportation – Non-emergency medical transportation refers to the transfer of people who are not physically or mentally fit to drive a car. Universities, senior living communities, and even hospitals rely on these types of businesses for precautionary reasons and entering this field can lead to major profits.

Cargo van delivery businesses opportunities
E-commerce goods transportation

– E-commerce is enjoying a global boom. Leading e-commerce giants often outsource transportation services to ensure speedy deliveries. Entering into an exclusive contractor agreement with an e-commerce brand with a consistent need for your services can provide cash flow certainty.



Packers and movers

– The pandemic has driven new housing bubbles around the country. With homeowners and millennials increasingly staying in the same locations for shorter lengths of time, companies that pack and move home goods continue to profit off boosted demand for their services.



Truck transportation service

– Another viable option is to build your single-van business around offering truck transportation services without being tied to a single company. Businesses in this category often haul heavy goods across state lines. Greater regulatory risk, licensing requirements, and upkeep costs for these companies come with the upside of appealing long-term financial returns.


Trash removal and waste management – Finally, it may not be glamorous, but single vans that offer trash removal and waste management services often find success in large cities and living communities that can have major benefits for owner-operators.

How to start a transportation business with one van
Now that you've thought a bit about how to start a transportation business with one van and the lines of work you can enter, it's time to get into the steps.
1.Pick the right vehicle
You should know by now that van delivery business opportunities can vary based on what vehicle you're using, especially if your business only has a single van. That's why picking your vehicle should be the first step to starting a transportation business whether you're planning to maintain one van or potentially expand in the future.
When it comes to vans, there are two main categories: passenger vans or cargo vans. Which one you select should ultimately boil down to the nature of your business and, specifically, whether you want to be transporting people or goods.
Once you make that choice, there will still be plenty of options within each category to choose from. Let's say you settle on a passenger van because you plan to run a cab business. Will your taxi be used for individual transport? Or will you use a pool system, in which case you might require a spacious and specially extended van? Likewise, let's say you move forward with a cargo van because you want to cater to the e-commerce business. To provide intercity transportation services and fulfill an e-commerce business' freight needs, you might seek a van with larger capacity than you would if planning on local vendor deliveries.
Bottom-line? The kinds of goods your business will carry, your suppliers (customers), as well as load volume are important considerations that will influence the specific kind of cargo van or passenger vehicle you decide to purchase.
2. Create a business plan
Once you've picked your truck and the line of work you want to enter, it's time to create a business plan.
A business plan should serve as the roadmap or blueprint for your company. A well-thought out and well-executed business plan should be actionable and contain an executive summary, marketing plan, company description, and much more. The budget forecasts, operational plans, and growth projections featured in your plan help you stay focused on core business objectives. Your business plan is your opportunity to outline how you can stand out from competitors and gain market share. If you're looking to get outside funding for your business, a quality business plan is particularly important and could be the thing that determines whether or not an investor chooses to back your business.
If you're in doubt about where to start on your business plan, check out the Small Business Administration's free, useful tool.
3. Secure funding and finances 
For many owner-operators interested in how to start a transportation business with one van, financing is a big part of the equation. In some cases, it may turn out that you don't have a major financing need if you already own a vehicle that is fully equipped and ready-made for your business. Otherwise, whether you decide to purchase or lease a van, you most likely will need to weigh various financing options. That could mean looking for loans or for investors.
After you purchase or hire your new van, there are some best practices you can follow to drive down the cost of your investment and boost ROI. To effectively manage a tight budget, fulfill deliveries, and keep clients happy, consider working from home instead of investing in office space, driving your vehicle yourself, and keeping a small, active roster of clients before expanding too far and running the risk of over-stretching yourself.
Opening a business checking account in the name of your transportation company is another important step to complete on the finances front. A business checking account separates business and personal expenses to help keep things organized come tax season.
4. Obtain insurance, licensing & permits
Acquiring the necessary insurance, licensing, and permits  to create and operate your business are prerequisites you need to complete before your van is ready to hit the open road. But once again, the bases you'll need to cover here can vary according to your specific line of business. 
A majority of transportation businesses that operate with one van start by obtaining a general business license and some type of commercial vehicle insurance. If you plan to drive the van yourself rather than hiring a driver to begin with, you'll also need to have an active driver's license from a relevant authority. One major piece of good news is that unlike for semi-trucks and other trucking businesses, single-van transportation companies are not required to possess a commercial driver's license,
From there, things start to get a bit more complicated. You may need to maintain industry-specific permits and special types of insurance depending on the nature of your business. Laws can vary by state and by what you're transporting and where. Whether you're transporting freight across state lines or operating a passenger van within a certain state, make sure you review your specific state's laws and adhere to all of your industry's requirements to stay compliant at all times. For example, a passenger van business offering taxi services might be required to get an operator's licenses, contract carriages permit, or casual contact carriage permit. On the other hand, a cargo van business that offers moving services might need a good carriage permit or certain special licensing to legally operate within a state. 
Additionally, if you own and operate a cargo van, you bear responsibility and remain liable for any goods damaged while they're in your possession. It can therefore be wise to take out insurance on your vehicle as well as on the goods you're transporting to minimize the potential costs you might incur in the event of an accident. In some cases, you may even be required to get this insurance before picking up a load.
By getting in touch with your local competent authority, you can find out which permits your state's transport authority requires to conduct particular commercial activities. Keep in mind that most states typically require permits to be renewed once every four to five years in order for them to stay active.  
This might all sound a bit overwhelming. If it does, you aren't alone. Many entrepreneurs just starting out in the transportation business turn to outside counsel to help them navigate the various sets of ever-evolving rules and regulations. DAT Authority is one such organization that can help you ensure you take care of all the basics to get your business off the ground legally.
5. Do your research, market your business, and build your network  
Even if you take care of all the other steps, your business won't succeed unless you find customers. That means doing research to find a spot for your business in the existing market. 
A good first step is to conduct basic market research to spot trends and identify the ways your business can stand out from the pack. Perhaps there are some gaps in the local market that you could fill? Or perhaps there is high demand for a certain type of transportation service and supply simply can't meet it? Whatever the circumstance, it's important that you position your business to add to the existing landscape and fill a need. 
When it comes to actually winning new business, part of the job is making phone calls, handing out brochures, and simply getting your name out there. Another great option is joining a comprehensive freight network to start winning new business and lucrative van delivery business opportunities. Leading freight super-databases, like the industry-leading DAT load board, help you connect with trusted pros, leverage real-time pricing trends in your area, and better understand your competition across the industry. For an affordable, flat monthly subscription that comes without any hidden fees, van owners can parlay DAT's powerful market insights, tools, and network to pounce on lucrative opportunities as they arise. 
As you build your network further and hone your messaging strategy, you may move away from cold calls and begin engaging with customers primarily via your social media channels or through a low-maintenance website. Facebook, Instagram, and LinkedIn can be low-cost, high-value platforms that allow you to run targeted ads and help you win local business in a digital age. Setting up business accounts on Yelp and Google can also be great ways for customers to find you. Effective digital marketing strategies can prove especially valuable for small businesses, where research reveals a strong relationship between a business' revenue and the number of online reviews it generates. 
Ready to start your transportation business with one van?
There are a lot of moving parts to consider when starting your own transportation business with one van. Luckily, DAT is here to help.
With more than 40 years of experience under their belts  the experts at DAT have earned a reputation for taking fleets to the next level. DAT Authority is the go-to resource for those looking to successfully get their business off the ground. DAT's powerful load board pair with back office support to take the hassle out of becoming an independent owner-operator.
Start your business off on the right foot with DAT!
Starting a transportation business with one van means lots and lots of paperwork. It's all too easy to get overwhelmed or turned around when faced with all the licensing and permit requirements. Luckily, DAT Authority is here to help guide you through the process!
Sign up today to get started!
Authority: Basic
Includes all federal fees

MC / DOT number

BOC 3 process agents