What Is a Live Load in Trucking?
What Is a Live Load in Trucking?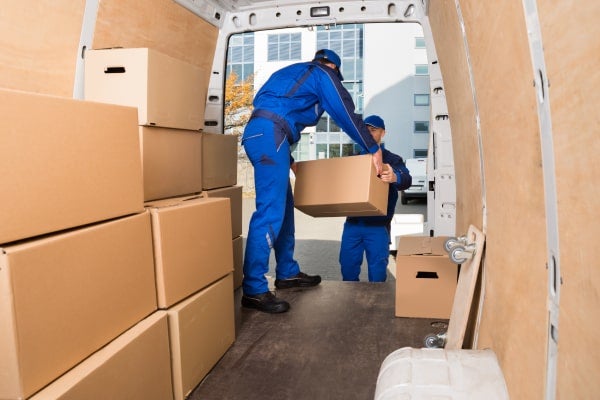 As a truck driver, carrier, or owner-operator, you already know you need to have your finger on the pulse of market rates and industry trends. But that's not all. You also need to understand a wide variety of industry terms in order to communicate effectively with shippers, brokers, and any other members of the trucking industry you work with. While the list of terms used in the trucking industry is endless, some are more important than others. One of the most important — and most often misunderstood — terms is "live load." So what is a live load in trucking? Read our deep dive to find out.
What is a live load in trucking?
If you're new to the trucking industry, you may wonder, 'What is a live load?' While it's easy to assume that the term live load refers to cargo that is alive, such as cows, pigs, or horses, the truth is that live load in trucking means backing up a trailer to the loading bay and waiting for the workers to load or unload their freight. So, instead of dropping a trailer off and picking up a new one, you'll keep a single trailer and wait as others unload and load the cargo.
While the live load definition is pretty simple, live load trucking can get complicated. In live load trucking, you'll be given a window of time to be at the loading and unloading facility. In most cases, live loads take around two hours each. However, this depends on several factors including what type of freight you're hauling, how many workers are helping load or unload your trailer, and how busy the yard is. Two hours can turn into three, four, or even more!
Either way, there is a lot of waiting involved, which is hardly surprising given that the live load definition essentially means you're left hanging around while workers load or unload cargo. You can charge truck detention fees from shippers when you're stuck for longer than expected. Just make sure to negotiate with the shipper for detention fees ahead of time so you get compensated for your time.
Drop trailer vs. live load trucking
Live loads can be time-consuming, but they aren't the only available cargo collection and delivery method. You can also take drop and hook loads, a.k.a. drop and pick loads. Whereas a live load involves just one container, drop and hook loads involve two trailers. As a result, there's no need to idle at the docks for hours when you're working with drop and hook loads.
Instead, you'll transport one loaded trailer to its destination, detach from it, and hook onto a new, pre-loaded trailer. Then you can hit the road immediately with your new trailer. It's a simple and relatively fast alternative to live load trucking that will enable you to maximize your pickups and deliveries. Plus, having drop-and-hook capabilities will help cut back on idling time and open up the door for new business opportunities, as some shippers and brokers won't hire carriers or owner-operators who can't complete drop and hook loads.
And that's not all. With drop and hook loads you'll have much more flexibility regarding arrival time. After all, dock staff won't be needed to load or unload your trailer the moment you arrive, so there's no need to wait in a long line or schedule an appointment for an exact drop-off time. It also means you can often drop off or pick up trailers and loads outside the typical 8-hour workday. Some facilities have 24/7 security and operations, meaning you can drop off and pick up trailers at any time of the day or night.
All this flexibility and speed may make it seem like drop and hook trucking wins hands down in the drop trailer vs. live load debate, but it's a little more nuanced than that. While drop and hooks are technically more straightforward and faster than live loading, they can quickly become complicated and involve additional costs that can make live loads more appealing for some.
For example, with drop and hook loads, unlike live loads, you'll need to pay for trailer interchange insurance. That's because you're leaving trailers behind at yards across the country and giving up complete control of your trailers to others. Those trailers can get damaged when moved by yard tractors to and from docks, and you may not notice until later. Without insurance, you'll be stuck covering the repair costs.
What's more, with drop and hooks you'll need access to lots of trailers. If your business already has plenty of trailers or your shipper is ready to provide their own trailers, that's not a problem. However, if you're just starting out and can only access one trailer at a time, you won't be able to do drop and hook trucking and will need to stick with live loads.
Plus, just because drop and hook loads are more resistant to delays, that doesn't mean they're immune. Once you arrive at your destination, you may still need to wait for the trailer to be brought in from another location or for other trailers to move out of the way — all without detention fees. You may also receive the wrong trailer number initially or have difficulty finding your trailer, leading to hours of delay that could disrupt your entire schedule.
Finally, it's also worth noting that a drop and hook load may become a live load at the last minute. For example, if a shipper doesn't have a trailer ready to go when you arrive, you may need to wait for workers to load your trailer, which could add hours to your wait time, as you won't have a scheduled live load appointment time.
What are the pros of live loads?
Live loads have numerous pros, making them attractive options for carriers and owner-operators alike.
For one, you'll use the same trailer for all of your jobs. This means you'll be very familiar with your trailer, its tires, its safety, and more. It also means you'll never be stuck with a worn-down trailer with faulty brake lights, leaky tires, or additional problems that will add more stress and time to your trip.
Plus, you have more control over how much weight your truck will carry with a live load. This is important given that there are legal limits on how much weight certain trucks and trailers can carry. Given that drop and hook trailers are typically already loaded before you arrive, you won't know if your load is too heavy until you arrive at a certified scale. If it turns out your vehicle is too heavy, you'll need to remove items then and there until the vehicle is at an acceptable weight. Contacting the shipper and removing cargo to reduce your vehicle's weight can be a time-consuming process that delays delivery — and that's on top of having an incomplete delivery as a result.
Another advantage of live load trucking is that live loads require less skill compared to drop and hooks. After all, in drop and hook trucking, you'll need to carefully line your 5th wheel plate up with the trailer's kingpin each time you attach a new trailer. If you aren't very experienced, this can be a stressful and time-consuming process that ends up eating into the time and stress advantages you're supposedly receiving by using drop and hooks.
What's more, with a live load in trucking, you'll be paid for however long it takes to load and/or unload your trailer. You can grab a bite to eat, pick up some coffee, search for new loads, and more — all while making some money. And if you get delayed beyond what's planned, you'll get further detention fees. With drop and hooks, you don't get paid for any time spent waiting around.
Finally, while live loads mean more time waiting for loading and unloading for carriers and owner-operators, they can save time for shippers compared to drop and hooks, making for happier shippers. And happy shippers could mean repeat customers!
What are the cons of live loads?
While live loads undoubtedly have many benefits for certain truckers, they also have a few drawbacks you need to be aware of before deciding to pursue them.
Sure, you'll get paid for idling while workers load your trailer. However, those earnings might be offset by the fact that you won't be able to complete as many deliveries as you might with drop and hook loads, leading to less money overall. You may also lose out if you're paid by the mile for your live loads, as you won't always get paid for time spent waiting at the dock. Either way, you'll need to be extra careful when pricing and negotiating with brokers or shippers beforehand to ensure you're compensated properly.
And that's not the only potential drawback. Live loads can also lead to long queues if shippers don't plan everything appropriately, don't have the most efficient loading practices, or simply don't have enough loading bays for the number of trucks coming through each day. If you get stuck in a long line at a loading bay, it could take hours to receive your load, throwing off your schedule for the rest of the day — or even the rest of the week! After all, you can only stay on duty for 14 hours at a time according to the FMCSA. So, a five-hour delay could drastically reduce your allowed driving time, resulting in delays further down the line and negatively affecting your working relationship with other shippers.
Delays in the face of appointments are one issue, but you may also run into significant delays — and all the problems that come with them — if you visit a dock that operates on a first-come, first-served basis instead of using appointment slots. If you don't make it to the facility before the doors close for the night, you'll be stuck waiting until the following day to pick up your load.
Finally, while only using one trailer means you'll know it inside and out, it also means you'll wear it down faster. After all, the trailer will see near-constant use, so get ready for higher maintenance costs per trailer compared to working with drop and hooks.
When should you use a live load instead of drop and hook?
While it's true that the drop and hook method is generally faster and more cost-efficient when it comes to loading and unloading, there are some situations where you should use a live load instead of drop and hook.
For example, you might use a live load instead of a drop and hook load if:
You are working for a smaller carrier
Drop and hook trucking requires multiple trailers, and not all small carriers have the right equipment to support it. If your carrier doesn't have the correct number of trailers then you don't, either, which means you'll need to deliver live loads instead of drop loads.
There is a lack of space
Drop and hook loads depend on shippers and receivers having large facilities with lots of space. After all, they need to have enough dedicated parking areas for trailers to sit as they wait to be filled, emptied, or picked up. Those shippers and receivers that don't have enough parking space will need to live load trailers in order to avoid congested yards, major delays, or even accidents.
There are no full containers
Even if there is enough space in a yard or at the loading bay, there may not be any full containers to pick up when you show up. That could mean hauling an empty trailer back, but it also may mean the shipper turns your drop and hook into an unscheduled live load, which could mean hours of waiting for workers and a loading bay.
There is a lack of shunting trucks
Drop and hook loads require shunting trucks to move loaded containers from the loading bay to the parking area for pick up and loaded trailers from the drop-off area to the loading bay for unloading. If they're unavailable, backups can occur. For shippers or receivers with a shortage of shunting trucks, live loads are often a better option.
You're hauling perishable goods
Live loading is great for perishable goods, as they will be loaded and unloaded immediately at the loading dock instead of spending hours or days waiting in a parking lot.
Find live loads with DAT's help
Now that you know the live load definition and the difference between a live load vs. drop and hook, it's time to find some live loads! However, that is often easier said than done. If you don't want to waste time calling up every shipper in a 50-mile radius to find live loads (and who would?), use a live loads load board to find the best freight options near you. A load board like DAT will make live load trucking fast and easy.
The DAT load board is the best live load board out there. With over 448.5 million loads and trucks posted each year, you'll be able to find live loads quickly, no matter where you are or where you want to go. You can easily filter through options, read reviews of potential shipping partners, and ultimately boost revenue. Plus, you can gain insights into current rates and market conditions through the DAT load board.
Subscribe to the DAT load board today to start finding live loads from quality shippers.
Find the best live loads with DAT!
The best-in-class DAT load board is the best place to find whatever freight you're looking for, including both live loads and drop-and-hook freight. With multiple subscription levels and access to the largest freight marketplace in the industry, the DAT load board is the perfect tool for every carrier and owner-operator. Get started with DAT today!