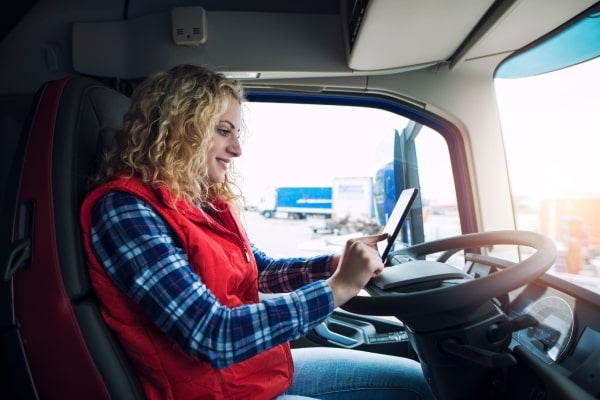 You don't have to be a tech savant to prosper in a trucking landscape that increasingly trends digital. If you know where to look, you can find a variety of highly effective trucking apps that can unlock efficiency gains across your entire fleet.
But therein lies the challenge. The freight market is flush with various apps supposedly designed to help truckers, but which often just lead to more frustration. You may feel like you're on a winding road to simply figure out what apps actually work as described. If so, you aren't alone.
With so many different available app options out there, it can be hard to find the best ones. That's why we put together this shortlist of the best apps for truckers. To do that, we gathered the opinions of industry experts and surveyed the market ourselves to see what's out there and find the best trucker apps in each key category. Here are our final recommendations:
Best all-in-one-app: DAT One mobile
Runner up for best all-in-one-app: Trucker Tools
Best weather app: My Radar
Best trip planning app: Love's Connect
Best fuel app: GasBuddy
Best weigh station bypass app: Drivewyze
Best mobile document scanner app: Transflo Mobile+
Before we dive into what made these best trucker apps stand above the competition, let's review how exactly we chose them.
Selection criteria
 
Customer feedback. Ratings matter — they're the best way to understand how real users experience an app. The applications we're highlighting in this list are all available on either the Google Play Store or Apple App Store and all have earned at least four star ratings, with many earning more than that. While not every great trucker app will have millions and millions of downloads — especially if it's relatively new — the number of user downloads and customer reviews can be great indicators of an app's value to its target audience, which is why we included it in our analysis.
Value and applicability to truck drivers. The best apps for truckers streamline specific job duties and help you perform daily tasks with greater efficiency. Whether an all-in-one solution or an app specifically catered to one aspect of the business, by simplifying operations, our featured best trucker apps empower fleets of all shapes and sizes to optimize road time and bottom lines.
User experience. At the end of the day, an app is only as valuable as the user experience it delivers. An app may lay claim to a million different features, all of which become moot if customers can't smoothly tap into them. The best apps for truckers that we've picked are all tried and tested. While intuitive interfaces might vary across Android, Apple, and other mobile devices, these best trucker apps offer tangible value-add services backed by verifiable user experiences.
Customer service. When you rely on an app for your business, you want it to have a responsive support team that has your back should you run into a glitch, bug, or system error. The trucker apps we've selected all have alert customer support teams on standby. With available assistance and straightforward contact capabilities, customers can avoid hassle and resolve issues fast.
Effectiveness. In poring over the market for the best trucking apps, we saw a lot of different trucker apps at different price points. No matter the price point, we evaluated the effectiveness and value of these trucker apps. While some of the ones we spotlight here are free, others come with fees, and a few even offer a combination of both. For all of these trucker apps, we determined that they are effective and deliver value for their price point. As far as the best free apps for truck drivers, we looked for value-add apps that can simplify basic operational tasks. For apps that charge for their services, we assessed the full suite of included resources to make sure you're receiving maximum bang for your buck.
The best apps for truckers
DAT One is the best all-in-one digital platform for truckers, allowing you to efficiently run your business while you're on the road. DAT One distinguishes itself from all other trucking apps, which often only include a limited set of features, by combining 15 different apps into one to offer a wide range of features in a single place. You can quickly find high-quality loads, efficiently plan routes, optimize your bottom-line, find rest stops, and so much more all in a single best-in-class app.
But that's not all. The thing that makes the DAT One app most stand out from the competition is the access it gives you to the most powerful freight network in the business, DAT. All it takes is a single fast, free download app to start tapping into DAT's superdatabase and finding your next high-paying load. With more than 536 million loads posted to DAT annually, DAT's load board is the industry leader. Even if you don't have a DAT subscription, the DAT One mobile App connects you to the same local top-quality loads that paying customers can see — free of charge! On top of that, whenever you're on the move, you can search for parking, rest stops, and the most valuable new loads posted within a 200-mile radius. Plus you can access exclusive discounts on rest stops, showers, food, and beverages!
Once you download the DAT One mobile app, there are two ways you can access — and start reaping the many benefits of — the most trusted on-demand freight marketplace in the country:
Free access: If you're interested in getting a taste of DAT before making an investment into the full load board, you can access a limited version of the DAT One mobile app for free. That means you can use the app to access more limited load search results (you can only see freight within 200 miles of your current location), a fuel savings locator, tracking options, fuel card options, and a map view of truck stops, services, weight stations, and more.
Monthly subscription: If you're looking for more, you can get a monthly subscription to DAT that includes all of the aforementioned services as well as access to the complete load board without any geographic limits with unlimited searching and posting along with a wide array of additional DAT Carrier Services. This is a great choice for anyone looking to find top quality freight anywhere at any time to help grow their business.
No matter which option you go with, DAT One is undeniably the best truckers app on the market. With 15 apps built into one, it's the only one-stop-solution that serves all of your freight needs in a single place. See for yourself how DAT One can help you save money on every trip, plan with more efficiency, and keep your business firing on all cylinders!
Runner up for best all-in-one app: Trucker Tools
Trucker Tools is another solid solution with a variety of useful features for truckers, albeit a more limited number than DAT One. In addition to serving as a truck stop guide, Trucker Tools features live traffic alerts, updated fuel prices, and turn-by-turn directions that help you navigate the roadways with efficiency. With a rating of 4.3 out of 5.0 on the Apple App store and over 5,000 reviews, Trucker Tools is another good free option for drivers looking for some help on the road.
 2. Best weather app: My Radar
Unexpected weather conditions can have a huge impact on drivers' ability to drive safely and make their deliveries on time. My Radar is a powerful free radar and weather prediction app that carriers trust to help them navigate possible hazardous weather conditions. With an animated live radar and radar loop lengths that last as long two hours, My Radar gives you a trustworthy weather reading of your current location. Wind speed data, alerts on expected weather and My Radar's weather-only news tracker all help keep fleets safe from adverse weather conditions.
Love's Connect is a great app for planning efficient cargo journeys. Drivers can scout out truck routes and view fuel prices right on Love's Connect to gain insights that help them lower fuel expenses and increase cost certainty. Even better, when you download Love's Connect, you can start to take advantage of a comprehensive rewards program that allows you to redeem points and save digital receipts for even more savings.
Just like with DAT One, truck drivers using Love's Connect can benefit from exclusive deals on food and beverages as well as 24-hour access to facilities with showers, electronics, travel goods, diesel fuel, gasoline, Compressed Natural Gas (CNG), and more.
 4. Best fuel app: GasBuddy
GasBuddy is a comprehensive gas-and-diesel app that allows truckers to survey fuel prices nationwide. There's a lot to like with GasBuddy. It lets truckers access money-saving features right through the app including a gas price map, a trip cost calculator, gas price charts, and other insights that can help you save money.
If you want to purchase fuel through GasBuddy, the process is simple. Since the app doesn't require credit checks to get started, you can seamlessly link your debit card or get a Gas Credit Card to start saving money on fuel within minutes. GasBuddy offers automatic deductions, cash back, and savings straight through the app every time you visit the pump. To see how GasBuddy compares to DAT's Fuel Cards for truckers, learn more here.
 5. Best weigh station bypass app: Drivewyze
Drivewyze is designed to keep trucks on the mainline and make the pre-clearance process seamless. Approved in over 40 states, Drivewyze can help you avoid lineups and weigh stations altogether. With a 30-day free trial upon download, you can stay proactive with alerts that let you know when you're approaching a weigh station or inspection site.
Drivewyze PreClear removes the need for transponders, providing bypass opportunities at 830 weigh stations across North America. As far as pre-clearance trucker apps go, Drivewyze stands above the competition, helping truckers speed up delivery times and reduce fuel and maintenance costs.
 6. Best mobile document scanner app: Transflo Mobile+
The Transflo Mobile+ app is a great app to help simplify document processing and automate daily functions that are essential for staying compliant, but can quickly eat up your time. Compatible with both Android and iOS devices, Transflow is available for download on all major phones and tablets. The app comes with advanced document capture and delivery, a configurable dashboard, and end-to-end visibility that empowers truck drivers to stay safe and compliant on the roads at all times. Beyond transportation document services, Mobile+ also offers live dispatch support, weather condition updates, weigh station alerts, and more, making it a great option if you're trying to limit the number of apps you need to juggle.
Picking the best trucker apps
There are plenty of different trucker apps on the market. Finding the best ones takes time. Luckily, we did the hard work for you and found all the best trucker apps on the market.
While apps like My Radar, GasBuddy, Transflo Mobile+, Drivewyze and Love's Connect are all great options when it comes to serving their designated purpose, if you're looking for a single app that goes above and beyond to deliver transportation services that will help you grow your business, the DAT One mobile app is the only end-to-end, all-encompassing freight solution that consistently drives fleets forward. To start capitalizing on DAT's industry-leading freight solutions, download the DAT One Mobile app today!
Simplify your life with the DAT One mobile app!
As a carrier, you spend a lot of time on the move, so you need a tool that can move with you! That's where the DAT One mobile app comes in. This all-encompassing freight tool can help with everything from finding loads to finding rest stops.
Discover DAT One today!