Manage your freight network with confidence
Benchmarking reveals deeper insights into how your rates compare to the market
Benchmark Analytics from DAT iQ contextualizes your rates and performance against key market trends. With a set of intuitive, robust dashboards with powerful segmenting, you get clear insights into how your freight network performance compares to the broader market and your peers. These insights help you manage and hone your supply chain and logistics strategies and operations.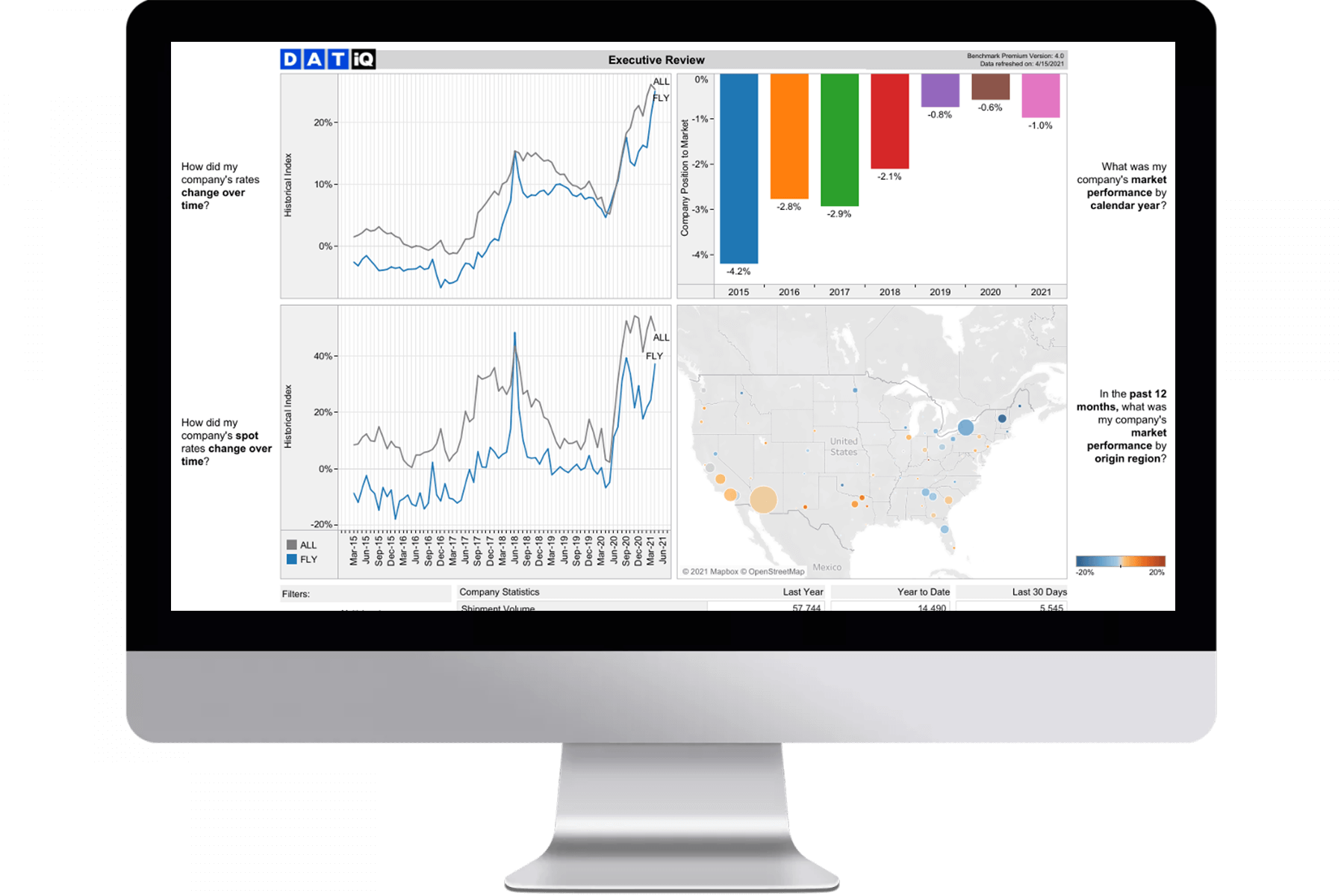 Create flexible transportation budget strategies
Benchmark Analytics includes dashboards that help you understand emerging market trends, seasonal shifts, and underperforming aspects of your network so you can develop comprehensive yet flexible budgets. By segmenting the data on historical rates and identifying where you're paying the highest spot market premiums, you can identify cost saving opportunities and mitigate potential budget risks. 
Refine RFP strategies and routing guide processes
By identifying underperforming carriers and lanes, Benchmark Analytics can help prioritize your procurement efforts on the areas within your network that have the most impact on your bottom line. These insights reduce RFP timelines, so you can instead focus on building long-term business partnerships with preferred carriers. And by highlighting the areas of your network most impacted by spot market premiums, you can more easily diagnose and repair broken routing guides.
Powerful segmentation, surprising ease of use
Benchmark Analytics delivers a set of pre-built dashboards focused on high-level performance indicators, designed to allow supply chain leaders to report up to executive stakeholders with ease. Meanwhile, intuitive segmenting and filtering capabilities allow analysts to slice and dice the data in countless ways, drilling into the nuances that illuminate opportunities to reduce cost, increase service, and drive efficiency.
View the State of Freight with the DAT iQ Signal Report
As emerging trends take shape and capacity ebbs and flows, you need an outlook on where rates are headed. The DAT iQ Signal Report provides an overview of the state of freight with forecasts that help you plan how to adapt to changing market conditions. The full report, available to customers of DAT iQ's Benchmark Analytics solution, includes rate forecasts, inflation trends, spot and contract rate indices, and in-depth analysis from DAT iQ's transportation experts.
Trusted by Leading Enterprise Supply Chain Teams
"Our procurement and logistics organization relies on DAT iQ as one of several inputs to support how we make multi-million dollar decisions regarding carrier volume allocations in our freight network… When we run full network bids, evaluate carrier rate increase requests, or prepare executive reports, DAT iQ helps us know whether we are tracking with the broader market in each region we operate. "
-Quentin Wedan, Senior Manager of Supply Chain Sourcing, Danone North America