Quickly insure your loads with Loadsure's per-load, pay-as-you-go cargo insurance.
DAT has partnered with Loadsure to provide carriers with reliable, per-load, all-risk smart coverage insurance policies. Not only can Loadsure give you instant peace of mind, but you'll also enjoy expedited claims payouts, dynamic pricing, door-to-door coverage, and more.
Cover your cargo all along your route.
Only pay for what you need.
Reduce processing times for digital claims.
Cover your cargo all along your route.
Rest easy with Loadsure's robust door-to-door coverage.
Not all motor carrier insurance plans are created equal. Many commercial auto insurance carriers will only settle claims based on a portion of your cargo's value or won't cover certain commodities, such as livestock, over-the-counter pharmaceuticals, and fireworks.
Loadsure is different. Loadsure offers door-to-door coverage on a large variety of loads — including specialty loads. If your cargo is stolen, damaged during loading or unloading, or destroyed by an Act of God, you're still covered with Loadsure.
Only pay for what you need.
Save money with Loadsure's simple, pay-as-you-go cargo insurance.
Loadsure understands that the right insurance coverage doesn't look the same for every carrier. That's why they've leveraged artificial intelligence, machine learning, automation, and real-time data to offer dynamic pricing and competitive rates that help you cut costs by up to 80%.
All DAT subscribers have access to Loadsure's insurance so they only have to pay for the coverage they need.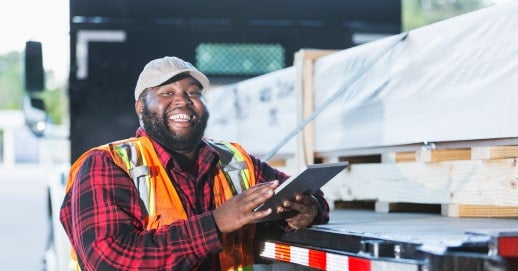 Reduce processing times for digital claims.
Say goodbye to waiting weeks — or even months — for digital claims payments.
In just 40 seconds, you can purchase all-risk coverage for your load from any device. Loadsure's digital platform lets you submit insurance claims in mere minutes and their comprehensive distribution network helps ensure your settlements get paid faster than ever so you no longer have to wait months to receive important funds.
What is motor carrier insurance?
The risks associated with transporting goods can be financially devastating. If you want to protect your business from liability in the event that contracted loads become lost or damaged, you need motor carrier insurance.
Imagine you're under contract to deliver a load of refrigerators, but you encounter sudden flooding. Suddenly, all of those refrigerators are wet and damaged. If you have a good carrier insurance policy, your insurance company will cover your liability for those refrigerators. If you don't have insurance, you might find yourself in a tricky (and expensive!) situation.
What insurance do I need as a carrier?
How does settling claims work?
What does Loadsure cover?
Can I trust Loadsure?
Where can I access Loadsure insurance?
"Claims like this typically take two to three months, but it only took two weeks with Loadsure."
- John Coviello, President GMG Transwest Corp
"Loadsure is a no-brainer. I don't remember ever really having to sell it. It's just something that makes sense and the price is right. It's another tool that makes me even better."
- Patrick O'Loughlin, COO, Regiment Logistics
Insure your cargo with Loadsure!
Loadsure is directly integrated with DAT's load board, so adding high-quality, all-risk carrier insurance on a load-by-load basis is easier than ever! With Loadsure, carriers no longer need to worry about restrictive contracts, annual premiums, or slow claims processing times. Start protecting your business with Loadsure today!