Quick pay for truckers may be a popular option, but it's far from the best financing option. Enter: invoice factoring.
Getting paid when you need it is incredibly appealing, but not all options are created equal. While many truckers turn to quick pay, it's simply that, a quick fix. Factoring your invoices offers the same, and often faster, funding on your freight invoices for virtually every broker, bringing consistency, reliability, and a slew of additional features and benefits to your operation.  Discover why partnering with a specialized factoring company like OTR Solutions is a great alternative to quick pay trucking.
Get the cash you need when you need it, universally.
Reduce stress and simplify back office workflows.
Take advantage of additional tools and resources that help your business thrive.
Get the cash you need when you need it, universally.
Eliminate your cash flow concerns with invoice factoring that gets you the cash you already earned in under 24 hours.
With factoring you can get the money you already earned when you want it, without waiting for slow-paying customers to pay up, or limiting yourself to brokers who offer quick pay. You simply sell your invoice to a factoring company, get paid the full value minus a small fee, and let the factoring company bill your customer and wait for payment.
As DAT's chosen factoring partner, OTR Solutions offers quick pay factoring that helps you take control of your cash flow and expand your network to find better and higher paying freight. Simply submit your invoice online and get paid straight to your bank account within 24 hours. It's that simple.
Reduce stress and simplify back office workflows.
The best factoring companies make getting the money you already earned easy, and following up on payments a think of the past.
Quick pay trucking may seem like a great way to get cash, but it can become complicated and limiting for your business in the long run. With terms and rates that can vary greatly from broker to broker, if they even offer a quick pay option, navigating quick pay for truckers is often a headache.
Luckily, there's another option. Factoring with a reliable partner, like OTR Solutions, lets you get all the benefits of quick pay trucking – and many more – all without the headache. With no restrictive contracts, monthly minimum requirements, or hidden fees, OTR makes it easy to factor your invoices and get paid fast, every time. Simply use the intuitive client portal or mobile app to submit your invoice and let OTR do the rest. You can even track the status of your payments and fuel advances so you always know exactly when your cash will hit your account!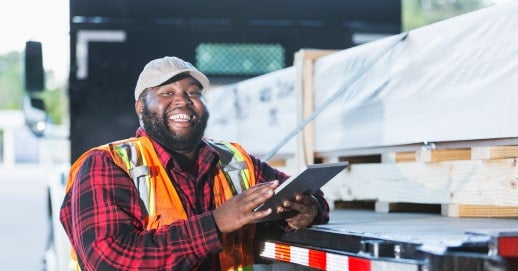 Take advantage of additional tools and resources that help your business thrive.
OTR Solutions' dedicated back office support and account management services help keep your operation firing on all cylinders.
Anyone who works in trucking knows that time is money, and relationships are everything. The more time you have to spend tracking down slow-paying customers and navigating back-office tasks, the less time you'll have to spend expanding your network, building relationships, and finding new freight.
The good news is that when you partner with a leading freight factoring company like OTR Solutions, you don't just get your money fast, you also get back your time. That's because OTR assumes all invoice-related back-office duties, leaving you free to focus on growing your business instead of on tracking down the money you already earned.
"OTR Solutions is a wonderful company to work with. They go above and beyond to meet your needs. Everyone I have worked with has always been really nice and professional. I would recommend OTR Solutions to everyone looking for a great factoring company."
"OTR Solutions is one of the best things that has happened for our company Sal-Trans Express, Inc. Their Customer service is of the best quality. Provide detailed explanations to all questions asked and truly always look out for their customers. Their personalized services have allowed our company to scale quickly and allowed us to make the necessary decisions for our company."
What is quick pay for truckers?
As the name implies, quick pay trucking is a way for carriers and owner-operators to get paid for their work more quickly. Shippers and brokers are famously slow when it comes to paying invoices. While this obviously isn't true of every individual shipper or broker, without an expedited payment option  you can be stuck waiting 30, 60, or even 90 days to get paid for the work you already completed.
To avoid that, quick pay truckers choose to pay the broker a percentage of the total load invoice in return for faster invoice payment that usually arrives between two and five days after a delivery is completed.
While it may sound like a great solution to the problem of slow-paying customers, quick pay trucking isn't always the best solution – or even an option. Many brokers don't offer a quick pay program in the first place, which means your business is limited when it comes to finding freight and making new relationships with customers. Those that do often set unfavorable terms and conditions for their quick pay program, with some major brokers charging as high as 5% of the invoice amount for funding in 48 hours.
Invoice factoring, also called freight factoring, freight bill factoring, or simply factoring, is a better solution. It offers all the advantages of quick pay trucking, plus many more. With factoring you can get paid within 24 hours of submitting an invoice and never have to worry about tracking down your slow-paying brokers or shippers when you factor on a true non-recourse factoring program like the one offered by OTR Solutions.
What is freight factoring?
What are the main differences between quick pay trucking and factoring?
Why is factoring a better alternative to quick pay?
How does DAT help me factor my invoices?
Why is OTR Solutions the best freight factor?
Start factoring with OTR today!
While quick pay may be popular with truckers, there's no doubt that OTR's factoring solutions beat even the best quick pay brokers. With same-day payments, no hidden fees, and extra back-office support, OTR Solutions is the best way to get your invoices paid fast. Quit quick pay and start factoring with OTR Solutions!