See Next Week's Trends...Today
Dig deeper with DAT RateView™
Average prices on more than 68,000 lanes, updated daily
13-month history of rates on every lane
Average market rate for every equipment type
See the data that affects your business most
DAT Trendlines vs. DAT RateView
RateView is the perfect tool for…
RFP Bids: Get pricing information for every lane on a single spreadsheet
Benchmarking: Compare your rates to your competitors when you become a RateView contributor
Cost Control: Anticipate price changes with 13-month histories, plus Hot Market Maps showing supply and demand
Speed and Efficiency: Confidently price every lane with a single search
What's the difference between DAT Trendlines and DAT RateView?
Updated weekly
National average spot market rates
Last week's national load-to-truck ratio for each trailer type
Compare national average rate to last month's average
Updated daily
Average spot and contract rate on more than 68,000 lanes
Load-to-truck ratios for 145 key market areas
13-month history of prices on every lane
Data based on $150 billion billion  in real transactions between brokers, carriers, and shippers
13-month history of rates on every lane, so you can assess seasonality and anticipate changes
Rates as current as a 3-day average, up to a 1-year average
Spot and contract rate comparisons, so you can maximize profits or control costs
Contact us today to get a demo of DAT RateView and push your transporation business to the next level.
Rate Tools in DAT Load Boards
The most accurate truckload freight rates
All DAT load board products include the average spot market rate for every lane you search. Choose your business type below to learn more. Or if you're interested in upgrading your load board subscription to include freight rates, call 800.551.8847.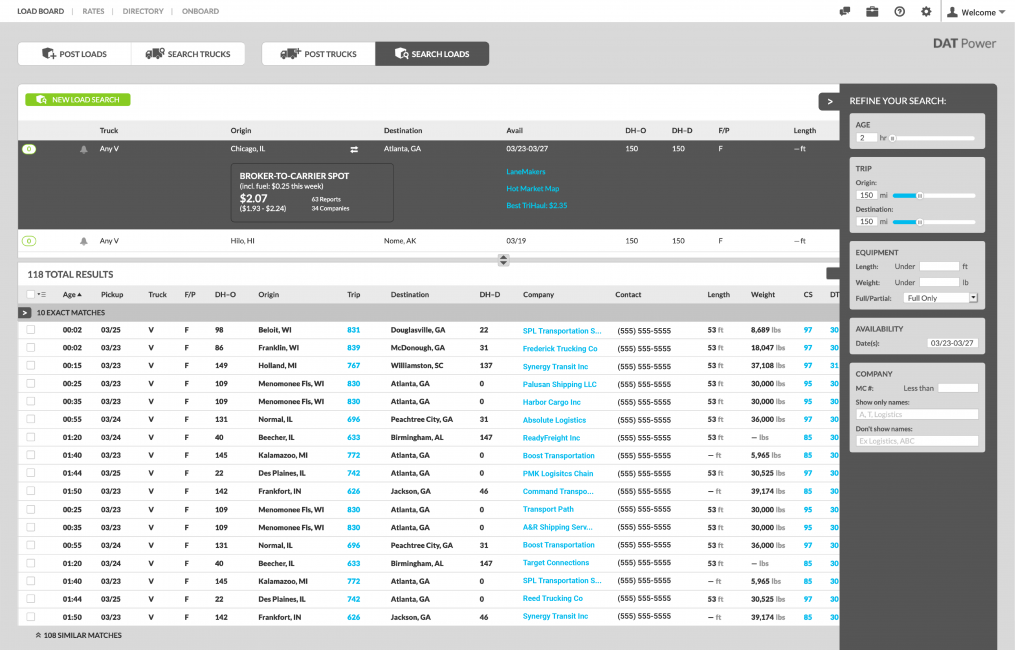 Need Help Deciding? Call 800.551.8847
Get deep insights into spot market capacity and freight rates – the business intelligence you need to make informed decisions.
Benchmark your rates against $118 billion in actual transactions. Send us the origins and destinations for up to 50 lane routes for a free lane lookup.