With over 440,000 exclusive daily loads,
Carriers choose DAT first.
Grow Your Business for the Long Haul
  Find the best loads

  Know the market rates

  Get paid fast

  Manage your business with ease
Want to find freight faster and easier?
Eliminate empty miles on the largest truckload freight marketplace in North America.
DAT One Load Board
The network of choice for freight movers. Get access to the best loads first, no matter where you are.



Book and negotiate easier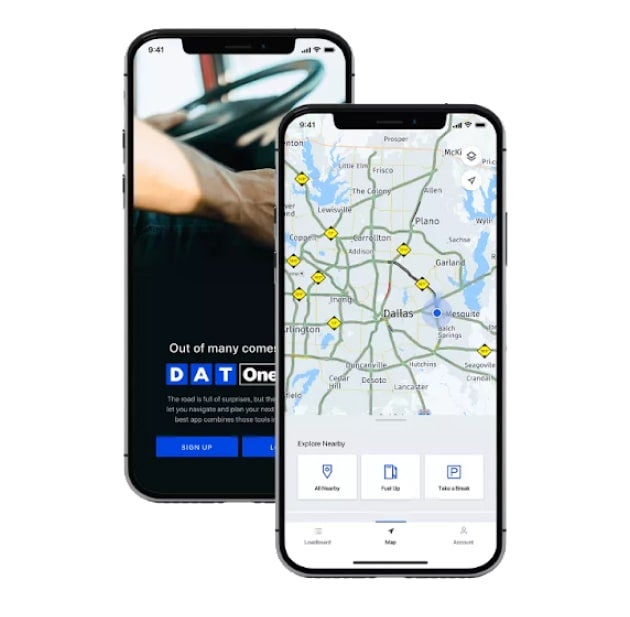 Want to make sure you're getting the best rates?
Be confident that you're getting a fair price with the industry's most accurate data.
Freight rate analytics
See current rates for every trucking lane and know where your trucks are most in demand.

Truckload rates based on real transactions

Nationwide supply-and-demand maps

Route recommendations for higher rates
Need to get paid faster?
Improve your company's cash flow with carrier-friendly invoice factoring.
Freight factoring
Our trusted partners let you focus on getting your next job - not wondering how you can pay this month's overhead.


Know which loads can be factored

See credit scores for every broker
Need help managing costs and resources?
Streamline operations and reduce expenses through our partnership programs.
Fuel cards and more
From fuel cards and IFTA to dispatching tools and tracking, we've got you covered with solutions that make your business more efficient.
Find the Plan That's Best for You
TruckersEdge Standard
Recommended for Partial Loads
Unlimited Search & Post
Get unlimited access to post your trucks and search for loads.
Mileage & Routing
Optimize your route with truck-centric mapping services.
TruckersEdge Enhanced
Recommended for Leased Drivers
Broker Credit Data
See brokers' average days to pay, credit scores and customer reviews. On average, our brokers pay within 28 days and have credit scores of 94 out of 100.
Load Counts by State
See inbound and outbound load volume by state to find markets where you have negotiating advantages.
Average Lane Rates (30-day)
See the average spot market rates for every lane you search.
TruckersEdge Professional
Recommended for Owner Operators
Tri-Haul
Find better-paying markets with automatic triangle haul routing suggestions.
DAT Assurance
Our team helps carriers collect past-due payments, so you can increase your cash flow.
Canadian Loads
Get access to the full load board network throughout North America.
Average Lane Rates (15-day)
See the average spot market rates for every lane you search.
Power Select Carrier
Recommended for Multiple Trucks
per user/month
$99 additional/user
LIVE Load Board
Get live search results with the auto-refresh function.
Market Conditions Index
Maximize your profit with the Market Conditions Index. You can research accurate, historical demand for your trailer type to find areas in high demand with higher rates.
Exact Match Alarms
Get an instant notification when a load matches your Truck Posting.
Multiple Searches & Filtering
Set up multiple load searches and filter your results by the information most important to you.
Power Office Carrier
Recommended for Multiple Dispatchers
per user/month
$59 additional/user
Contract Lane Rates
Get access to shipper-to-carrier contract rates.
LaneMakers
Find out which companies are the most active on the lanes you're searching.
DAT One Mobile app is included in all subscriptions
What our customers are saying
---
"It costs you more money not to have these tools. With DAT, there's very little time my truck is sitting"
- Sammy Lloyd, Lloyd Trucking
We have even more solutions, from carrier TMS to tracking, insurance to parking. Find exactly what you need.
Need resources? We got you covered.
We have been in the industry since 1978 to bring you the most knowledge and insight to help you find your path.