PORTLAND, Ore.— October was the strongest month for freight availability in 2016 except the June seasonal peak, according to the DAT North American Freight Index. Compared to September, total spot market freight volume rose 1.8 percent. An 11 percent increase in flatbed freight volume was responsible for the month-over-month growth, as van volume dipped 0.6 percent, and reefers lost 4.0 percent in October, compared to September. Flatbed freight is associated with energy exploration, as well as construction, which may have gotten a boost in October due to post-hurricane relief and rebuilding in the Southeast.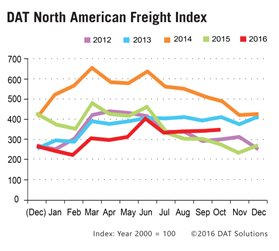 The atypical trend included a surge in volume and rates on eastbound, long-haul van lanes out of the West Coast, although declining volume in other regions prevented van volume from exceeding September levels. The west-to-east increases were likely due in part to re-scheduling of retail freight movements in the wake of the Hanjin Shipping bankruptcy, as well as abundant fall harvests in California and the Pacific Northwest.
Despite the lower overall volume, and due partly to that West Coast demand, van rates rose 1.4 percent in October. Reefer rates experienced a seasonal decline of 1.2 percent, but flatbed rates rose 0.6 percent, month over month.
Year-over-year, October 2016 truckload freight availability was up 27 percent compared to October 2015, as the number of loads on the spot market surpassed same-month levels from the previous year. October marked the third consecutive month of year-over-year increases,
Dry van freight availability increased 51 percent in October, and refrigerated ("reefer") volume rose 44 percent, compared to October 2015. Flatbed freight volume edged up 0.5 percent, marking the first year-over-year increase for flatbeds in 16 months.
Line haul rates declined for all three equipment types, however, compared to October 2015. Van rates dropped 2.7 percent, reefers lost 1.2 percent, and flatbed rates fell 4.6 percent, year over year.
The average fuel surcharge, a component of the total rate paid to carriers, fell 4.3 percent year over year, but the surcharge rose 10 percent from September to October. The surcharge is pegged to the retail price of diesel fuel.