How to Find Heavy Haul Loads
How to Find Heavy Haul Loads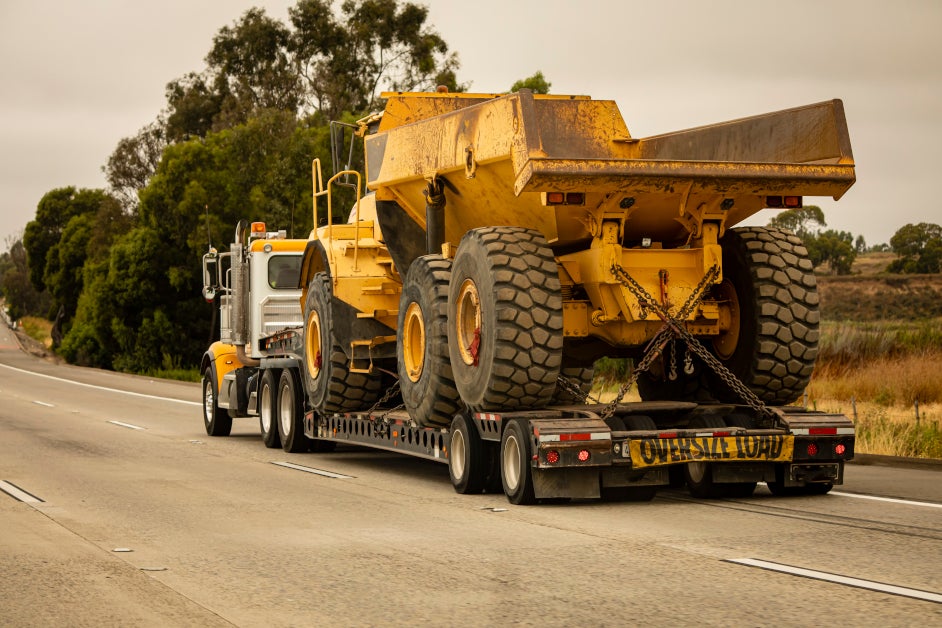 Between 2017 and 2018, the top ten heavy-haul providers saw a 33% increase in revenue. While the COVID-19 pandemic briefly brought the economy to a crawl, the heavy haul trucking industry recovered quickly. If the U.S. government invests in expanding and repairing the country's infrastructure, the demand for heavy haul trucking will increase, so it's a great time for heavy haul truckers.
In this article, we'll discuss the best truck for hauling heavy loads, what else you'll need to get started, and how to find heavy loads. But first, let's go over what exactly heavy haul trucking is and which loads are considered heavy haul loads.
What is heavy haul trucking and what qualifies as a heavy load?
Heavy haul trucking is also known as oversize, overweight, superload, and over-dimensional trucking, and it involves delivering loads beyond conventional dimensions, such as wide loads and oversized freight. Regular-sized loads that are overweight are also considered heavy loads. For example, a conventionally sized load consisting of heavy farming or mining equipment, airplane parts, or industrial machinery would still be counted as a heavy load.
Essentially, any load larger or heavier than the legal limit of most roads can be classified as a heavy load. The exact weight and dimensions vary by state, but, generally, any shipment that is wider than 8.6 feet, heavier than 80,000 pounds in gross weight, longer than 48 to 53 feet, or taller than 13.6 feet is considered a heavy load and requires a heavy haul service.
Due to their large size and weight, these loads often require specialty trucks and trailers. Additional special regulations, permits, and routing requirements are also associated with heavy haul loads.
What is the best truck for hauling heavy loads?
There's no single best truck for heavy haul trucking. After all, every driver is different and has different needs. However, there are a few things you'll want to keep in mind when deciding which truck to use for hauling heavy loads.
First, you'll need to think about what you can afford. If you don't have savings for a sizeable down payment or a good credit score, your options may be limited. The good news is that there are still plenty of great heavy haul truck options out there for those on a limited budget.
You'll also want to choose a reliable truck — even if it costs a little more upfront. A dependable vehicle will keep you safe on the road for longer, and you'll likely save money (and earn more money) over time due to fewer emergency repairs.
Choosing a relatively common vehicle can also make your life easier in the long run. After all, if you opt for a more popular truck and trailer, replacement parts will be easier and less expensive to obtain. Mechanics around the country will also be more familiar with your setup and able to perform maintenance or repairs more quickly and affordably than if you had equipment they were less familiar with.
You'll also want to think about axle restrictions. The per-axle weight limits are:
12,000 pounds for steer axles: Steer axles, or the first axles on the truck and some articulated trailers, cannot legally carry over 12,000 pounds.
20,000 pounds for single axles: If you have a single axle at the front or rear of your trailer, it can only support up to 20,000 pounds. Similarly, if your truck has multiple axles more than ten feet apart, they can only support 20,000 pounds.
34,000 pounds for drive axles: There is a weight limit of 34,000 pounds for drive axles. These axles are often found on the tractor, though they can also be attached to the rear of heavy-duty trailer setups.
34,000 pounds for tandem axles: Tandem axles, or two axles that are no more than five feet apart, can support up to 34,000 pounds. They are generally found at the rear of the trailer, but step and double-step trailers sometimes have tandem axles near the step's lip.
If you don't already have a truck and trailer, you'll need to buy or lease equipment. If you opt to lease your vehicle or trailer, you can choose an operating lease or a Terminal Rental Adjustment Clause (TRAC) lease.
With an operating lease, also known as a full-service lease, you'll be responsible for covering maintenance costs, taxes, and permits. However, you'll be able to walk away at the end of the lease term. With a TRAC lease, you can make a small down payment and get to work quickly. You can either purchase your truck or trailer for its residual value or let your leasing company sell it when your lease is up. If they sell it for a profit, you'll make money. However, if they lose money in the sale, you'll have to pay the difference, so it's a bit of a gamble.
You can also enter a lease-purchase agreement to finance your vehicle. These plans are best for truckers who don't have enough savings to put down a payment or have a poor credit score and can't secure financing. However, it's important to note that those with lease-purchase agreements generally pay more than those with traditional financing arrangements.
Do you need anything else to get started?
As a heavy haul trucker, you'll need a motor carrier authority number and a USDOT number. You will also need to file your Form BOC-3 and complete your Unified Carrier Registration (UCR).
Applying for these takes time and money, so even the smallest of mistakes can set you back. If you need some help navigating the maze of red tape, work with DAT. DAT Authority can help ensure your application is correct on your first try, saving you time, money, and frustration. For a flat rate starting at $549, you'll receive expert assistance that will streamline the process and give you time to focus on more important matters.
You'll also need to pay the Heavy Vehicle Use Tax (HVUT) if your truck weighs more than 55,000 pounds, file a quarterly fuel tax report according to the International Fuel Tax Agreement (IFTA), and obtain insurance. The government requires $750,000 in primary liability coverage, but most shippers and brokers prefer at least $1 million in primary liability coverage. You may also want physical damage, cargo, or bobtail insurance to cover all your bases.
Also, you'll need a special permit for each load for heavy haul services specifically. Every state has its own guidelines based on its terrain, environment, laws, and population density, but you'll likely need to think about any holiday, weekend, or seasonal travel restrictions, acceptable operating hours, travel time restrictions, and travel accommodations. For example, you may need guide or escort cars, bright orange or red safety flags, "wide load" or "oversized load" banners, or flashing or rotating lights to stay safe on the road.
To apply for your permit, you'll need to create and submit a movement plan, share cargo details, and give time estimates. You'll likely receive your heavy haul permit within three to five days, and you'll need to keep your permit with you throughout your journey.
How to find heavy haul loads
Once you have all the paperwork completed and your numbers and permits in hand, you can start finding and hauling loads. Unfortunately, finding well-paying heavy haul loads from reliable shippers or brokers isn't always easy. That's where load boards come in.
Load boards, or freight boards, are online marketplaces that help connect carriers, shippers, and brokers, ensuring that shippers and brokers can find drivers and that drivers can keep their trucks full and on the road. With the help of load boards, carriers gain access to a large pool of high-quality jobs, and shippers and brokers will be able to access countless qualified drivers and their specialized vehicles, making it a win-win.
There are plenty of load boards, but the DAT load board is the industry's best heavy haul load board. DAT has the largest network of shippers and brokers in the industry and sees over 1.4 million loads each day. Plus, many loads are posted exclusively to DAT! So, whether you have a flatbed, removable gooseneck, extendable, step deck, drop deck, double drop, or multi-axle trailer, you'll be able to find heavy haul loads with DAT.
The DAT load board also provides invaluable insights into brokers and shippers so you can make the best possible choice for your heavy haul trucking business when deciding who to work with. Not only will you be able to read honest reviews of various shippers and brokers, but you can also view brokers' credit information, bond history, and average time to pay before you start doing business.
DAT's load board is updated in real time, intuitive to use, and equipped with advanced filtering capabilities, so you can quickly find the perfect load and get back on the road. For example, you can filter loads based on trailer type, weight, load origin, or load destination. If you don't see a load that meets your requirements, you can set customized alarms to help you snag the next one that matches your criteria and stay ahead of the competition.
Plus, you can search and filter from your phone when you're on the go with DAT's mobile app. The DAT One mobile app can help you find current fuel prices, nearby loads, emergency assistance, truck stops, weigh stations, hotels, and rest stops. With a DAT subscription, you'll be able to access the DAT mobile app and gain access to broker credit scores, saved searches, spot market rates based on real market transactions, our triangulation routing tool, and the entire DAT load board network from your phone.
DAT will even help after you've found the perfect load. With DAT's rate and market analytics tools, you'll be able to stay up-to-date with trends and negotiate the rates you deserve — no need to spend countless hours researching lane rates. You won't need to worry about grossly undercharging and leaving money on the table or charging too much and driving away potential brokers and shippers, as DAT's market data is based on real invoices.
When you subscribe to the DAT load board, you'll receive DAT Assurance at no extra cost, so you won't need to worry about missed payments on qualified loads. If you don't receive your payment within 60 days, DAT will attempt to collect the money for you. After 120 days, DAT will credit your account for up to $1,000, depending on your subscription plan. DAT offers standard, enhanced, and professional plans, so you can access the tools you need to run your heavy haul trucking business without paying for the things you don't need.
Find loads and grow your heavy haul business with DAT
Being a heavy haul trucker isn't always easy, but the DAT load board makes finding heavy haul loads easier and faster than ever. As a DAT subscriber, you'll also gain access to the largest selection of loads in the country, current freight rates, honest broker reviews, and more. You can even sign up for the DAT fuel card program, cargo insurance, freight factoring through OTR Solutions, or DAT Authority.
Find the best heavy haul loads with DAT!
The loads you take can make or break your heavy haul trucking business, so you need the best tools at your disposal.
With the DAT load board on your side, you can easily find heavy haul loads at the prices you deserve. Sign up today to get started!