How to Become a Truck Driver
How to Become a Truck Driver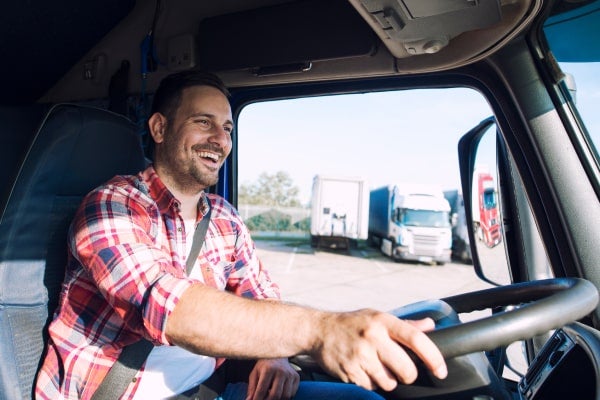 If you've ever found yourself wondering how to become a truck driver with no experience, we have you covered. If you enjoy driving and freedom, becoming a truck driver is a great way to get out on the open road and take control of your daily life.
So what goes into becoming a truck driver and finding CDL jobs? Read on for everything you need to know about what to expect from life on the road, how to get a CDL license, and how to choose the commercial driver career that's right for you.
1. Understand your options
There are many different types of truck driver jobs. And each of these different CDL jobs require different skills, temperaments, and time commitments. For example, taking on local truck driving jobs is very different compared to becoming an over the road (OTR) truck driver. Likewise, getting a spot as a tanker trucker (one of the most coveted jobs in the industry) requires a different skill set from becoming a dry van trucker. That's because tanker truckers transport liquids, a very difficult task that's generally left to the most seasoned drivers and which also often requires special permits. On the other hand, dry van drivers transport less-complicated, non-perishable products. That makes it a great option for those just starting their careers hauling goods on a large single trailer vehicle since they are unlikely to require additional permits to get started.
Because the types of CDL jobs available to truck drivers are so varied, salaries and time commitments can also vary greatly. Finding the right truck driving jobs depends on understanding which area best suits your interests when it comes to your work. While some drivers thrive on the time-sensitive nature of hot shot trucking, others prefer the stability of a day-cab job with a reputable trucking company. For those hoping to become a commercial driver, knowing the different types of CDL truck driver jobs that are available and having a goal in mind when you start your training is key to not only getting hired as a truck driver, but to actually enjoying the career you've chosen.
2. Do your research
While meeting prerequisites, passing exams, and obtaining a truck driver license are all critical steps to becoming a truck driver, understanding whether or not you're actually cut out for the job and preparing for life on the road are vital — and often overlooked — first steps that should come before all of that.
Once you've researched the different types of truck driver jobs and picked a few that seem appealing to you, the next step is to talk to a truck driver. Even better, try to talk to multiple truck drivers who perform a variety of CDL truck driver jobs in order to get a more accurate picture of many different aspects of the job. Becoming a commercial driver takes a lot of time and commitment. And while it has many elements that make it appealing, it's not for everyone. It's better to understand it's not the right fit before you take on the challenge of school and testing — not after.
Here are a few good questions to ask a truck driver before diving into the process of becoming one yourself:
How did you become a truck driver?
What do you like about the job?
What don't you like about the job?
How do you handle time alone on the road?
What types of driving have you done, and what are the benefits/drawbacks of each?
What advice would you give to someone just starting out?
In addition to speaking with a truck driver, you can also find information about becoming a commercial driver at your local Department of Motor Vehicles (DMV). The DMV can provide you with a commercial driver's manual (which is also available online) that will give you information about how to get a CDL license and exactly what you'll be expected to know to obtain each class of CDL license.
3. Know the requirements
Before you get started training to become a CDL truck driver, you'll have to meet a few basic requirements.
First, in the United States, you'll need to be at least 18 years old to be a truck driver of any kind. However, federal law requires drivers to be at least 21 years old to transport goods interstate. If you're younger than 21 but still want to get started as a truck driver, you can still complete truck driver school and start finding work, but you'll have to spend your first few years driving locally. But that can be a great way to get experience and gain a better sense of the industry as a whole.
Beyond your age, you'll likely need a couple additional things on hand to attend truck driving school, including a birth certificate, Social Security card, current, valid driver's license, and proof you live in the state where you're attending school, such as a utility bill. There are also medical examinations you're required to pass in order to become a CDL truck driver. These include checking for certain medical conditions, like sleep apnea, high blood pressure, physical handicaps, and checking for some prescription medications. The good news is that if you do have a medical condition that could prevent you from getting a CDL, in certain cases you can obtain a written statement from a physician that says these conditions will not prevent you from driving safely. That statement could give you clearance to complete training and take the CDL exams.
Additionally, you need a clean driving record to become a commercial driver. Most schools and trucking companies will overlook one or two small infractions, such as minor speeding tickets or parking violations. But larger violations, like reckless driving or a DUI, will probably end your trucking career before it begins.
Finally, to become a truck driver, you will likely need to have a GED or high school diploma. There are some schools and companies that don't require these certifications, but many will want to make sure you have a high school education before getting started as a truck driver.
4. Get training
After you understand the requirements, the next step to becoming a CDL truck driver is to choose a driving school. When you're picking a school, there are a few things to consider. First is the cost. Truck driving schools can cost anywhere from $3,000 to $10,000, though many companies and schools offer tuition assistance or programs where you can earn money as you train to become a CDL driver in order to help offset the cost. Beyond cost, here are a few things to consider when looking for a truck driving school:
Length of the program. Some schools claim to complete training in as little as two weeks, but speed isn't everything and a reputable school will want to ensure you have the proper training to start your career as a truck driver afterwards, even if that means you spend a bit more time in school before getting on the road. Make sure you understand exactly what sort of training you'll be getting during your time in school and if the training period is long enough. Having a quick course on your resume might actually scare away potential employers rather than giving you a leg up since they may believe that a short course does not adequately prepare students for the realities of the job.

Ratio of students to trainers. Ideally, your training should be as close to one-on-one as possible. Too many students per trainer may be frustrating as you won't get the attention you deserve. Look for programs that offer courses with no more than four students per trainer.

Manual versus automatic. It is pretty crucial that you understand how manual transmissions work, even if you plan on operating trucks with automatic transmissions. Many employers won't consider a candidate that cannot operate a manual transmission, so it's important to go to a school that covers both.

Trainer qualifications. It helps to learn from the best! Ask about your trainers' experience level before you begin a truck driver training program.

Testing. Ask your school what happens if you don't pass your test the first time. Obviously everyone wants to nail the CDL test on the first shot, but if you don't, can you repeat the licensing exam? How many times? Knowing this beforehand helps you avoid unpleasant surprises later on.
In addition to making sure you're attending a reputable truck driver training program, you also need to understand the different classes of commercial driver license to ensure you're getting the right training for the class you want. There are three classes of commercial driver license: A, B, and C. The type of license you'll get depends largely on what type of truck driver you would like to be. Here are the distinctions:
Class A: This is the type of license most truck drivers have. It gives you the freedom to drive almost every type of heavy duty vehicle, from commercial trucks to flatbed and tractor trailers, even tankers. You'll be a highly employable CDL driver with a Class A license.

Class B: This is the license for the type of operator who drives everything from city buses to school buses or handles trash collection for construction sites.

Class C: A Class C driver handles passenger transportation or cargo in a smaller vehicle than other drivers.
No matter what type of commercial driver you'd like to be or which class of CDL you get, there are a few main components to your CDL program and exam that will remain the same.
At the beginning of truck driving school, you'll need to pass the Department of Transportation physical exam (which is where those doctor's notes for certain conditions will be needed), then you'll need to go to the DMV to take a written exam. The written exams will qualify you for your CDL permit. This permit will allow you to practice driving on public roads with a certified instructor during your training. After that, you'll learn the ins and outs of being a commercial driver, from backing up and driving to conducting thorough pre-trip inspections to ensure you're always driving safely. After this training, you'll take a final driving exam and a test on your pre-trip inspection skills. When you pass these tests, you'll get your certification and you'll be ready to look for CDL jobs as a fully qualified truck driver.
5. Get hired
Of course, after learning about the process for how to become a truck driver, you're probably wondering how much money you'll make — and how you'll make it. In your first few years, you can expect to make about $40,000 a year, depending on what type of driving you're doing. After that, your salary can jump to as much as $80,000 a year and beyond, especially if you're interested in buying your own truck and becoming an owner-operator.
The good news is that there's a high demand for qualified drivers and, no matter where you are, there are likely to be a lot of great CDL truck driver jobs to choose from. Understanding what you want out of your job in terms of hours, distance, and salary can help you choose the right CDL jobs for you. When it comes to actually finding job opportunities, you can start by doing basic searches for "truck driver jobs near me" or by reaching out to that same network of truck drivers you tapped into when doing your research and chatting with drivers. Truck drivers are often happy to help each other out and you never know which connection could lead to your next great opportunity!
If you want to get started with your own trucking business as an owner-operator, the experts at DAT Authority can help you get your permits and cut down on paperwork all while helping you grow your business on the road. Even better, the industry-leading DAT load board offers access to millions of new loads posted daily so you can always find the best freight opportunities to keep your business thriving.
Whether you're just starting out as a truck driver or looking to build your trucking business, DAT has the tools to help you get where you need to be.
Let DAT take care of your paperwork!
Becoming a truck driver takes time and effort — and it requires a lot of paperwork! It can quickly get overwhelming, but DAT Authority is here to help. When you use DAT Authority, your business will be up and running before you know it!
Authority: Basic
Includes all federal fees

MC / DOT number

BOC 3 process agents