How to Calculate LTL Freight Rates
How to Calculate LTL Freight Rates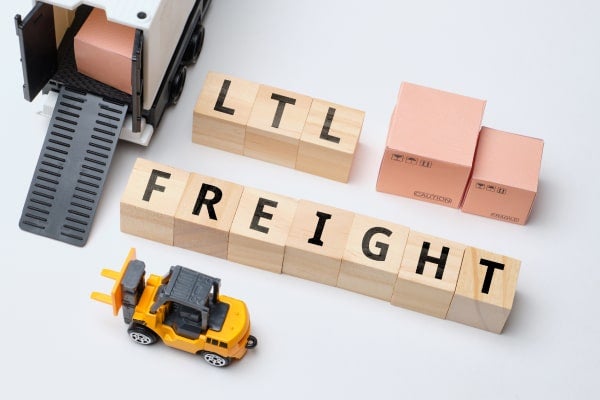 Shippers may not always have enough freight to fill a trailer, but that doesn't mean they have to send out trailers with unused space. Rather than sitting on those goods, shippers and brokers can turn to less-than-truckload (LTL) shipping to get products on the road when they need them, letting carriers combine shipments from multiple shippers in a single trailer.
LTL shipping has become increasingly popular over the years as consumers have shifted their purchasing behaviors and companies have had to shift their approaches to meet consumer expectations of short delivery windows. In particular, the growth of e-commerce has generated higher demand for LTL shipments as companies strive for greater flexibility in their supply chains. Demand for e-commerce jumped even higher during the pandemic, and since then, LTL employment has easily outpaced full truckload employment as the industry continues to adapt to the changing landscape.
The result is that the LTL market within the United States has grown steadily over the past several years, reaching $88 billion in 2022 — and the importance and prominence of LTL freight shipping is only expected to continue growing in the face of current trends.
This increased need for LTL freight shipping offers carriers more opportunities to develop their network and increase revenue by taking advantage of available LTL loads. But understanding LTL freight rates can be complex due to the number of variables that factor in the cost. The good news is that once you understand how to calculate those rates, how to find LTL loads, and you grasp the many benefits of carrying LTL freight, you'll have the competitive advantage you need to stand out from the competition and earn more per route.
This guide will cover everything you need to know about LTL freight, including what LTL freight classes are, what factors affect rates, how much you can expect to earn transporting LTL loads, and much more.
What is LTL freight?
LTL freight stands for less-than-truckload or, sometimes, less-than-load freight. The name comes from the fact that a single LTL shipment only fills a portion of a trailer, compared to FTL (full truckload) freight, which fills the whole trailer. An average FTL shipment can weigh between 42,000 and 44,000 pounds, whereas loads weighing anywhere from 150 lbs to 15,000 lbs may be classified as LTL. Because LTL shipments don't fill an entire truck, carriers will often transport multiple LTL loads from several different shippers at once.
How are LTL freight rates calculated?
One of the more unique characteristics of LTL freight is that rates can vary significantly depending on a wide variety of factors such as market demand and fuel prices. This variability can make LTL freight quite expensive for shippers.
Here are just a few main factors that are used to calculate LTL rates:

Distance
The farther the freight travels, the higher the price. Additionally, distance pricing can be affected by current fuel prices, equipment costs, and more.
Availability
If fewer trailers are offering LTL services, costs will rise. The season and current market volatility can have a significant impact on availability and, therefore, pricing.
Accessorials
Many carriers may offer additional services beyond pickup and delivery. These are known as accessorials and they can add to the cost of shipment because they require more touch points or special equipment. Common accessorials include:
Pickup and delivery within residential areas.
Pickup and delivery inside a location such as a business or a warehouse.
Liftgate services that allow heavy items to be lifted or lowered to or from the tailgate.
Advanced notice to the recipient ahead of a delivery.
Hauling options for oversized freight that is larger than a typical pallet and requires a carrier to readjust their trailer to accommodate it.
White glove delivery for valuable or fragile items.
Reclassification and re-weighing of shipments.
Weight
LTL rates are typically calculated using a weight-based scale. A unit of measurement known as the hundredweight (CWT), sometimes referred to as the centum weight, is used to factor pricing. The more a shipment weighs, the lower rate-per-hundred pounds it will have. For example, a load weighing 3,000 pounds will cost more per-hundred pounds than a load weighing 5,000 pounds. This is because the scale works off of weight categories, and the higher in weight an item will move to the next highest weight group, which will have a lower rate per CWT.
As a carrier, you can set a minimum charge for lightweight items to ensure you always get a minimum payment, even when transporting smaller commodities or items with less density.
Density
Similar to weight, density also plays a crucial role in calculating LTL rates. You can find a shipment's density by dividing its weight (pounds) by volume (cubic feet). A load's density is one of the main factors measured when placing it within one of the 18 freight classifications designated by the NMFC (National Motor Freight Classification).
Freight class & NMFC codes
Freight class is a standardized classification system that helps carriers quote LTL freight to calculate market-appropriate rates. In addition to freight classes, each commodity is given an NMFC code to help carriers identify what an item is and how difficult it may be to transport.
The 18 freight classes are: 50, 55, 60, 65, 70, 77.5, 85, 92.5, 100, 110, 125, 150, 175, 200, 250, 300, 400 and 500. The higher the code, the higher the cost per pound, and the higher the LTL freight rate.
Freight classes are determined by four characteristics:
Density – This is the most important element in determining a shipment's freight class. Density is defined as an item's weight per cubic foot, or how much something weighs relative to how much space it takes up. Commodities with a high density, such as bricks, have a lower freight class (55), whereas those with a lower density, such as a TV, typically have a higher freight class (250).

Liability – Fragile, hazardous, or perishable items as well as items susceptible to theft have a greater liability and are therefore more expensive to ship.

Handling – Factors like irregularities in an item's size, shape, or weight can affect the item's categorization and shipping rate. Often these irregularities require special handling, which makes them more expensive to ship. For example, a large, fragile item will need a different type of handling than a shipment of lumber.

Stowability – If an item is oddly shaped or must be loaded onto the trailer in a particular way, this will affect its stowability, which will impact its categorization and shipping rates.
Once an item's freight class is determined, you can find its NMFC code. NMFC codes use a similar grading system to the freight class system. When it comes to determining the codes, factors such as the item's packaging, dimensions, and value all play a major role. It's important to note that even though there are similarities in the determination of the freight class and NMFC codes, there are some significant differences. That means that even if two commodities have the same freight class, they can still have different NMFC codes.
Carriers and shippers may use the ClassIT® tool provided by the NMFTA to input their measurements and find the correct NMFC code.
How much do LTL loads pay?
According to ZipRecruiter, LTL carriers make an average salary of $53,235 a year or $26 an hour. Top earners can make over $70,000 a year, depending on a variety of factors including their experience, the shippers they work with, and the type of freight they transport.
Tips & tools for carrying LTL freight
There are many advantages to carrying LTL freight — including shorter travel times, which can mean more time at home! But like anything, getting those advantages takes some work.
Unsurprisingly, carriers hauling LTL freight can boost their profits on the road by maximizing their loads when they fill in empty trailer space with different LTL shipments. But finding LTL loads can be challenging — and finding LTL loads with great rates can be even more difficult. Luckily, DAT has a few tips and tools to help you boost your income and make the most out of every load.
Use a dedicated LTL load board: DAT has an easy-to-use LTL freight load board that makes it easy to narrow your search and find LTL loads with great rates from reputable partners. Our load board has hundreds of thousands of new loads posted each day — and six percent of those are solely LTL freight. You can even use the DAT load board to strengthen your bargaining power by using it to see where there is a higher demand for carriers. All of those features and more make DAT the best LTL load board in the industry.

Optimize your operations with a TMS: Using a transportation management system (TMS) allows you to automate tasks so you can focus on finding the best LTL freight at high-paying rates instead of on handling back office tasks. The DAT Carrier TMS can help you find loads quickly, create a delivery schedule, track loads, and much more so you can keep your eyes on the road ahead.

Know how much your truck can carry: The most important part of calculating LTL freight rates is knowing the freight dimensions and how it will fit in your truck. That means you need to make it a point to know exactly what your truck can haul. Being familiar with the dimensions of your trailer and knowing exactly how much you can carry will make finding loads and calculating LTL rates much simpler.

Make use of accessorials: Offering accessorial services can not only improve your profits, but also help you stand out from the competition. Consider providing more complex services such as residential delivery or sorting and segmenting to give yourself that extra edge.

Use a freight factoring service: Billing and collecting can be one of the biggest hassles you face as a carrier, but using a freight factoring service can significantly reduce your stress. Rather than waiting up to 90 days to get compensated, submit your invoice and get paid within 24 hours when you use DAT's trusted freight factoring service.
Find LTL freight & drive your profits with DAT Freight & Analytics
Now is a great time to start carrying LTL freight, and DAT has everything you need to find the best loads, negotiate the rates you deserve, and manage your hauls efficiently. With DAT's expansive network of services, such as DAT One, the DAT Load Board, and Carrier TMS, you can easily search and filter through thousands of loads to get the perfect ones for your route.
Start maximizing your trailer space and see how DAT can help you drive up your profits with LTL freight today!
Start finding LTL loads with DAT today!
Finding LTL loads isn't always easy, but DAT makes it simple. Since the DAT load board is home to more loads than any other load board out there, finding LTL freight will be a breeze.