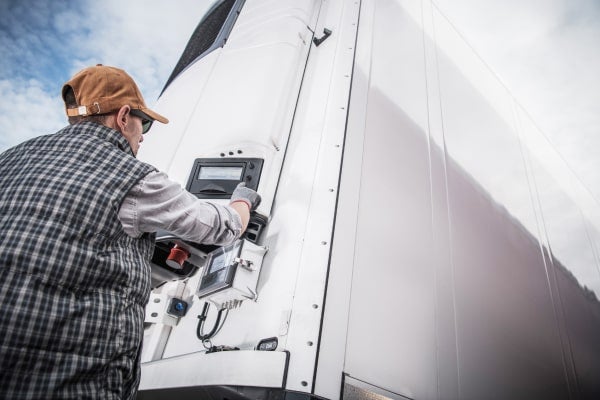 Everything from the produce we eat to the medicine we take relies on refrigerated reefer trucking to make it to our stores and into our households. There's no doubt that reefer trucking is an integral part of the US economy — and the US and Canada's market size of the refrigerated trucking industry is estimated to reach 12 billion by 2025.
Because reefer trucks play such a crucial role in delivering many items that are vital for our daily lives, it's no wonder that this sector has remained resilient, even through the volatility of the pandemic. But what is a reefer truck, and what are the pros and cons of working in the reefer trucking business? In this guide, we'll go over these questions and more to give you a broad overview of the reefer trucking industry, as well as offering some tips to help you find high-paying reefer trucking loads.
What is reefer trucking?
So what is reefer trucking and what is a reefer truck? The term "reefer" is a shortened version of the word "refrigerated" because reefer trucks are insulated and temperature controlled, much like a refrigerator. This distinction puts the reefer in a different class than a dry van, which does not have the ability to maintain temperatures for cargo.
Typically, the loads that reefer trucks carry must be kept at a specific temperature to avoid spoiling or damage to the product. While many of the goods transported by reefer trucks must be refrigerated, the vehicles can also be temperature-controlled to maintain frozen or heated temperatures as well.
Some of the goods that rely on reefer trucks for transportation can include:
Produce such as fruits and vegetables
Seafood, meat, and dairy
Frozen or baked goods
Chemicals and pharmaceuticals
Cosmetics such as lotions, creams, and lipsticks
Flowers and houseplants
Fine art, antiques, or musical instruments
Electronics such as TVs, computers, and tablets
As you can see, not all freight carried by a reefer truck has to be food related. Items such as cosmetic goods and even electronics can benefit from a reefer's insulated, temperature-controlled conditions. Reefers can keep frozen cargo cool during the summer when temperatures are scorching hot. And, by the same token, in the winter when temperatures can reach well below 0º F, reefer trucks can maintain a warmer environment to ensure their loads don't freeze.
What are the reefer trucking requirements?
Now that we've answered the question "What is a reefer truck," it's time to talk about reefer trucking requirements. Because many of the products carried by reefers can cause health concerns if spoiled, the Food & Drug Administration (FDA) established the Food Safety Modernization Act of 2011 (FSMA). These food and safety regulations are meant to help reduce the risks associated with foodborne illness and ensure carriers follow a standard food transport procedure.
Reefer carriers must be well-versed in the Sanitary Transportation Rule outlined in the FSMA. This rule has four different requirements for transporting both human and animal food. These requirements fall into the following categories:
Vehicles & transportation equipment: The vehicles used in transporting goods must operate to such a degree that the food being transported does not spoil, meaning your truck needs to be capable of maintaining the proper temperatures without any problems. In addition, any rig transporting food must be thoroughly cleaned by a carrier or third party after each load to avoid cross-contamination.

Transportation operations: In addition to cleaning the truck after each use, the carrier must take additional measures to prevent contamination. These include ensuring the truck can maintain the appropriate temperatures and protecting food from other non-food items.

Training: Carriers must undergo training in sanitary transportation practices and have documentation showing the training was completed.

Records: Carriers must maintain records of activities, including signed agreements, training courses, and more.
While these rules may initially sound daunting, the FDA has made it easy for carriers to find everything they need to ensure they follow the FSMA rules correctly. For more information regarding best practices for food transportation, check out their guide here or take their free training course online to fulfill the training portion of the requirement.
Pros and cons of reefer trucking
Being a reefer truck driver can be a gratifying experience — but much like any career, there are pros and cons to the job. No matter whether you're new to the industry and are considering becoming a reefer hauler for the first time or you're looking for new ways to expand your already growing business, keep these points in mind as you explore your options.
The pros
Plenty of available work
Because reefer trucking is responsible for carrying important freight such as food and medicine, there is usually plenty of work available for reefer haulers. Even when the pandemic impacted consumer behavior and stunted the supply chains of many industries, reefer demand remained relatively stable because people still needed food and medical supplies despite the lockdowns.

In addition, while some cargo is largely dependent on the influx of demand around the holiday season, the freight delivered by refrigerated trucks is generally stable throughout the year, making it more predictable and available. That leads directly into the next pro…
Fewer deadhead miles
A stable supply of reefer loads means you don't have to worry about running into extended periods where work is scarce. But if you do need to find additional loads that don't require temperature control, you're in luck because the refrigeration feature of a reefer truck doesn't always have to be used. Reefer trucks can be used as dry vans instead of reefers and deliver regular cargo when needed, giving you the flexibility to pick up a variety of freight to cover your miles.

Better paying loads
Reefer loads tend to pay better than their dry freight counterparts for several reasons. The main factor is that certain cargo, like pharmaceuticals, chemicals, and even the food and drink we eat every day, must be kept at precise temperatures to avoid spoiling. Shippers understand that this type of freight requires a specialty rig and professional handling, and they're willing to pay top dollar for the careful treatment of their cargo.

More coordinated pickup & delivery
Food distribution centers, grocers, and processing facilities must move quickly in order to maintain the integrity and quality of the products reefer trucks are delivering. This results in a pickup and delivery process that is optimized to get you in and out of the dock as quickly as possible with little hassle.

The cons
Vehicle care & expenses
Maintaining a refrigerated truck requires a lot of maintenance. How cold does a reefer truck get? Standard trucks can stay between 55º F and -20º F, with more specialized units able to sustain temperatures as low as -85º F for transporting specialized medical or chemical freight. It should come as no surprise then that upkeep and repairs can quickly become costly if you don't stay on top of caring for your truck. Worse yet, falling too far on maintenance and care can lead to a broken truck, which means you won't be able to pick up reefer loads until you get your equipment fixed.

On top of vehicle management and maintenance tasks, such as ensuring your Freon is topped off, you'll also need to clean your truck in between loads. This can sometimes be a messy job, so you may want to hire a third party to handle it for you, but then you'll have to foot the bill.
Longer hours
Most of us are familiar with the fact that grocery stores tend to open pretty early in the mornings and close late at night (if they close at all). That means they'll want deliveries either before they open or after they close. To ensure you're able to deliver within those windows, you may have to work longer hours, or at least later or earlier hours.

Pre-cooling requirements before pickup
It's a common misconception that reefer trucks cool down the cargo they're carrying. The truth is they simply maintain the cargo's current temperature. In order to do so, you'll have to pre-cool your unit to ensure your vehicle is prepared to carry the load. If you pull up to the dock and your unit doesn't meet the required temperature, you'll have to wait until it does. This oversight can cost you precious time (and money) if you don't manage your pre-cool procedures effectively.

Finding the best paying reefer truck loads
If you're interested in entering the reefer truck business, you next need to know how to find the highest-paying reefer loads. An established load board service such as the DAT Load Board is the best way to find high-paying freight and that lets you work with trusted professionals across the industry.
DAT has the largest network of shippers, brokers, and carriers, and by subscribing, you can access the best refrigerated load board in the industry. With DAT, you can quickly and easily search your preferred lanes and refine your search to match your rig and requirements. Best of all, DAT helps you stay up-to-date by giving you access to the latest reefer truck market data, letting you negotiate rates that meet your needs.
Break into reefer trucking with DAT Freight & Analytics
Get into reefer trucking with the help of DAT. Whether you're a veteran of the industry or just getting started, DAT offers a variety of tools and services to help you grow your business. Our experts can guide you through any step of your career, from getting your trucking authority or optimizing your daily operations to improving and expanding your company.
If you're ready to get started, reach out to us today or explore the freight solutions and resources we have to offer.
Find reefer loads with the DAT load board!
Reefer trucking is perfect for many truckers, but you can't run a successful reefer trucking business if you can't find refrigerated loads! Luckily, the DAT load board, the best reefer load board in the industry, is here to help.