Find the best loads for hopper bottom trailers with the largest load board network in the industry.
DAT may be famous for its reefer, van, LTL, and flatbed load board, but did you know that you can also find plenty of hopper loads on our freight load board? With hundreds of thousands of new loads posted daily, there are plenty of hopper loads to choose from with DAT!
Find quality hopper loads with ease.
Get the best rates on all your hopper loads.
Stay on top of new hopper loads with alerts.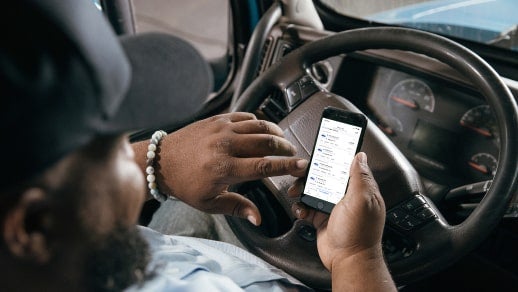 Find quality hopper loads with ease.
Comprehensive load boards and easy access to broker information make finding trustworthy hopper loads simple.
When it comes to finding the best load boards for hoppers, it's important to choose a platform that reliably delivers top-quality, trustworthy loads. That's precisely what you get when you work with DAT! 
DAT delivers the tools you need to qualify each business on our hopper load board before you commit to working with them. Get details on average days to pay, bond information, credit scores and more right from a load board that has nearly 1.37 million load postings every business day.
Get the best rates on all your hopper loads.
Access essential information on lanes and businesses to make sure you're always getting the best rate on your hopper loads.
Everyone wants to get the best rates possible on their hopper loads. With DAT, we make that dream a reality with the help of key insights on each of your potential business partners as well as information on market rates for each lane you're looking at. DAT arms you with the information you need to pick the perfect lanes and negotiate the hopper load rates you deserve.
Stay on top of new hopper loads with alerts.
Never miss a hopper load matching your search criteria with the DAT mobile app.
With hundreds of thousands of loads posted to the DAT load boards every business day (nearly 1.37 million), new loads that match your search criteria are always popping up. Staying on top of those loads from wherever you are is simple with the DAT mobile app, which alerts you as soon as a new load matching your search criteria appears so you never miss the perfect hopper load!
What are hopper loads?
Hopper loads are bulk loads that are transported in a hopper trailer. These large freight loads typically consist of products like grain and gravel that can be emptied through a hopper at the bottom of the trailer. 
If you're interested in working with either the agriculture or construction industries, hopper loads are a great option because they are particularly popular in both areas. Not only are hopper loads an easy way to transport thousands of pounds of sand, grain, gravel, corn, and other aggregates from one point to another, the trailers also make it easy to dump the load in spaces that are too small for end-dump trailers.
Why should I use a load board for hopper loads?
Where can I find hopper loads to haul?
How does a load board work?
Why should I use DAT's load boards?
Does DAT offer any other services?
"The DAT Load Board is the only one I use, and I really don't see any interest in trying any other one."
- Brian Stone, Stone's Trucking LLC
"DAT Load Board is awesome. They even teach you how to book a load and how to use it on your computer or cell phone app. Highly recommend DAT!"
- Francis Gatmaitan, Alpha Trucking
Find the Best Hopper Loads Today!
Find the best hopper loads for your business no matter where you are with DAT's best-in-class hopper freight load boards! Posting over 500 million loads each year, we ensure great hopper loads are always right at your fingertips. Try it today!