Understand current trucking cost per mile to help your business thrive.
As a carrier or owner-operator, you need accurate and up-to-date information about trucking costs per mile to improve your negotiations and business relationships. DAT's predictive analytics and large freight cost per mile database can give you an idea of what trends to expect and help you make quick, profitable decisions.
Find and compare average trucking costs per mile.
Boost revenue with our powerful freight cost per mile tools.
Stay ahead of market changes.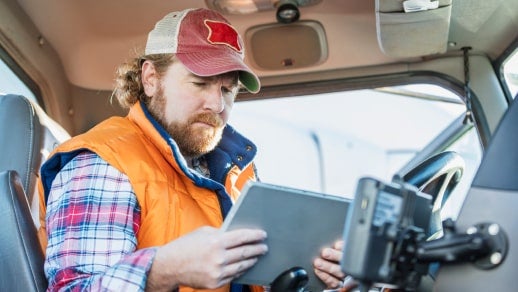 Find and compare average trucking costs per mile.
Keep your prices competitive with the help of DAT's average trucking cost per mile data.
Pricing loads is complicated — especially if you don't know how much other carriers and owner-operators are charging for spot and contract freight. To help you make the best decisions for your business, we integrated data from DAT iQ, our analytics and forecasting platform, into the DAT One load board. That means you can now access the most accurate and trustworthy average cost per mile for trucking in the industry from within your load board!
Boost revenue with our powerful freight cost per mile tools.
Get the best rates and increase profits with DAT's insights into cost per mile.
As a carrier, it's essential that you get the best rates possible to increase your profit margin and help your business flourish. DAT can help make that happen.
In addition to offering data on trucking costs per mile across thousands of lanes nationwide, we offer insights into regional supply and demand so you're always up to date on key cost information. With DAT, you'll have information at your fingertips as you enter negotiations with shippers and brokers, so you can get the rates you deserve for every single load.
Stay ahead of market changes.
Be prepared for market changes and take as much uncertainty as possible out of your job.
The market is constantly changing, and many factors are out of your control, from the weather to rising fuel prices. So, having access to tools that give accurate forecasting can make all the difference.
DAT offers trucking cost per mile forecasting up to a year in advance — and our RATECAST forecasts are twice as accurate as our competitors' forecasts. With DAT, you can anticipate market changes, which means you can ensure you aren't caught off-guard or taking unnecessary risks.
What is the total cost per mile for carriers?
Many considerations go into the current cost per mile for trucking. In addition to fuel and maintenance costs, you'll need to account for insurance premiums, tolls, driver pay, permits, and other miscellaneous expenses.
That's a lot to keep track of, so making sure your current cost per mile allows you to make a decent profit is challenging. With DAT RateView, you'll be able to see what other carriers are doing and find the national and regional trucking cost per mile averages so you can stay ahead of the competition and improve your bottom line. The best way to make good choices for your business is by understanding what your competition is doing.
What is the current trucking cost per mile?
How can I improve my business with cost data?
How do you calculate freight cost per mile?
How accurate is DAT's data?
How else can DAT help me?
"In our experience, DAT is the most accurate and complete source of spot and contract rate data available."
- Don Everhart, VP Technology & Analytics for Knight-Swift Logistics
"By integrating DAT's forecasting data and analytics tools with our expertise and customized pricing, we can deliver fast, reliable rates using the most comprehensive data and market analysis available."
- Ryan Ilges, Worldwide Express Vice President of Truckload
Prepare For The Future With DAT
Want to prepare for the future and negotiate better prices? Use DAT! Not only do we have the largest load board, but we also have the most historically complete trucking cost per mile database. With DAT iQ's help, you'll be able to understand seasonal trends and make informed pricing decisions.