8 Steps to Get Your Freight Broker License
8 Steps to Get Your Freight Broker License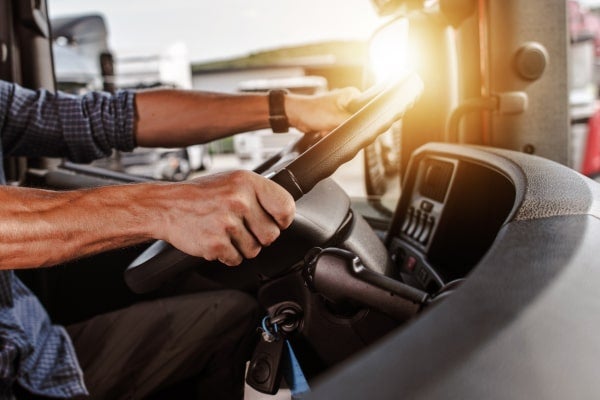 When you follow the right steps, you can get your freight broker license efficiently and establish a great foundation for your freight brokerage business.
Getting your freight broker license isn't always intuitive. The steps to becoming a licensed freight broker may seem cumbersome and time-consuming — and, for a freight broker starting out, they also come with a price tag. Making the most out of your freight brokerage business means you'll need to invest upfront in registration fees and back-end office expenses, plus a transportation management system to keep track of your business.
At DAT, we offer a wide range of services for your freight brokerage business — from assistance in getting your brokerage authority to TMS services and more. At each step of the process, our freight brokerage packages can help you to understand where your business needs to go. With DAT's team of experts, you can get your business up and running in no time.
Before you invest in brokerage services, it's important to understand the steps necessary to become a freight broker. With a good understanding of brokerage requirements, you can set up a successful business quickly and efficiently.
What is a Freight Broker?
Freight brokers form a critical part of our transportation infrastructure. Getting freight from point A to point B is a necessary part of our economy's supply chain, which is why the shipping industry is the heart of our economy. As a freight broker, your role is central to transporting freight across the country. If you're interested in the transportation industry, becoming a freight broker is a rewarding career path with lots of opportunities for growth.
To put it simply, freight brokers act as the middleman between shipping companies and carriers. With the right connections and resources at your disposal, you can connect trucking companies with freight providers, communicate with dispatchers and 3PLs, and help the transportation industry to run as efficiently as possible.
Freight brokers are neutral parties, which means you'll be legally responsible for a fair and impartial relationship between your suppliers and your carriers. When you first register your brokerage business, you'll need to ensure you won't be working in favor of any specific client. Instead, you'll be finding the best freight matches and the best deals for both you and your clients in the transportation industry.
Because freight brokers are impartial, their jobs are different from dispatchers and 3PLs. 3PLs coordinate logistics on behalf of the shipper, and they help to store freight in warehouses and intermediate shipping centers before delivery. Dispatchers, on the other hand, work on behalf of the carrier — their job is to find the best freight deals for trucking companies, using load boards or brokers. Many dispatchers work for larger dispatching companies on a fixed wage or salary. Brokers, on the other hand, are usually small business owners. If you're interested in an independent business model that allows you to play a central role in the transportation industry, you should consider becoming a freight broker.
How to Become a Broker for Trucking
Before you can become a freight broker, you'll need to get authority from federal and state governments. Like any small business, brokerage firms need to ensure they're complying with all necessary regulatory requirements. These requirements help to ensure all brokers are working fairly as intermediaries, operating safely, and paying the right amount of taxes.
Getting your authority and registration are freight broker basics, but they aren't the only things you need to do in order to build a successful freight brokerage business. To become a freight broker, you'll need to understand how to establish your business from the ground up — that means investing in back-end office operations, planning your business model, and getting the right training to become a successful broker.
At DAT, we've got you covered. With freight broker services for each step of the brokerage process, DAT offers brokers effective resources for running a sustainable business. Let's take a look at how to get a freight broker license — and how DAT can make a difference along the way.
Licensing & federal regulations
Freight broker training is all too often overlooked. Many freight brokers assume that the only important steps in becoming a freight broker are the licensing requirements — but a license is only good if you know how to use it. Before you even begin to get your authority and registration, it's wise to take freight broker classes.
Even though broker training is yet another upfront cost, it's an important investment in the future of your brokerage business. The truth is, brokers have a high turnover rate — and much of this is due to lack of experience. DAT's special partnership with Freight 360 means you can access a complete freight broker course through the DAT network. Broker training helps to ensure that you're prepared before entering the brokerage industry, so your business can get off to a great start.
Set Up Your Business Basics
Freight brokerage is a business, and starting any small business requires planning. One of the most appealing aspects of becoming a freight broker is the independence associated with running your own enterprise.
Before you start submitting your registration requirements, you'll need to decide on your business model. Will your business be a sole proprietorship or a partnership? Will you register as an LLC or as another business entity? Establishing your business's structure is an important component of your business plan. Freight broker training courses can help you to understand how to create an effective business model. If you want more legal advice, ask a local business attorney which business model would best suit your goals. Once you have a clear idea of what your business will look like, you can start working on getting a freight broker license.
Apply for Authority for Brokers
All brokers need authority from the federal government. Just like carriers and shippers, brokers will need to register with federal agencies to ensure they're complying with all the legal requirements for a brokerage business. Authority helps to ensure that you're safe, qualified, and impartial.
As a broker, you'll need an MC number and DOT number, both of which are issued by the U.S. Department of Transportation. If these numbers sound familiar, it's because truckers also need MC and DOT numbers for registration. In addition to these requirements, you'll also need a FF number from the FMCSA.
Getting authority usually takes four to six weeks, so time is of the essence. When you're starting your brokerage business, completing all the authority requirements correctly and quickly allows you to save time and money. To help with these requirements, DAT Authority provides experts who can fill out and file your paperwork for you.
Designate Process Agents
Process agents (also known as BOC-3 process agents) are legal representatives that act as a type of legal insurance for brokers. In case you get sued by one of your clients, you'll need a designated process agent working for you in the state where your legal process takes place. Because process agents work on a statewide basis, you'll need to designate a process agent in every state where you'll be doing business. In practice, that means you'll need an agent in every state.
Designating process agents in every state isn't as complicated as it sounds. Plenty of trucking authority services, like DAT Authority for Brokers, help you to get blanket coverage from process agents around the country — so you don't have to worry about designating them individually. After you've designated agents, you'll need to submit your BOC-3 form to the FMCSA.
Secure a Bond or Trust Fund
Like most new businesses, getting insurance is an important part of your brokerage business. On a federal level, you're required to have either a surety bond worth more than $75,000, or a trust fund for your company. These requirements help to ensure you can pay any broken or faulty contracts you might have. Like several of the other requirements, you'll need to submit proof of your bond or trust fund to the FMCSA.
Get Registered With UCR
UCR registration is technically a state-level requirement, so you'll need to file it through your state Department of Transportation instead of the federal government. However, UCR registration is standardized across the country, meaning you'll need to submit the same UCR papers and fees no matter where you live. It's important to note that even states that are "non-participating" still require UCR registration.
With the UCR, you'll get specialized UCR plates that show you've completed your requirements. UCR is an annual process, meaning your UCR plates need to be renewed once a year. Failure to comply with UCR can result in fines, so it's important to keep track of your UCR registration. DAT Authority helps you to fill out UCR registration requirements and offers professional consultants standing by to help with any questions you may have.
Finish State-Level Requirements
Some states require additional registration. Depending on the state you live in, you may need to complete special paperwork for your state-level DOT. No matter where your home base is, you'll need to investigate what requirements may be necessary for operating as a broker. These requirements aren't necessarily brokerage requirements — you will also need to understand state-level business regulations.
Before you can run a small business, learning your state registration and tax requirements is a must. Like the other steps in this process, DAT is here to help. DAT Authority for Brokers offers guidance in filling state-level brokerage requirements — all you need to do is file the paperwork yourself.

Set Up Your Back-End Management
You're almost ready to start brokering freight. Now, you'll need to understand what your business will look like from your end. It's time to answer some basic questions about your business setup. Where will you be working? How much will you need to invest in computers, internet, and phone lines? What services will you need for employee payroll?
Another major consideration will be where you're finding freight. That's where DAT comes in — with the largest load board in the trucking industry, you can find exclusive freight across the country. With load match alarms, search filters, and direct messaging to shippers and carriers, you can start up an effective brokerage business.

For a unified solution to back-end management, DAT also offers TMS for Brokers — a software that acts as the control center for your brokerage operations. TMS for Brokers allows you to manage your business, connect with clients, and access your other DAT services in one place.

How to Get Your Freight Broker License with DAT
Any new business needs a startup strategy, and brokerage companies are no exception. First, you'll need broker training and a business plan. Then, you'll need to make sure you're complying with industry standards — which include federal paperwork requirements, process agents, and a surety bond. Finally, you'll need to fulfill UCR registration and other state requirements before setting up your back-end management system.
You'll also need to make sure your bases are covered and ensure that you have contingent cargo insurance. In the event that something happens to a shipment and a carrier's cargo claim is declined, contingent cargo insurance means that you can count on it to be covered.
At each step of the way, DAT is here to help. DAT's freight broker authority package offers all the tools you'll need to start your brokerage business — and more. Plus, our partners, including Freight 360, offer special deals to DAT customers for freight broker license training and surety bonds. To make the most of your brokerage experience, DAT is a smart investment.
We're interested in working with you as your business grows. To avoid the common pitfalls of the first year of brokerage, learn from the best with DAT Solutions. Check out our services for brokers to see for yourself how DAT is helping brokers across the country to build sustainable, successful businesses.
Start your freight broker business off on the right foot!
Becoming a freight broker means more than just getting training and establishing your businesses' structure. You also need to meet many state and federal requirements, which means dealing with lots of paperwork.
Don't feel like wading through it yourself? Sign up for DAT Authority today, and we'll handle your paperwork!