Driven by powerful analytics and the highest standards for data collection, DAT's price forecasting tools and market insights keep you up to date on average truck freight rates across the nation.
More than $110 billion in business is conducted over DAT's on-demand freight platform each year. Using information supplied by brokers and shippers, we crunch the numbers on data from tens of thousands of lanes — creating the most accurate and up-to-date pricing index in the industry.
Discover the most trusted source for freight lane rates.
Stay ahead of the market with DAT Trendlines reports.
Use personalized insights to drive business decisions.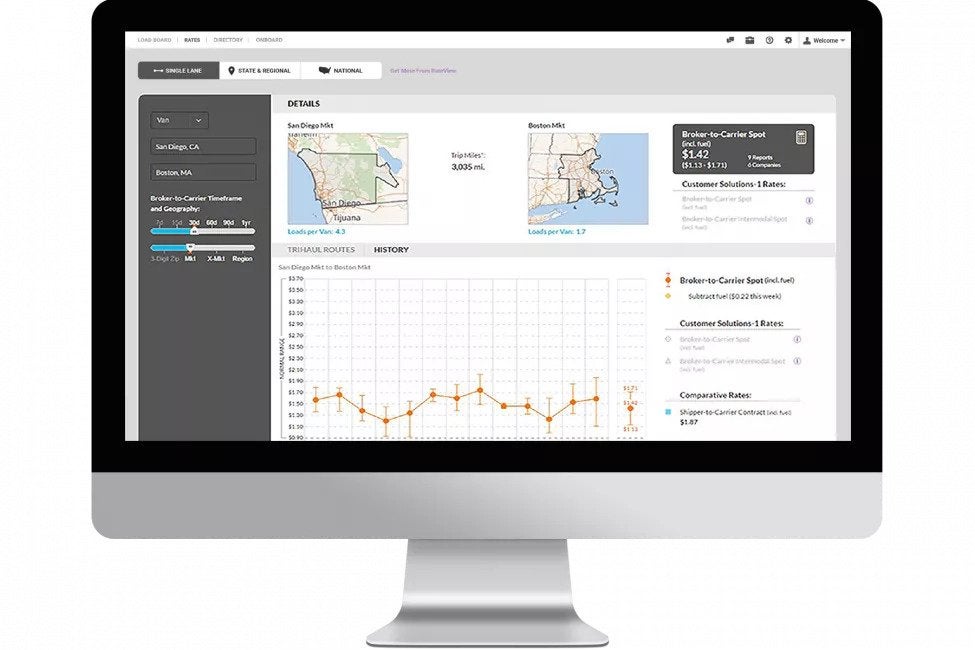 Discover the most trusted source for freight lane rates.
Designed to reduce uncertainty for shippers, brokers and carriers, DAT provides current freight rates and an archive of valuable historical data.
DAT iQ's comprehensive rate data offers visibility into the average van, reefer, flatbed, heavy haul, LTL truck freight rates for more than 68,000 lanes — as well as rate data for dozens of other equipment types via DAT RateView and Benchmark Analytics. Multilane reports help keep rates competitive while improving the efficiency of pricing strategies for small operations and enterprise companies alike.
Stay ahead of the market with free analysis and reports.
We turn raw market data into strategic business insights.
Our free market updates and reports track market behavior, including week-by-week changes in truck freight rates and load-to-truck ratios, providing you with detailed recaps of supply and demand trends, and allowing us to forecast rates up to 52 weeks ahead of time — with twice the accuracy of our competitors. Subscribe to our newsletters for the latest updates, or download a free preview of the DATiQ Signal Report for shippers.
Use personalized insights to drive business decisions.
Interactive maps and charts provide insights into market conditions in easily digestible formats.
Combining pricing forecasts with a wealth of data on national and regional trends from previous years, our custom market analytics reports give you the information you need to negotiate better contracts, manage shipping costs more efficiently, and prepare for upcoming market shifts. What's even better is that it can all be tailored to meet the specific needs and challenges of your business.
What makes DAT's rates the most reliable?
We offer solutions both for the short and long term. Our rate forecasting tools can anticipate flatbed freight rates up to 52 weeks in advance more accurately than anyone in the business. Plus, our short-term 3-day forecasts have been refined to help you improve pricing strategies for same-day or next-day freight. 
Further, our Benchmark Analytics solution, designed for shippers and 3PLs, provides regular updates and analysis of transaction-level data with the aim of helping supply chain and logistics teams reach deeper understandings of their operational needs, expenses, and procurement and pricing strategies.
What are the benefits of rate benchmarking?
Why choose DAT Analytics?
What is DAT RateView?
Where can I learn more about market trends?
What sets DAT ahead of the competition?
"In our experience, DAT is the most accurate and complete source of spot and contract rate data available."
- Don Everhart, VP Technology & Analytics for Knight-Swift Logistics
"I've been using DAT for 10 years, and I can tell you that there's not a product there that compares, as far as consistency, the data quality, the number of reports, the number of sources—it's incredibly accurate."
- Andrew Smith - VP of Sales & Operations, Circle Logistics
See tomorrow's trends today.
Contact us today to get the most trusted truckload pricing tools in trucking and take the uncertainty out of freight. DAT iQ offers the most historically complete freight rate database, so you can anticipate seasonal trends and make quick pricing decisions.