President Joe Biden's recent announcement that the Strategic Petroleum Reserve will release one million barrels of oil reserves per day for the next six months …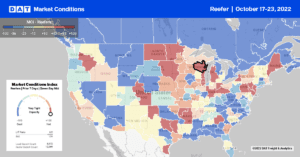 Brokers and growers are finding ample capacity to move loads of fruit and vegetables from growing regions, with spot rates averaging $3.87/mile last week in California.
Read More »
DAT operates the largest truckload freight marketplace in North America. Transportation brokers, carriers, news organizations and industry analysts rely on DAT for market trends and data insights derived from 500 million freight matches and a database of $137 billion of market transactions.
The Original Load Board - Trusted Since 1978
The company was established in 1978 as the Dial-A-Truck (DAT) load finder service at Jubitz® truck stop in Portland, OR.