Monthly revenue rose 78% for freight brokers in May on a 41% increase in load volume, to set new records for those two metrics. Brokers achieved 23% net operating profit, a solid outcome that beat May 2017 results but fell short of April's record levels.
Gross margins averaged 12.7% in May, down from 13.6% in April and 13.2% in May 2017. High demand and tight capacity continue push truckload rates higher, so margin compression could be an ongoing factor in the coming months.
This benchmark report draws data from an aggregate of more than 100 freight brokerage companies, whose 2017 average annual revenue of $19.5 million grew 26% compared to 2016. Average revenues for the group were 69% higher in the first five months of 2018, compared to the same period last year.
To receive monthly updates in your inbox, subscribe to the DAT Broker Benchmark Report.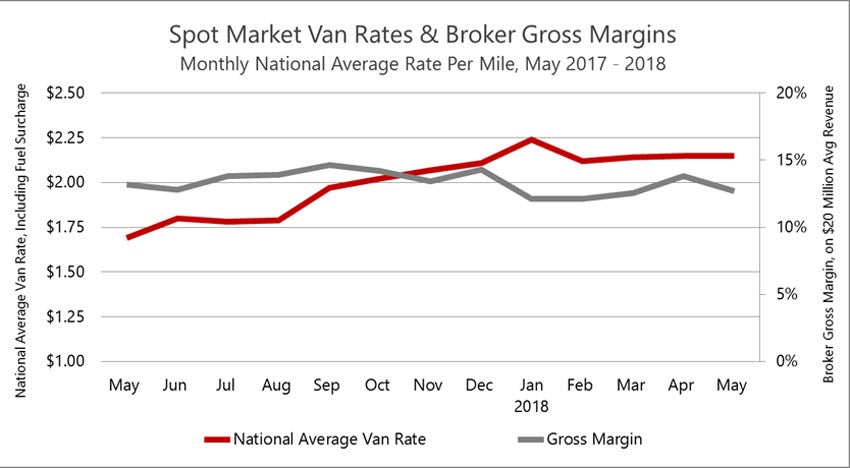 Brokers' gross margins backed down to 12.7% in May, from 13.6% in April, and did not compare favorably to the 13.2% gross margins of May 2017. Margins continue to be squeezed due to high rates on purchased transportation, as shippers have yet to adjust expectations. For example, van spot rates rose 27% in May, year over year, to a national average of $2.15 per mile. Spot market rates continued to rise in June, so margin compression is likely to persist.
DAT Keypoint, the TMS created exclusively for freight brokers, keeps track of all your business-critical data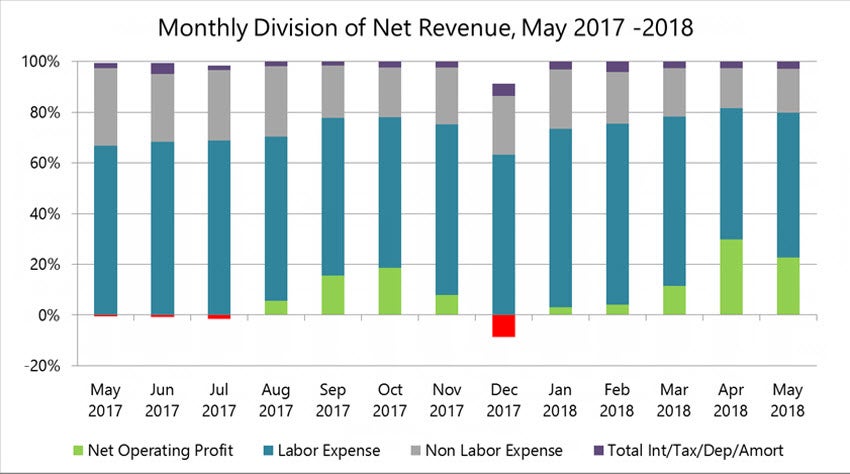 Freight brokers had a solid month in May, with 23% average net operating profit that did not quite achieve April's record level but was still 43 times higher than the 0.5% net operating loss of May 2017. Labor expenses accounted for 57% of net revenue in May, up 52% month over month, while non-labor expense took 17%, and 2.8% was allocated to interest, taxes, depreciation and amortization.
While total revenue increased 78% year over year, labor costs increased more slowly at 45%, and non-labor expense declined 4%. Compared to April, labor expense increased 14% and non-labor costs rose 13%. As a portion of net revenue, both expense categories declined year over year, but edged up month over month.
Revenue per employee increased 26% to set a new record, even though brokers employed 18% more staffers in May 2018 than in the previous year. Profit per employee soared almost 52 times higher, from negative territory in May 2017 to an average of $2,282 per employee, only 23% below the previous month's record high. Compared to April, revenue per employee rose 9%.
Brokers moved 41% more loads in May, compared to the same month last year, to set a new record. Load volume rose 10% month over month.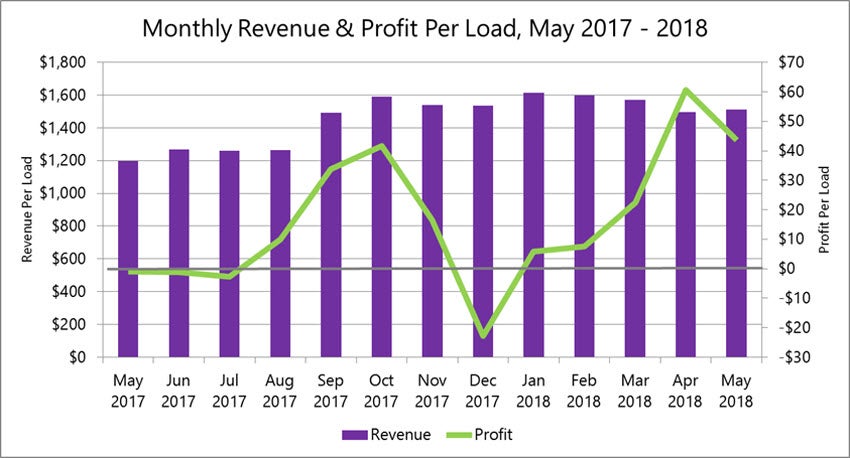 Average profit per load slipped 28% lower in May compared to April's record results, making May the second-most profitable month in more than a year. Profits were more than 52 times higher than the negative results of May 2017, on a per-load basis. Revenue per load edged up 1%, month over month and added 26% compared to May 2017.
Sign up for the monthly Broker Benchmark report to see how your business compares to the competition.