Freight brokers doubled their monthly revenue in July compared to last year, to set yet another record. Despite lackluster gross margins of 13.3%, the group achieved a 93% increase in gross profit.
Labor and overhead costs did not rise as fast, so the brokers retained 3.9% in net operating profit, after labor, overhead and taxes. This report is derived from the monthly financial results of more than 100 freight brokerage companies. Their 2017 average annual revenue of $19.5 million has risen 75% in the first seven months of 2018, year over year.
Get the full monthly report, delivered to your inbox. Subscribe to the DAT Broker Benchmark Report.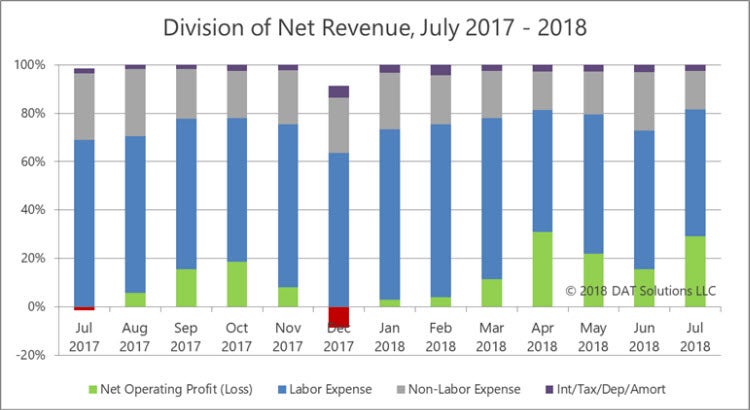 July's net operating profit was a solid 29% of net revenue, a vast improvement over a net loss of 1.5% in July 2017. The percentage did not set a record — April's was higher at 31% — but the dollar amount in July was the highest net profit in more than two years. Labor expenses came in just above 52% of net revenue, while overhead was held below 16%, and another 2.6% of net revenue went to interest, taxes, depreciation and amortization. Net revenue is the amount that's left after the broker pays the carrier. It can also be called gross profit.
DAT Keypoint, the TMS created exclusively for freight brokers, keeps track of all your business-critical data.
Profit per employee more than doubled (up 112%) in July, even though revenue increased only 2% month over month. Compared to July 2017, revenue increased 42% while profit soared to $3,181 per employee, from a $123 loss in the previous year.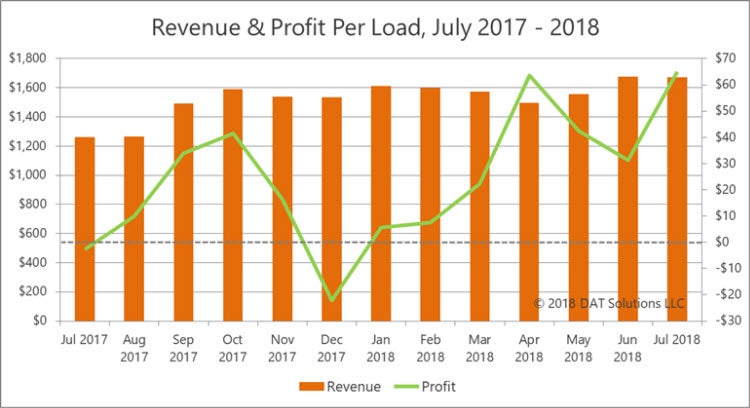 Record profits of $65 per load doubled June levels, and posted a vast improvement over a $2.68 net loss per load in July 2017. Revenue per load held steady compared to June, but jumped 33% year over year. Load counts added 4% month over month and a whopping 50% compared to July 2017.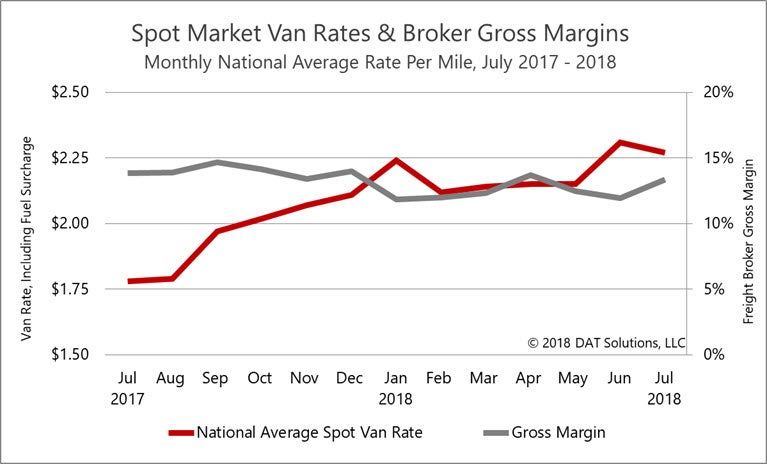 Average gross margins of 13.3% were a disappointment in July. While that was an improvement over an 11.9% rate in June, it did not quite measure up to the 13.8% rate of July 2017. Spot market rates remained elevated in July, so the cost of purchased transportation was 20% higher than prior-year levels. That contributed to margin compression, which may persist through the end of the year.
Subscribe to the DAT Broker Benchmark Report, and get the details delivered to your inbox every month.