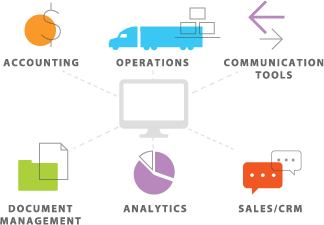 When a brokerage hits $1 million in annual revenues, it's time to celebrate—and also time to make a decision, if you haven't already, on a Transportation Management System (TMS). The right TMS can help you eliminate time- and labor-intensive tasks and focus on more strategic activities. The result? Greater productivity and profits.
Still you may not be ready to invest in the hardware, installation, support, and maintenance for a TMS you host yourself.
Instead, the ideal solution for this point in your business lifecycle may be a full-featured solution you access over the Internet. The optimal TMS will provide a single-entry system for operations and accounting, plus analytics to keep your business on track. But you skip the up-front investment and technical hurdles.
That's what we had in mind when we developed a new delivery model for DAT Keypoint to meet the needs of new and smaller brokers. We call our solution DAT Keypoint Anywhere.
So what can DAT Keypoint Anywhere do for you?
Eliminate the technical heavy lifting
With a solution you access via the Internet, software and data are loaded onto high-performance servers in a state-of-the-art data center. Experts there handle maintenance, upgrades, backup, security, and disaster recovery.
Keep operating costs low
Instead of an up-front investment, you pay an affordable, set price per month to use the software. It's an ideal solution if you just started your brokerage or want to keep the technical backbone of your business simple.
Grow with a scalable solution and automatic upgrades
As your brokerage grows, a scalable solution like DAT Keypoint Anywhere easily handles additional users and data. You get the same high performance levels and uptime, plus all the upgrades.
Access your TMS from anywhere
With access to your software from any PC with an Internet connection, you'll always have the data you need to serve your customers and run your business.
Migrate to a solution you host when you're ready
Someday you may want to customize your TMS or add even more functionality. With a solution like DAT Keypoint Anywhere, you can easily move your data to DAT Keypoint Logistics on your own server with no interruption in service.
To learn how DAT Keypoint Anywhere can help streamline operations, improve cash flow, and analyze your business health for as little as $249 per month for three users, send us an email or call us at 800-728-7305.