At the gym, a dumbbell is a bar with a weight at each end. On the road, a dumbbell is a roundtrip.
A local dumbbell is a roundtrip where the pick up point is near the driver's home, and the delivery destination is close enough that the driver can reload and return home on the same day. The goal is to turn this roundtrip into a dedicated, routine route, so the driver gets home every night.
My life has improved tremendously since I started running local dumbbells. I get to come home every night to my wife and kids. I sleep better, I eat better, I have everything I need, and I'm just happy to be with my family.
What may surprise you: My business has improved, too. I'm making more money with dedicated, local runs than I did in previous years, when I was willing to go anywhere and haul anything, just to build my business.
Here's how you can start running local dumbbells:
Tips for Developing a Local Dumbbell
1. Quote a Flat Rate. Give the customer a flat rate, so the customer will remember your price. A per-mile rate is not generally applicable to trips under 250 miles.
2. A 200-Mile Length of Haul. I find the best mileage to be around 200, to get off-loaded, reloaded, and drive the 200 miles back home before you run out of time.
3. Keep it Simple. I know 400 miles for the day is not a lot of miles for an over-the-road driver, but you need the extra time to focus on securing your dumbbell.
4. Post Your Truck. Be sure to post your truck for this lane, and include the destination city. Brokers use a tool called LaneMakers in DAT Power, to find the carriers who are active in a specific lane. Many carriers don't post a destination at all, so it's easy to get to the top of the LaneMakers list. I created most of my successful dumbbells together with brokers who use this tool.
Research and Homework
1. List Possible Destinations. Make a list of all the markets within 225 driving miles of your home or your driver's home.
2. Resarch Current Rates. Find out what those lanes are paying in both directions and calculate the averages. To understand rates, look up the lanes in DAT TruckersEdge Pro or DAT Power with 15-day rate averages, and also call brokers that post the most loads in those lanes. (I use LaneMakers in DAT Power to find those brokers, but you can also do repeat searches in the load board and make your own list.)
3. Choose Your Destination. Find the market that has the most loads going back to your home. This number always changes, but it's a great way to get started.
Improve Efficiency
1. Rinse and Repeat. The more you work your dumbbell, the better it gets. You start repeating business with the same brokers, shippers, and receivers. This naturally leads to building relationships, as the customer begins to rely on your service. I often get calls from dock workers when they can't reach my broker. The best part is getting loaded and unloaded first.
2. Reduce Fuel Cost. You learn the cheapest places to get fuel.
3. Find Good Vendors. You can also find the best maintenance shops for your needs and build relationships with the technicians. Because I'm a regular customer, a repair shop stayed open after hours to fix a wheel seal for me.
4. No Need for Parking. An over-the-road driver's biggest time sink is looking for a place to park. But if you are going home at the end of the day, that time is yours.
5. Save Time and Money on Lunch. Bring your healthy, home-made lunch with you every day, to save money and aggravation.
6. Save on Insurance. When I ran within a 200-mile radius of my home, I saved $1,000 on insurance for the year.
Next Steps, to Grow Your Business
1. Consider a Day Cab. When you have secured your dumbbell, and getting home is never a problem, consider buying a day cab truck. Used day cabs are readily available, with low miles and low prices.
2. Drop and Hook. Setup your own drop and hook operation if possible with your dumbbell. This will save you time as well.
3. Add a Driver. Hire a company driver and keep your truck moving around the clock with your dumbbell. Your insurance does not go up until you add more trucks.
Change in Lifestyle
The biggest disadvantage of the dumbbell is losing the freedom to hit the open road and go wherever the next load takes you. If you love that life, the local dumbbell is not for you. On the other hand, when you work a local dumbbell, your business will eventually run itself.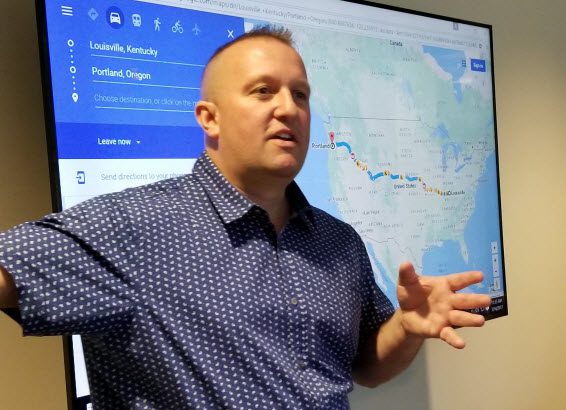 Chad Boblett is the owner and driver of Boblett Brothers Trucking of Lexington, KY. Chad also founded the Rate Per Mile Masters group on Facebook, a communications hub for more than 11,000 members, including owner-operators, truck drivers, and other transportation and logistics pros.