What's the biggest difference between this year's holiday freight season and last year's? For one, there are a lot more trucks available on the spot market, so there's a lot more competition. If you're a carrier, that means you need to be able to react faster than ever. The new web-based version of the DAT Power™ load board is the fastest you'll find anywhere.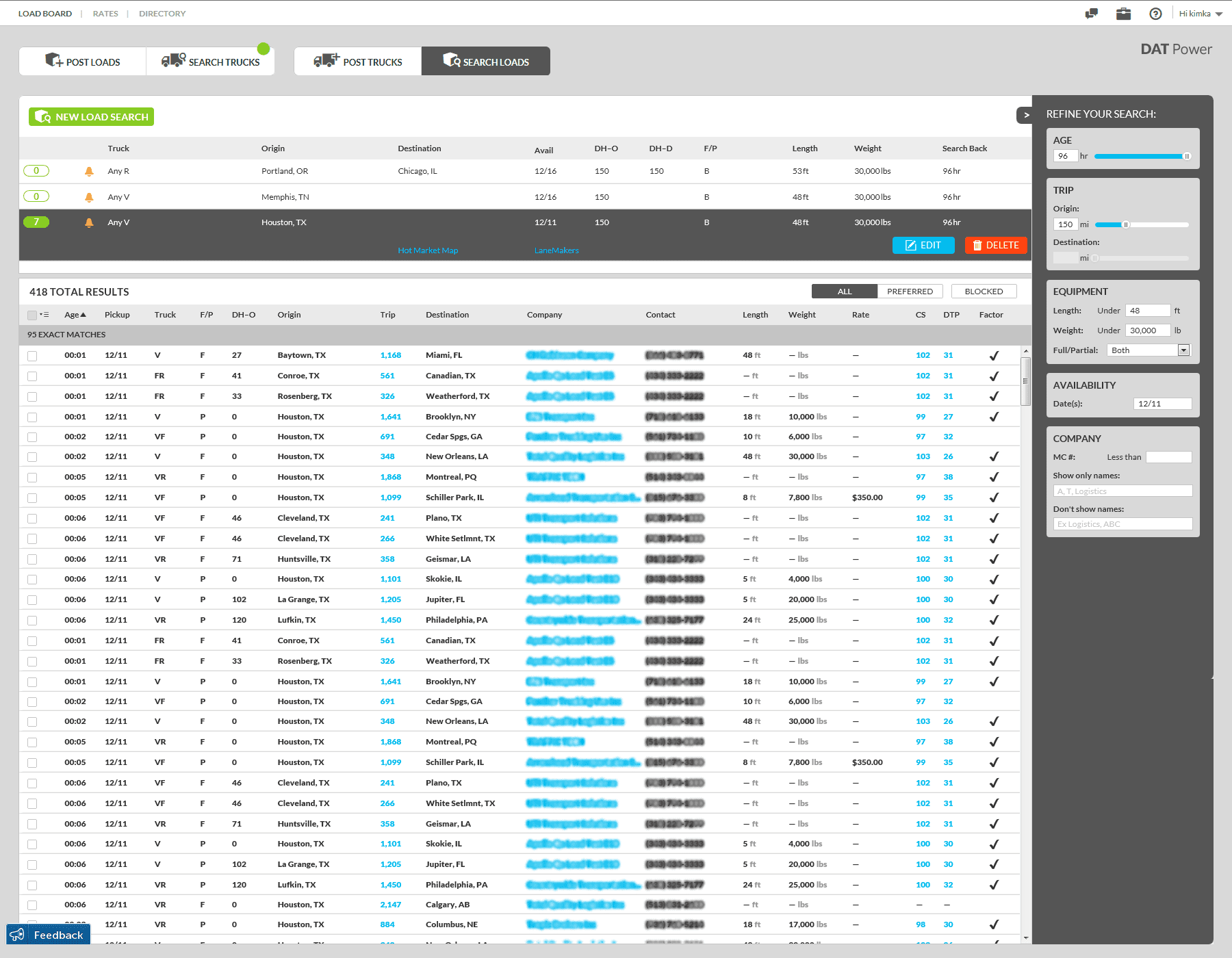 SEE HOW DAT POWER WORKS
Find Loads Faster with the Industry's Only 'Live' Load Board
Search results appear instantly at no extra charge
Filter results in real time; no need to start a new search
Multiple searches at the same time on the same screen
EmPower technology learns user preferences for each lane – find loads with fewer keystrokes
Post your truck and find loads that match automatically
Access from Anywhere
Nothing to download – Access the load board from any computer
Find loads anytime – Connect anywhere there's an internet connection
Group searching – Coordinate your dispatch team with the only load board that has group search tools
For years, the DAT Power load board has been a software program that users downloaded to their computers. In February, DAT Solutions introduced the web-based version of DAT Power. It does everything the downloadable version does, and much more. Customers are embracing the new web-based version and more than 70% of users have switched to the new and improved, web-based version of DAT Power.
What Customers are Saying
Bill Goodwin has been a DAT customer since the term "load board" meant scanning a monitor at a truck stop looking for his next load. The former owner-operator now runs a carrier with its own brokerage.
Goodwin's company, Done Right Trucking in Lake Elsinore, CA, made the switch to the new, web-based version. "I travel a lot between California and Colorado," he said, "so I love the fact that I can access DAT Power from any computer."
"This makes other load boards look like a child designed it," says Brian Stone of Stone's Trucking LLC, a seven-truck operation in Hamlin, WV. "I've been on the phone with brokers and watched my load go off the load board the minute I told them that I wanted it, so yeah, it's fast."
How to Get the New Version of DAT Power
Current DAT Power users – Start using the web-based version right now. Just go to power.dat.com and log in with your existing username and password.
If you don't have DAT Power – Contact us to learn more or see a demo.