Last year's first-ever DAT User Conference was an overwhelming success. More than 145 customers, representing more than 100 companies, attended. This year's conference is shaping up to be even better than last year's.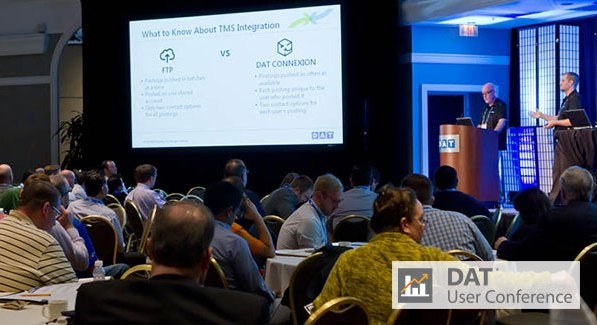 Here's what's in store for the 2017 DAT User Conference, set for October 23-25 in Portland, Oregon:
In-depth training sessions – You'll learn how to master DAT's broker products, with classes for both advanced and basic users.
Hands-on labs – New this year will be labs taught by fellow brokers to help you solve the most common challenges of finding and pricing trucks.
Panel discussions – Attend the keynote panel on "Uberization: Fact and Fiction," headed by Greg Carter, CTO of GlobalTranz and DiegoUrrutia of LoadSmart.
ELD insight – John Seidl, a DOT consultant with 20 years experience as an FMCSA inspector, will give his thoughts on how strictly the ELD mandate will be enforced and how it will affect loads moved by non-compliant carriers who get caught.
Pricing guidance – Ken Adamo, Fedex, will describe using DAT RateView data to forecast market conditions and make pricing decisions.
If you register now, you can take advantage of early bird pricing: only $695 per person.
RELATED CONTENT
"If you get one nugget out of it, it's worth the money. The conference doesn't cost that much, and if you learn even one thing that saves you from losing money or helps you make money, why wouldn't you do it?" – Rob LaForte
See how last year's user conference saved a DAT customer from ransomware.