Will the ELD mandate spur an increase in market share for rail intermodal? Some believe the mandate is a watershed event for the intermodal segment, as electronic logs add to transit times for trucks, making intermodal even more competitive on long hauls.
Ted Prince, COO of Tiger Cool Express, asserts that the ELD mandate changed market dynamics permanently in favor of intermodal. Tiger Cool Express offers domestic intermodal reefer service with 53-foot containers. Prince believes ELDs extend the single-driver transit time for a run from Bakersfield, CA, to Boston from a pre-ELD average of 101 hours to at least 145 hours. A reliable intermodal transit time is 113 hours, he wrote.
Research and identify freight trends with DAT RateView, a truckload pricing database of $45 billion in REAL transactions between brokers, carriers, and shippers.
Photo courtesy of Tiger Cool Express
Importantly, the cumulative benefit for intermodal widens over multiple runs, Prince says. Of course, team drivers would continue to run faster than intermodal, but teams also add to transportation costs.
Naturally, intermodal representatives are upbeat.
"In today's environment of economic growth and increasing freight volumes, the ELD regulations continue to tighten over-the-road capacity," said Joni Casey, president and CEO of the Intermodal Association of North America (IANA.) "This is shifting more loads to intermodal. These trends are expected to continue for the near term."
To those with long memories, talk about the intermodal opportunity sounds very familiar. Railroads have been promising to take freight off the highway for decades, particularly in earnings conference calls.
See how trucking industry regulations affect supply chains with DAT Data Analytics, which provides customizable reports on truckload capacity and pricing.
IANA Sees 7.2% Increase in Q1, Beyond 2017 Record Results
Intermodal's upward trajectory IS unmistakable. IANA statistics for the first quarter of 2018 show a 7.2% year-over-year improvement above record 2017 totals. By comparison, truck loads grew 5.2% for the same period, according to American Trucking Associations. DAT statistics that show the number of spot market truck loads posted rose 31%.
It's important to note that because IANA, ATA and DAT statistics measure different facets of the freight market, the numbers are indicators, and don't necessarily capture shifts in market share. Rate trends for spot market intermodal transportation parallel spot market truckload van rate increases, indicating a strong correlation between the two modes. As of this week, intermodal rates are up 26% compared to June 2017, while spot market van rates have risen 27%, including fuel surcharges.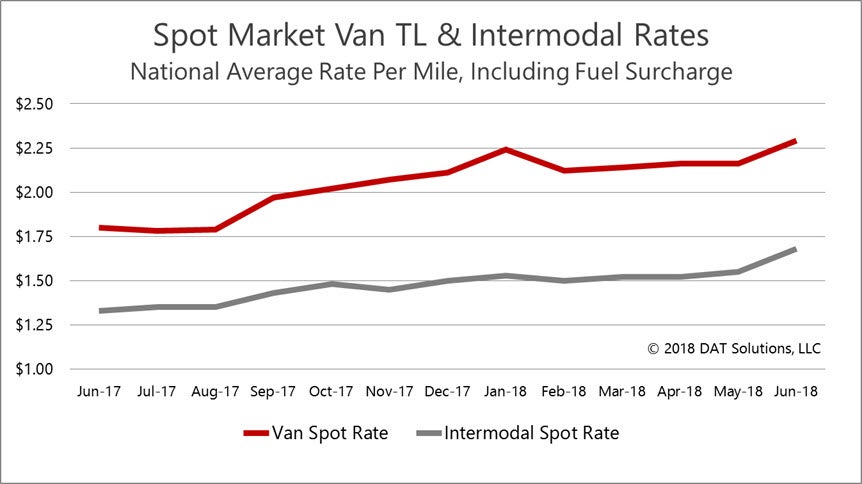 Spot market rate trends for intermodal freight track dry van rate trends over the past year. Intermodal rates have risen 26%, from $1.33 per mile in June 2017 to $1.68 for the current month to-date, while spot van rates are up 27%, from $1.80 per mile last year to a national average of $2.29 today, for over-the-road lanes of 250 miles or more, according to DAT RateView.
Individual companies that disclose both brokerage and intermodal volume, such as J.B. Hunt and Schneider, show that brokered truck freight grew faster than their intermodal products. Those numbers merit a closer look. Industry experts such as Donald Broughton, who heads Broughton Capital, tie the percentage increase in brokered freight to the nature of the business, as shippers turn to 3PLs to secure the capacity they couldn't find elsewhere.
Both Broughton and Cowen & Co. analyst Jason Seidl insist that multiple 3PLs that specialize in intermodal are reporting that more freight is being shifted to the rails.
DAT load boards provide the largest and most trusted digital freight marketplace in the trucking industry, with more than 179 million loads and trucks posted annually, plus insights into current spot market and contract rates based on $45 billion in real transactions.
Container Fleet Capacity and Service Limit Intermodal Growth
Statistics developed by intermodal expert Larry Gross paint a broader picture. They show that intermodal's market share has hovered around 14.5% of all freight moves over 550 miles for the past five years.
Gross said domestic intermodal market share growth today remains elusive because of "capacity limitations in the domestic container fleet and intermodal service issues, which slowed velocity and reduced capacity further. The demand was there [in the first quarter] but the industry was unable to fully capitalize on it."
How much can intermodal capitalize on the opportunity going forward?
Seidl and Gross believe future intermodal share gains are closely tied to rail service improvement. Of course, how much and how fast rail service will improve is an unknown. What is known is that rail service quality has oscillated up and down for years and years.
Get free weekly reports about freight rates, truckload capacity, and analysis of current trends when you sign up for DAT Trendlines.
On the highway side, the exemption from the ELD mandate for truck moves traveling 100 or fewer air miles has made short-haul intermodal drayage more attractive to drivers. That exemption led to greater availability in that trucking sector, Seidl said.
There's a trade-off for drivers. Some will turn to, and stick with, intermodal as rail service improves. Others may return to over-the-road, because delayed trains can wreak havoc with work schedules. And what will happen as drivers and fleets learn to better cope with ELDs? Will OTR capacity increase, and eat away at intermodal's market share?
While questions abound, this much is clear: Better rail service can only help to brighten the intermodal opportunity picture.
Rip Watson has been a reporter for Transport Topics, Bloomberg News and the Journal of Commerce. He currently edits the Intermodal Association of North America's Insights magazine. Fun fact: Rip took his first solo train ride, a roundtrip, at age 11.