The first quarter was one of those "good news, bad news" stories for freight brokers. The good news was a big increase in gross margins, which rebounded to 16% from 13% in Q1 of 2018. The reason for this improvement was a sharp drop in spot market rates, which is what the brokers pay to hire a truck. When that cost of "purchased transportation" declined, the brokers got to keep more of the money that their shipper customers paid them for the service.
That 16% margin — which is also called "net revenue" — pays all the other costs of running the business. Labor takes the biggest bite — it consumed 59% of net revenue in Q1. That's also good and bad. It's good because they cut labor costs by 8% compared to last year.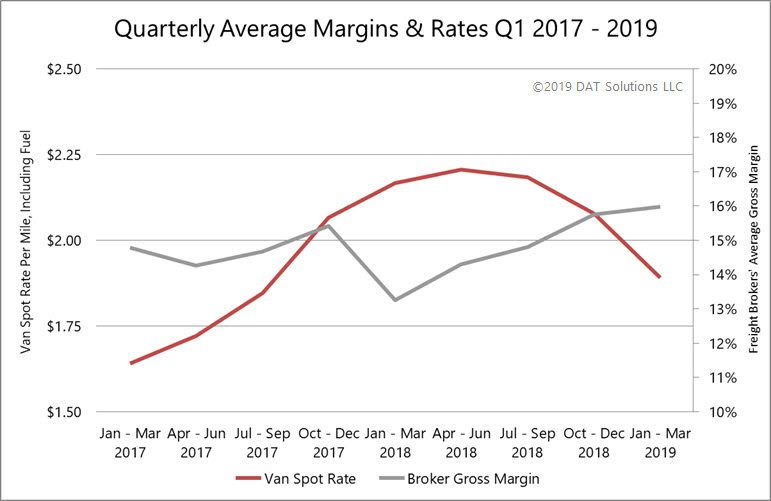 Want to increase your profits without increasing your staff? Ask for a demo of the DAT Broker TMS, created exclusively for freight brokers.
The bad news was a decline in total revenue, both because of the lower rates and due to reduced load counts compared to Q1 2018.
So, no matter how you slice it, the brokers' profits rose modestly year over year, even though revenues fell lower.
Benchmark data is drawn from the TMS systems of nearly 100 freight brokers and 3PLs with average 2018 revenue of $13.8 million. Prior year results, as well as the current report, have been re-stated as of the first quarter of 2019, to exclude outliers.