Hurricane Harvey is going to have a big impact on freight transportation and logistics in the weeks and months to come. The record rainfall finally stopped after four days and 50-plus inches, but Southeast Texas and Western Louisiana are still battling dangerous floods and many roads can be navigated more easily by motorboat than by anything that runs on wheels. Truckload rates are rising, and routes are changing rapidly, as emergency supplies head into staging areas near the storm-affected zone
Because Houston, in particular, is a huge hub for all types and modes of freight, the storm has cut an important link out of supply chains that serve a six-state region and beyond, via truck, rail and sea.
Houston is the fourth-largest city in the U.S., so it's a big destination for consumer and industrial goods. It's also the number-one source of outbound spot market freight for flatbed trucks, as well as number six for vans and reefers.
Plus, Houston is home to the only deep-water port in the Gulf of Mexico, so as long as ships can't dock there, they must be re-routed − either to Miami or another East Coast port, or out to Los Angeles or Long Beach on the West Coast. That triggers a disruption of the entire domestic transportation network for any shipper whose freight typically docks at Houston. On top of all that, most Houston-based oil wells and refineries are now offline, removing about 20% of fuel from production. Other energy and fuel producers may well be able to pick up the slack, but the disruption will likely lead to an increase in fuel prices for the near term.
All those factors make the aftermath of Hurricane Harvey potentially more disruptive to freight transportation and to the economy as a whole than either Super Storm Sandy or Hurricane Katrina.
The effects are already far-reaching, as seen in the Hot Market Map below, depicting outbound load-to-truck ratios by market on August 30. Trucks are needed in Memphis and Greenville, SC, where some of the posted loads were likely headed to FEMA staging areas surrounding the storm zone, and others were filling gaps in the supply chain that were caused by Houston's sudden absence as a key freight hub. While all those trucks are heading to the South Central region, however, the Upper Midwest is clamoring for trucks to move seasonal produce, consumer goods and industrial freight. If you have trucks in that area, there a lot of shippers and brokers who would welcome your support.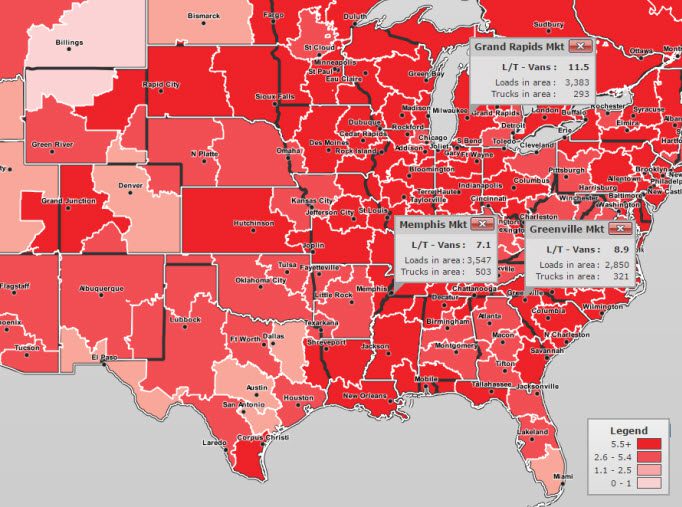 Find loads, trucks and lane-by-lane rate information on DAT load boards, including rates from DAT RateView.