The spot market was in something of a balancing act last week. Volumes edged up, but that was outpaced once again by an increase in truckload capacity. That contributed to a 5¢ dip in the national van rate, which sits at $2.16 per mile for April so far – still higher than the March average.
A couple factors have kept the downward trend in check, though, and could eventually push van rates higher. For one, diesel prices hit their highest mark of the year last week, and the extra fuel cost has kept pressure on rates. Dry van load counts also rose in places like Atlanta and Los Angeles.
A peek at the top 100 van lanes shows how evenly split the current freight trends are: Rates rose on 47 lanes, while prices fell on 48 lanes. The other five held steady.
DAT load boards provides the largest and most trusted digital freight marketplace in the trucking industry, with more than 179 million loads and trucks posted annually, plus insights into current spot market and contract rates based on $45 billion in real transactions.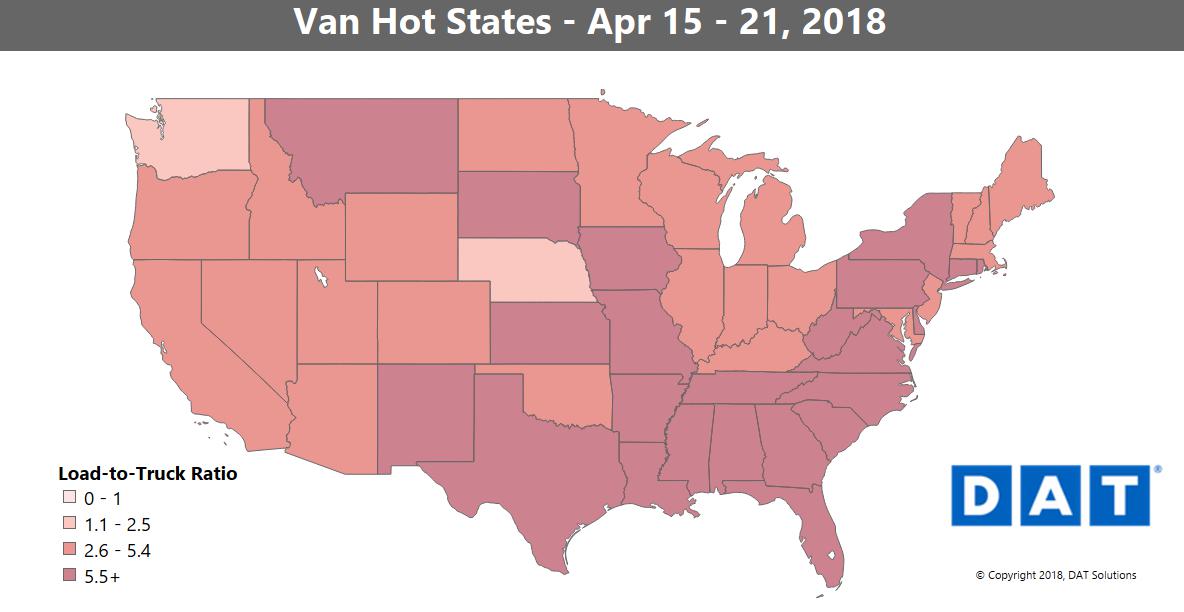 All rates below include fuel surcharges and are based on real transactions between brokers and carriers.
RISING
Rate increases were scattered and relatively small. Denver, Houston, and Stockton, CA, had the biggest increases, but the lanes where rates surged were often counterbalanced by rate decreases for the lanes going in the opposite direction.
For example, Denver to Chicago was up 13¢, but Chicago to Denver was down 13¢, so the average for the roundtrip held steady at $2.09/mile.
Elsewhere, Columbus to Buffalo climbed 23¢ to cross the $4 mark at $4.08/mile.
Houston to Atlanta also jumped up 13¢ at $2.25/mile.
FALLING
You can still find the lingering effects of the winter slowdown in Chicago, Philadelphia, and Allentown, PA.
Chicago to Los Angeles was back down 27¢ to just $1.49/mile
Philly to Charlotte fell 17¢ at $1.87/mile
Out West, Seattle to Eugene, OR, dropped 17¢ to $2.56/mile
Find loads, trucks and lane-by-lane rate information in DAT load boards, including rates from DAT RateView.