Spot market demand for dry van truckload shipments picked up steam again last week, with retail freight leading to tighter capacity and higher rates as we head into the Fourth of July.
The pre-holiday push has sent load-to-truck ratios soaring in Memphis, a major market for retail warehousing. There were also sharp increases on key retail-shipping lanes out of Columbus, OH.
Produce harvests are also following normal seasonal patterns, but the recent upticks in COVID-19 cases add uncertainty, with new hotspots emerging in Texas and Arizona. Reefer volumes held steady compared to the previous week, with the number of lanes with higher rates versus lower rates basically even.
DAT One gives you access to the most freight and the most trucks, with the best insights to make informed business decisions.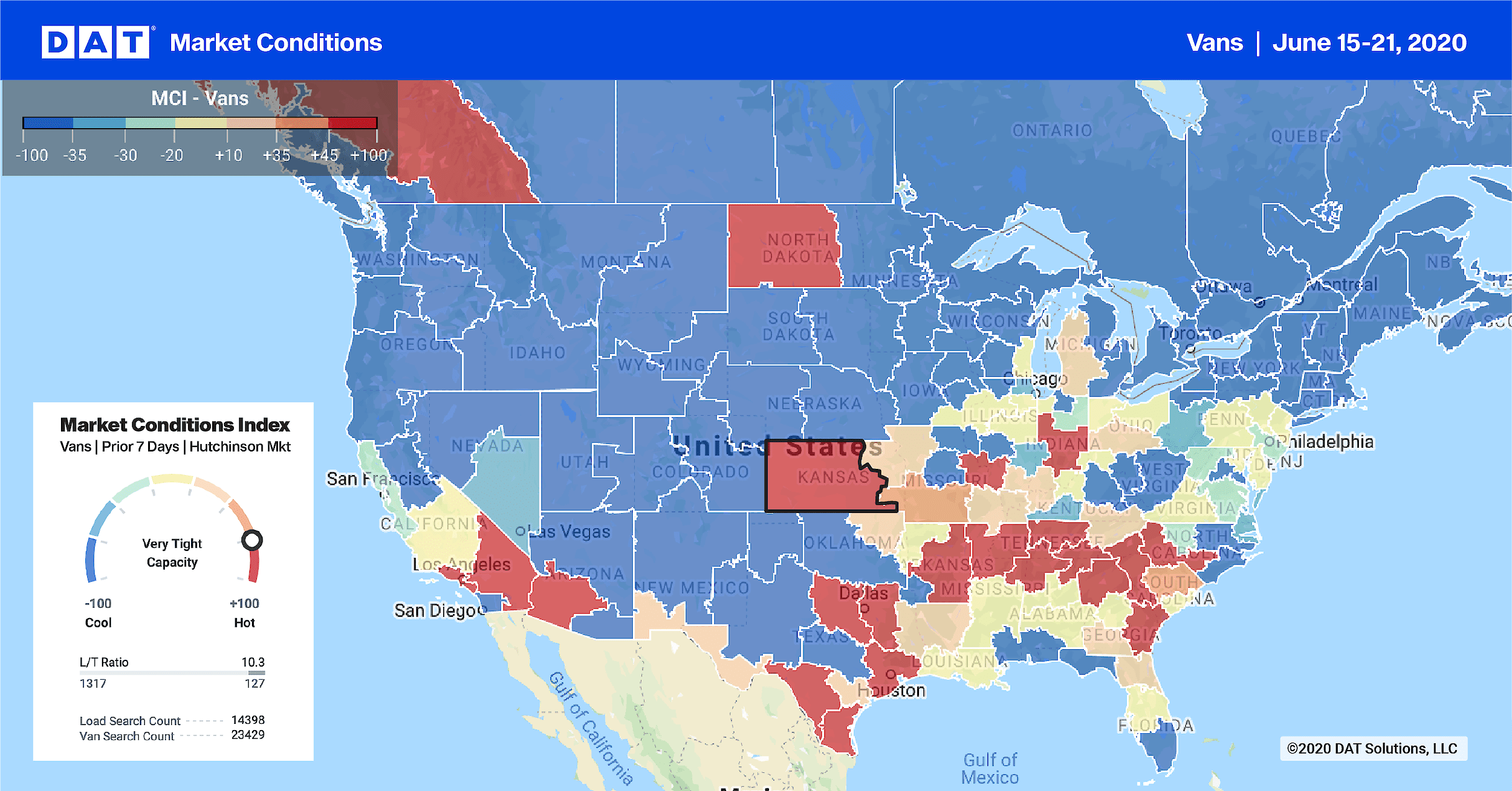 Market Conditions maps are available in the DAT Power load board and DAT RateView, our standalone freight pricing tool.
Businesses continue to reopen, driving demand in the eastern half of the country and in Texas. Summer online sales are also fueling retail demand, with heightened activity in warehousing markets.
Biggest increases
Outbound demand lifted prices on major lanes out of Memphis
Note: The rates listed below are averages from last week, based on actual transactions between carriers, brokers and shippers.
Memphis to Atlanta rose another 16 cents to an average of $2.40 per mile
Memphis to Indianapolis was up 20 cents to $2.23
Memphis to Columbus rose 19 cents to $2.14
Higher volumes on the lane from Houston to Chicago pushed the average rate to $1.78 per mile, 18 cents higher than the previous week.
Out west, the lane from Los Angeles to Denver kept climbing, hitting $3.16 last week.
Biggest decreases
Only 11 of the top 100 van lanes had lower prices last week. The biggest drop was on the lane from New Orleans to Dallas, where prices had previously spiked due to Tropical Storm Cristobal. Rates were back down 15 cents to $1.68 per mile last week.
All other declines were otherwise fairly slight.