By and large, spring was not kind to carriers, so the higher rates we've been seeing in recent weeks are a welcome sign for trucking companies. If nothing else, this typical seasonal trend provides at least some piece of normality in what have otherwise been turbulent times for truckers.
The usual late spring / early summer produce harvests are providing an expected lift, and businesses around the country are beginning to reopen, creating more demand for truckload shipments in recent weeks. But we're by no means back to business as usual. The pace of the recovery slowed last week, while the number of COVID-19 hotspots grew.
While reefer and flatbed volumes on the spot market continued to climb, dry van volume, which accounts for about 70 percent of all truckload shipments, slipped compared to the previous week. A majority of the top 100 van lanes still saw increased prices last week, but it wasn't the overwhelming majorities that we saw in prior weeks. Projections from Ratecast by DAT iQ suggest that rates are plateauing.
DAT One gives you access to the most freight and the most trucks, with the best insights to make informed business decisions.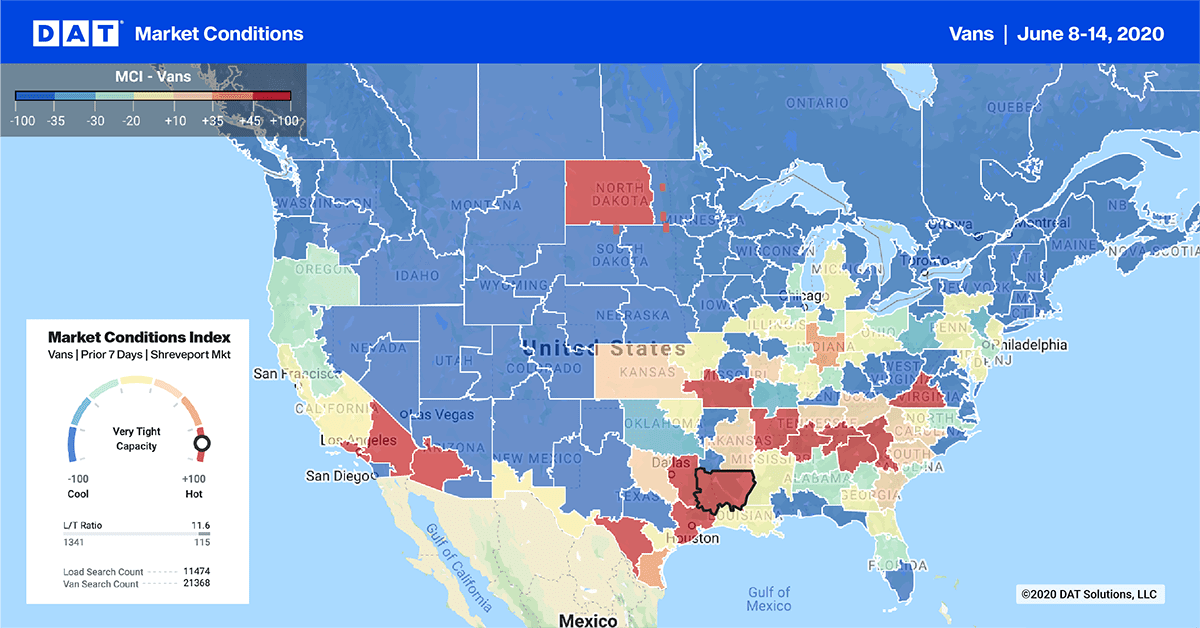 Market Conditions maps are available in the DAT Power load board and DAT RateView, our standalone freight pricing tool. 
There are still hot markets for truckload freight all along the sunbelt, with a big uptick last week out of Texas. Produce continues to drive demand for reefers and some dry vans in the Southeast. And reopened manufacturing is contributing to other hot markets throughout the Midwest and Northeast.
Biggest increases
Outbound rates from California continued their upward trend, bolstered by produce and imports. Some major lanes out of Los Angeles and Stockton are actually paying well above what they did in June of 2019. For example, the lane from Los Angeles to Denver has averaged $3.12 per mile in the past 7 days. It peaked at $2.78 last year.
Chicago and Atlanta also maintained a steady trajectory, while Memphis is still red-hot for freight.
Note: The rates listed below are averages from last week, based on actual transactions between carriers, brokers and shippers.
The lane from Memphis to Atlanta jumped up 13 cents to an average of $2.24 per mile, a strong rate heading into another hot market.
Memphis to Charlotte, NC, rose 16 cents to $2.07.
The most dramatic increases in pricing were out of Texas, though.
Houston to Atlanta rose 19 cents to $1.82, another strong increase heading into a hot market.
Houston to New Orleans gained 23 cents at $2.46 per mile
Dallas to New Orleans also rose 24 cents at $2.04, while the return trip from New Orleans added 17 cents at $1.83.
Biggest declines
The major declines last week were out of cities that are traditionally thought of as backhaul markets: Seattle and Denver.
Denver to Chicago is always a tough lane for carriers to find good-paying loads on, but last week it dropped below a buck a mile, falling to just 95 cents per mile.
Denver to Oklahoma City also lost 11 cents at $1.08.
Seattle to Spokane, WA, isn't what we'd call a backhaul lane, but prices on that intrastate trip fell to an average of $2.83, down 15 cents per mile.