Truckload markets have been on the rebound for the past three weeks, but the pace of recovery sped up last week. The combination of the shorter work week and the end of the month made truck capacity harder to find, which meant freight brokers and shippers had to pay more for truckload shipments.
The increases in spot rates across all equipment types adds momentum as we head into June, typically a peak month on the spot market.
DAT One gives you access to the most freight and the most trucks, with the best insights to make informed business decisions.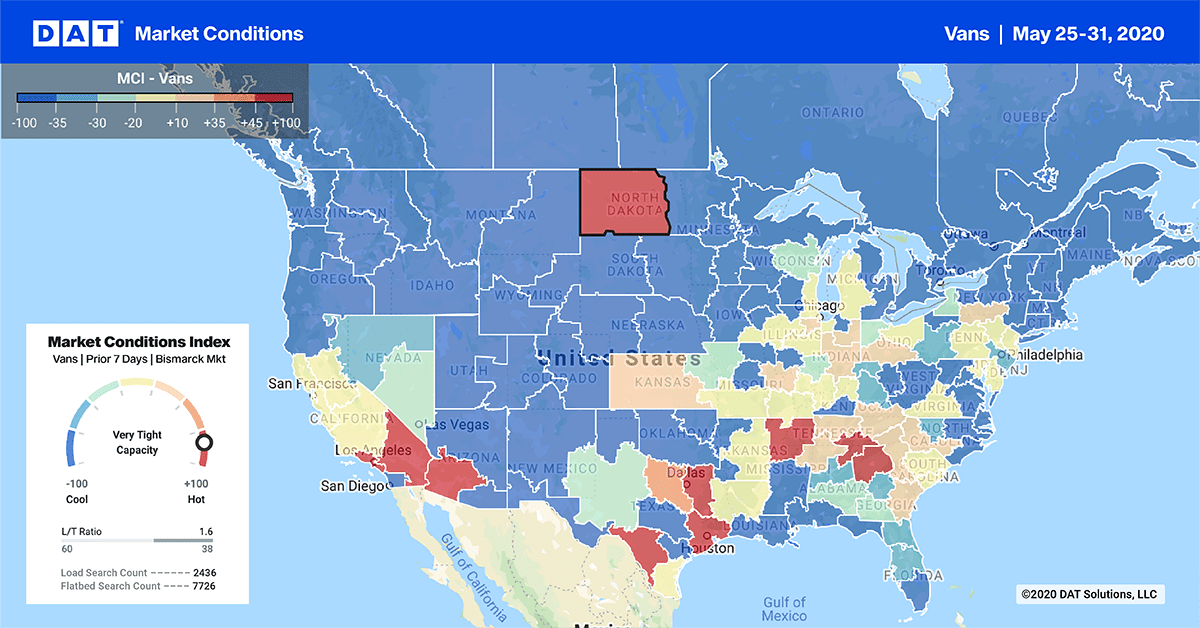 Market Conditions Index is available in the DAT Power load board and DAT RateView, our standalone freight pricing tool.
Businesses continue to reopen, as more and more states emerge from the COVID-19 lockdown. The Market Conditions Index map above shows activity picking up in the Southeast and Midwest, and produce regions fueling demand across a southern band of markets as you move west. Those hot markets will spread northward as temperatures rise across the country, barring any major coronavirus outbreaks that might set back this recovery.
Biggest increases
It was another week of major gains out of the Los Angeles market, which has seen an uptick in demand from both the port and nearby produce harvests. It remains to be seen how the recent protests and political unrest in L.A. and other parts of the country will affect freight movements.
The average van rate on the lane from Los Angeles to Dallas jumped up 26 cents to $2.10 per mile
L.A. to Denver also added 15 cents at $2.84
L.A. to Phoenix was also up 18 cents at $2.94
Produce shipments out of Florida are coming down from their peak a couple weeks ago, but demand for inbound freight is increasing. We can see that in lanes like Charlotte, NC, to Lakeland, FL, where the average van rate jumped up 24 cents last week to $1.93 per mile.
Notable decreases
Once again, there weren't many declines last week. Only 7 out of the top 100 van lanes had lower rates, and in keeping with recent trends, they were mostly slight decreases. The largest price drop was 12 cents on the lane from Denver to Phoenix, falling to an average of just $1.06 per mile as outbound rates continue to rise out of Phoenix.