It's looking more and more like you won't have to sweat much of a summer slowdown this year. This would typically be a down time for freight, and while rates in July and August are lower than they were in June, they're still 25 to 30% higher than last year.
That steady decline from the June peak might be ending soon, though. Van volumes rose in key places like Atlanta, Los Angeles and Houston, which kept outbound rates stable and could be an early sign that prices are turning a corner.
DAT load boards provide the largest and most trusted digital freight marketplace in the trucking industry, with more than 270 million loads and trucks posted annually, plus insights into current spot market and contract rates based on $57 billion in real transactions.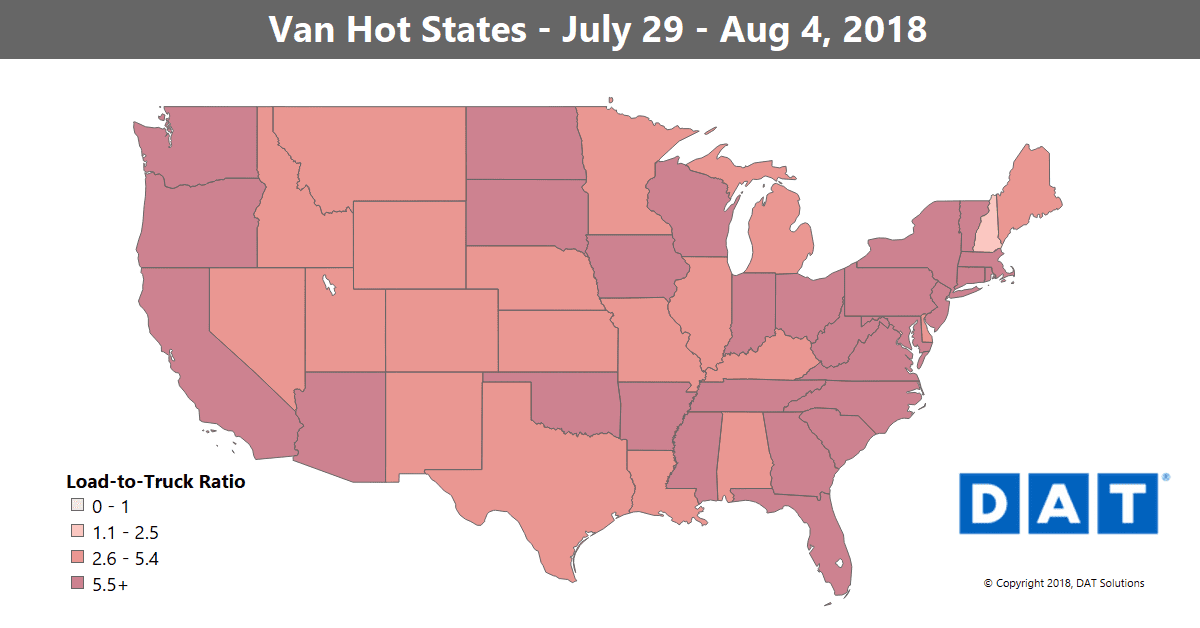 All rates below include fuel surcharges and are based on real transactions between brokers and carriers.

RISING RATES
Buffalo and Seattle made big gains last week, with rates up 6% and 4% respectively. On a lane-by-lane basis, all the big increases were on trips in and out of Buffalo.
Chicago to Buffalo surged 33¢ to an average of $3.33/mile
Buffalo to Chicago also added 15¢ at an even $2/mile
Philadelphia to Buffalo jumped up to $2.96/mile
Buffalo to Charlotte gained 27¢ to $2.56/mile
FALLING RATES
Outbound rates were down quite a bit from Memphis, Dallas and Charlotte
Memphis to Dallas lost 21¢ at $2.69/mile
Memphis to Chicago fell 15¢ to $2.56/mile
Not all lanes into Buffalo were up: Rates to there from Columbus fell 17¢ but still averaged $3.54/mile
Atlanta to Chicago also lost 16¢ at $1.85/mile
Find loads, trucks and lane-by-lane rate information in DAT load boards, including rates from DAT RateView.