Demand for flatbed transportation has been off the charts for much of 2018. For a seven-week stretch in April and May, the national load-to-truck ratio was above 100 loads per truck. Flatbed ratios are often inflated because loads get reposted and truckers in that segment are the least likely to post their trucks, but those ratios were still unprecedented. It means that trucks have been hard to find, and as a result, flatbed rates have soared.
The national average flatbed rate climbed to $2.73/mile ahead of Memorial Day, the highest ever recorded in DAT Trendlines. The ratio has fallen back below 100, but demand is still high across the country. Rates averaged more than $3/mile in 10 of the 15 top flatbed markets.
DAT load boards provide the largest and most trusted digital freight marketplace in the trucking industry, with more than 179 million loads and trucks posted annually, plus insights into current spot market and contract rates based on $45 billion in real transactions.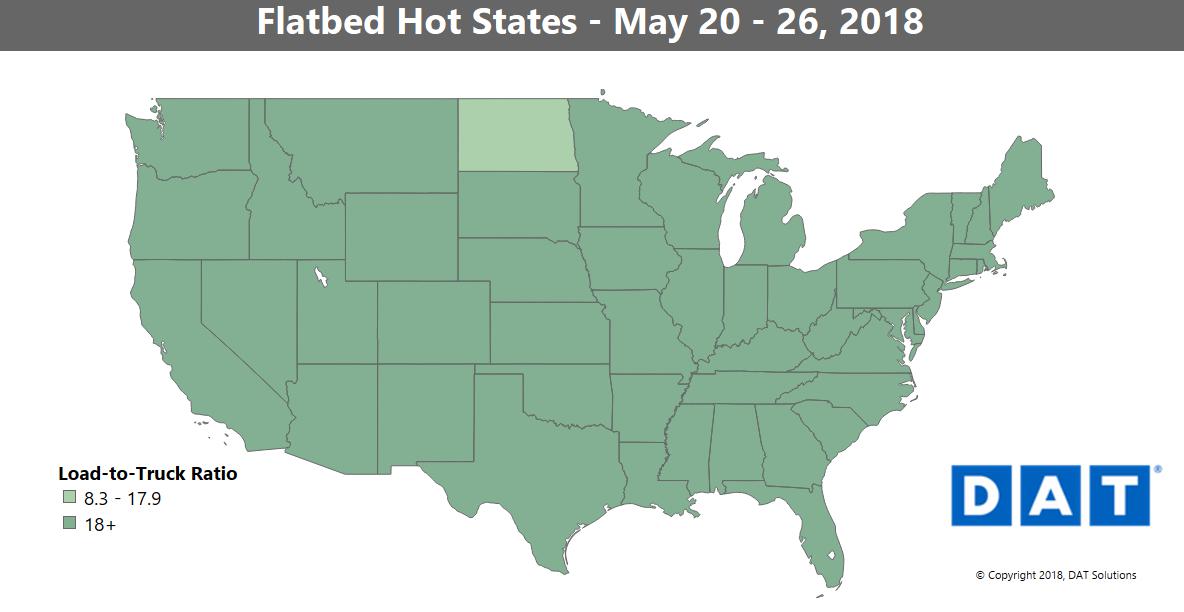 RISING
Last week's key markets were outside of Texas, which shows the diversification in the flatbed segment – it's not just the energy sector. Demand has been red hot out of Atlanta and the rest of Georgia. The load-to-truck ratio in Savannah hit 240 last Friday.
All rates below include fuel surcharges and are based on real transactions between brokers and carriers.
Atlanta rates jumped up 5%
Cleveland demand has been relatively cool, but prices were up 3% last week – the lane to Milwaukee was up to $3.82 on solid volume increases
Out West, Las Vegas has become a construction hub, and rates rose 15%
The lane from Vegas to Sacramento jumped up to an average of $3.22/mile, but it could be a short term-spike since it's a relatively low-volume lane
FALLING
Houston rates have been largely neutral for the month, but one lane took a step back last week. Lanes going to Wichita, KS, were down 34¢ to $2.81/mile
Find loads, trucks and lane-by-lane rate information in DAT load boards, including rates from DAT RateView.