Spot market demand has already exploded in June. Last week was the annual inspection blitz, Roadcheck, which typically leads to tighter capacity and higher rates because a lot of truckers take that week off. And of the drivers who do work, a lot lose driving time due to the inspections. This year, capacity was already tight from Memorial Day week, so the Roadcheck effect was even more pronounced.
Freight rates were relatively calm back when the full enforcement of the ELD mandate went into effect on April 1, as conditions had already settled into what's feeling like the "new normal." But tighter capacity has pushed rates skyward in the last three weeks. Roadcheck made it even harder to find trucks last week. For instance, truck load posts on DAT load boards were up 27% last week compared to the previous week. That fits what you'd normally expect to see when comparing a 5-day work week to a holiday-shortened week with just 4 business days. But even with the extra day, there were the same number of truck posts, week over week.
As a result, national average rates for each equipment type were the highest they've been since January, when the spot market was first adjusting to the ELD mandate. Of the top 100 van lanes, rates rose on 81 of them.
DAT load boards provide the largest and most trusted digital freight marketplace in the trucking industry, with more than 179 million loads and trucks posted annually, plus insights into current spot market and contract rates based on $45 billion in real transactions.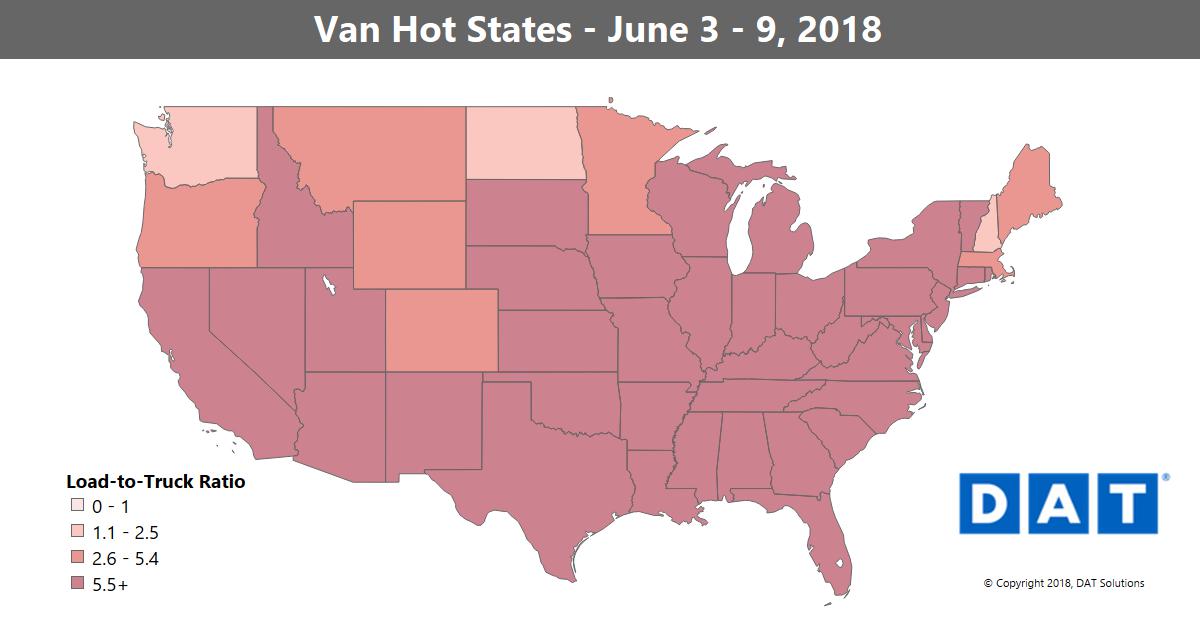 Basically every major van freight market not named "Seattle" had higher rates last week, especially Houston, Columbus, and Buffalo. Demand was hot for freight moving into the Midwest, with inbound volumes for Chicago and Indianapolis near record levels. Los Angeles continues to gain strength, and outbound rates in Stockton, CA have risen 17% in the past month
All rates below include fuel surcharges and are based on real transactions between brokers and carriers.
RISING
The lane from Stockton to Portland, OR, surged 33¢ to an average of $3.49/mile
Memphis to Indianapolis jumped up 25¢ to $3.08/mile, unprecedented for this lane
Columbus to Chicago rose 22¢ to $2.62/mile, also unprecedented
Some unusual rates out of Houston:
Houston to Dallas was up 25¢ to $2.97/mile (Dallas to Houston edged up to $3.03/mile as well)
Houston to Atlanta added 23¢ at $2.47/mile
FALLING
Only a couple lanes fell double-digit cents:
Denver to Oklahoma fell 10¢ to $1.44/mile on soft volumes
Seattle to Spokane also dropped 10¢ but still averaged $3.20/mile
Find loads, trucks and lane-by-lane rate information in DAT load boards, including rates from DAT RateView.