Van rates spiked in early April, but the national average was in a steady decline for the rest of the month. For the month, the average van load paid $2.16/mile, which was still 2¢ higher than the March average. Rates fell on a majority of the top 100 van lanes, too.
Those declines could be a temporary blip, though, because volumes are showing signs that spring shipping season has sprung. There were strong gains in 5 of the top 6 van markets, which could start to chip away at some of the excess truckload capacity that's been building on the spot market lately. That would put pressure on rates to go up as we move deeper into May.
DAT load boards provides the largest and most trusted digital freight marketplace in the trucking industry, with more than 179 million loads and trucks posted annually, plus insights into current spot market and contract rates based on $45 billion in real transactions.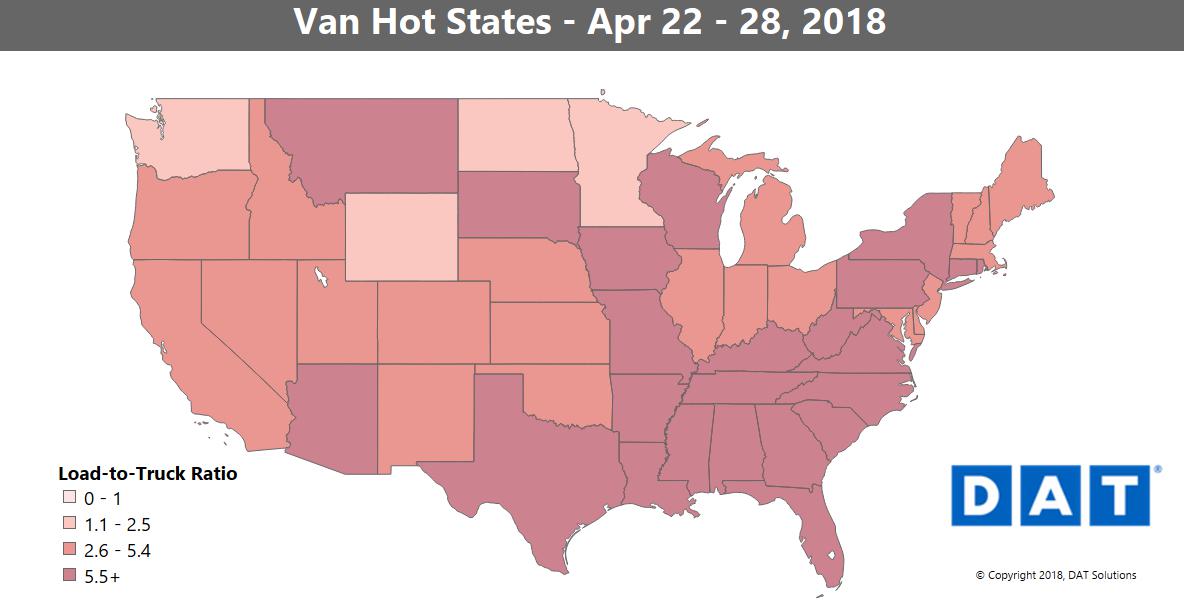 Los Angeles moved up to number 2 for volumes behind Dallas. Seattle load counts surged a whopping 27%. Pricing-wise, there weren't a lot of big gains on the top 100 lanes, though rates are generally higher than they were a month ago.
All rates below include fuel surcharges and are based on real transactions between brokers and carriers.
RISING
The biggest increase was on the lane from Denver to Oklahoma City, which was up 13¢ to $1.40/mile – not much there to be excited about
In Texas, van rates from Laredo to Dallas rose 11¢ at $2.67/mile on average
FALLING
The two lanes with the biggest declines still had very high rates:
Allentown, PA, to Richmond, VA, was back down 31¢ to $2.52/mile
Columbus, OH, to Buffalo, NY, fell 30¢ at $3.78/mile, still one of the highest-paying lanes going into the Northeast
Find loads, trucks and lane-by-lane rate information in DAT load boards, including rates from DAT RateView.