Demand outpaced capacity during the week that included Memorial Day. The scarcity of trucks pushed van rates higher during the holiday-shortened week, as the national average van rate increased 4¢ $2.19 per mile.
Normally during a four-day shipping week we'd expect load posts and truck posts to be down 20%. Truck posts did, in fact, drop 20%. But load posts were only down 3%, which pushed the load-to-truck ratio for vans up 20%.
DAT load boards provide the largest and most trusted digital freight marketplace in the trucking industry, with more than 179 million loads and trucks posted annually, plus insights into current spot market and contract rates based on $45 billion in real transactions.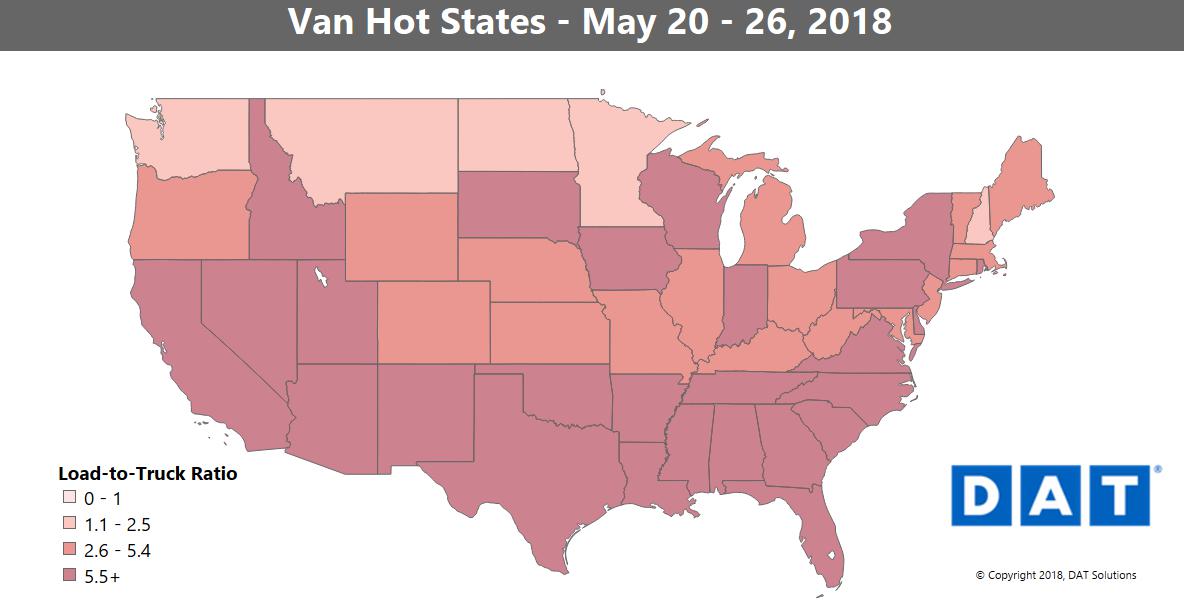 All rates below include fuel surcharges and are based on real transactions between brokers and carriers.
Van rates are the highest they've been since full ELD mandate enforcement began on April 1. That, plus the strong volumes in key markets like Los Angeles, Dallas and Atlanta, could lead to a second peak in spot market rates in June, following the first peak that occurred in January.
RISING
California markets had the biggest uptick in prices. Los Angeles and Stockton, CA, outbound rates were up 5% and 4% respectively. Atlanta also continues to gain strength:
Atlanta to Columbus, OH, surged 39¢ to an average of $2.58 – that's higher than the average rate in the southbound direction, which usually pays more. A sign of how bullish prices are out of Atlanta
Atlanta to Charlotte jumped up 29¢ to $3.36/mile
A couple more northbound moves showing signs of summer:
L.A. to Seattle was up 29¢ to $3.20/mile
Memphis to Columbus added 27¢ at $2.84/mile
FALLING
Increases in the number of inbound loads pushed prices down out of Denver and Philadelphia:
Denver to Dallas fell 12¢ to just $1.15/mile
Philadelphia to Charlotte was down 11¢ to $1.67/mile, but that's still 36¢ above where it was a year ago
Find loads, trucks and lane-by-lane rate information in DAT load boards, including rates from DAT RateView.