Note: This is part 4 in a series that highlights the Toolbox in the DAT Power load board.
You've posted a load and you get a call from what seems to be the perfect carrier: the right equipment, the right price, and the truck is available immediately. The only problem: you've never used this carrier before. And by the time you check his DOT authority, FMCSA information, and track down a copy of his insurance certificate, he'll be on to a different load.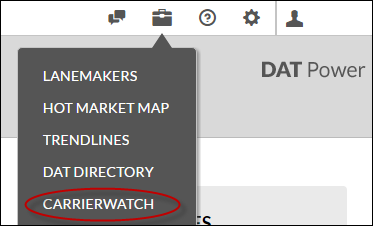 WHAT'S IN THE TOOLBOX?
CarrierWatch is one of many tools in the DAT Power toolbox. See previous blog posts explaining each of the tools:
If you don't have DAT Power, but would like to learn more about it, click here or call 800-551-8847.
That's where DAT CarrierWatch® comes in. While the carrier is still on the phone, you can quickly verify who he says he is and print a copy of his actual insurance certificate for your files.
Carrier validation
In a previous blog post, I wrote about the DAT Directory, which contains valuable information on every carrier, broker and shipper who uses DAT load boards. But what if you need information on carriers who aren't DAT customers? DAT CarrierWatch has information on the more than 200,000 active and 100,000 inactive carriers that are registered with the FMCSA. CarrierWatch subscribers can access:
Carrier information – Look up any carrier by name, MC or DOT number, city, equipment type and more.
Operating authority – Validate MC and DOT numbers.
Safety data – Shows the carrier's FMCSA safety rating and provides a direct link to the carrier's publicly-available CSA data.
Insurance certificates – Validate a carrier's insurance coverage and print or save a copy of the actual insurance certificate.
Alias Search – Run a search to see if an address, phone number, fax number, etc. has been used previously by a carrier who went out of business, or worse, was shut down by the FMCSA. (See How to Spot a Reincarnated Carrier.)
With CarrierWatch, validating carriers is easy. Look up any carrier and use the menu on the left to see the carrier's DOT authority, insurance, safety data, and more.
Carrier monitoring
In addition to validating new carriers, CarrierWatch allows you to monitor carriers you've used before and continue to use. DOT authority and insurance status can change in a day, and just because a carrier was legal the last time you used him, doesn't mean he's legal today. Carrier monitoring services include:
Create a watchlist – Create your own custom watchlist to monitor the carriers you currently use.
Receive email alerts – You'll automatically be notified if there is a change in the data for any of the carriers you are monitoring.
Customize your criteria – In the past, CarrierWatch users received warnings based on criteria defined by DAT. Now, companies can define their own criteria regarding when they want to be notified of carrier data changes. (See Now You Can Customize Your Carrier Monitoring.)
Do I have CarrierWatch?
You may have CarrierWatch and not even know it. Here's how to access it:
From the Toolbox – Within the DAT Power load board, click the Toolbox icon in the upper-right-hand corner and select "CarrierWatch."
From your TMS – If you use a transportation management system (TMS), information from CarrierWatch may be fed into your system. Check with your IT department to see if your company subscribes to CarrierWatch and how to access it within your TMS.
To learn more about DAT CarrierWatch, or to schedule a demo, send us a message or call 800-551-8847.