Whenever a natural disaster strikes, FEMA needs trucks, warehouse space and logistics services to help with the recovery and haul emergency supplies. You can volunteer or look for paid work. The paying jobs typically offer great rates, but that's because they are complicated, difficult, and sometimes risky for the driver and the rig.
There are a few things you should know before you accept a FEMA load, especially if you're the driver. Information is available online, but you may need to do extra research before you get started with emergency freight for FEMA and other organizations.
DAT load boards offer the largest digital marketplace for spot market freight, including FEMA loads and emergency supplies, connecting carriers, brokers and shippers when recovery supplies are needed.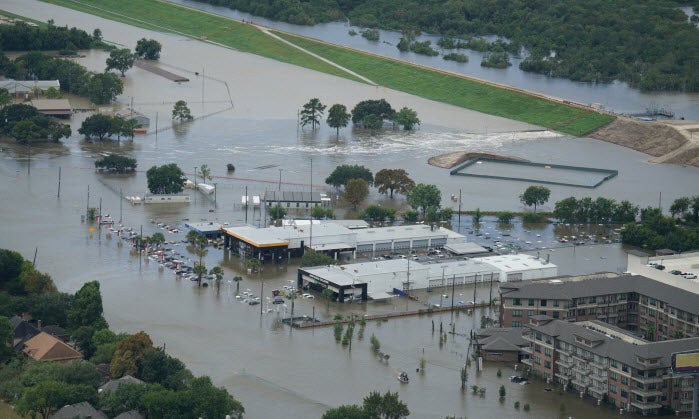 Flooiding after Hurricane Harvey in 2017
How to find FEMA loads and trucks
Many freight brokers, including some of the largest 3PLs, are charged with moving and warehousing emergency freight. They may be handling this work on behalf of FEMA itself or for a non-governmental agency like the American Red Cross, and they post those loads onto the DAT Load Board.
If you're a broker, and your customers have emergency freight, you may be working in an unfamiliar area where you don't have a lot of carrier contacts. Look for trucks posted on the DAT Load Board with a destination near the storm-affected area, or use the LaneMakers tool in DAT Power to find carriers that run those lanes often.
Other ways you can help
Provide warehousing or trucks for non-FEMA relief. After the storm has passed, there will be a lot of stores and warehouses that need re-stocking, because inventory was either sold out or ruined by the floods. Brokers and carriers can learn about immediate needs at American Logistics Aid Network (ALAN), which posts its latest relief efforts. This won't necessarily be FEMA freight, but it could still be emergency relief, because there is urgent need for so many products, as local people try to put their lives back together.
Don't become part of the problem. Safety is your number-one priority at all times, of course, but when you're heading into a disaster area, conditions can be hazardous well after the storm has passed. Be sure to check your routes for road closures and sign up for alerts in the states you expect to drive through. If you're the broker or dispatcher, learn as much as you can about the loads, the routes and the loading or unloading environment before you assign the truck.
Fuel is not always available. When there are evacuation orders, gas stations often run out of every kind of fuel, and the storm can keep the stations from getting resupplied. Check on fuel availability before starting out.
If you can't go, you can still donate. The American Red Cross accepts donations for disaster recovery efforts. Many other organization also help out, including organizations like the ASPCA and the Humane Society that focus on evacuating shelter animals to make room for local pets who need a place to go during the storm. Unfortunately, some scammers are also out there pretending to be relief organizations so they can steal your money. To be sure you are giving to a legitimate relief organization, check out National Voluntary Organizations Active in Disasters (NVOAD) which publishes "How to Help" advice and resources.
Remember that you can also help with disaster relief just by doing your everyday job. Massive numbers of loads have been re-scheduled and re-routed in recent weeks, and shippers are desperate for help, just to re-stock warehouses and distribution centers, which in turn, re-stock store shelves all over the country. That's especially important in the storm-affected areas.