Many produce markets around the country are kicking into high gear, especially in the Southeast. Refrigerated truckload volumes have surged out of Florida, and reefer rates on several outbound lanes soared above $3/mile. Load counts were also building in California, while Texas was holding steady last week.
Reefer volumes had been building for the past month, but those increases were bigger last week. The spring shipping season is late, but it's here.
DAT load boards provides the largest and most trusted digital freight marketplace in the trucking industry, with more than 179 million loads and trucks posted annually, plus insights into current spot market and contract rates based on $45 billion in real transactions.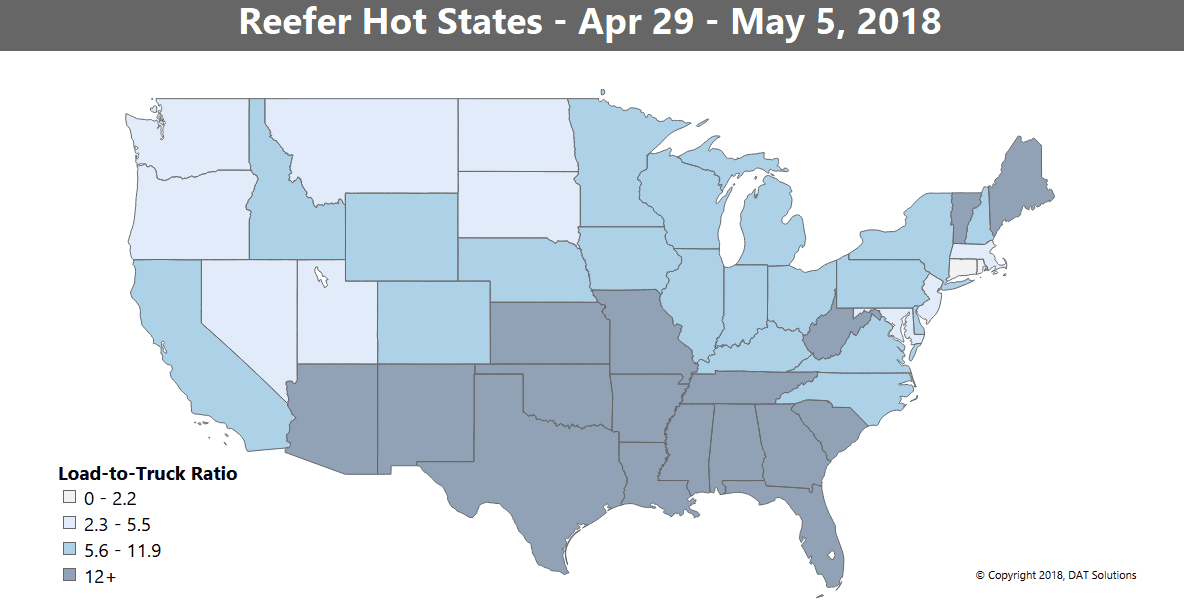 All rates below include fuel surcharges and are based on real transactions between brokers and carriers.
RISING
Huge increases out of Miami and Lakeland, FL:
Miami to Boston surged 79¢ to $3.05/mile
Lakeland to Baltimore shot up 54¢ to $3.09/mile
Miami to Atlanta was another $3-plus lane, soaring 52¢ to $3.05/mile
Reefer markets were strong in Georgia as well, with Tifton in the southwest corner of the state being maybe the hottest market for produce on Friday.
Rates also rose out of Los Angeles and along the Mexican border in Nogales, AZ.
FALLING
Grand Rapids, MI, to Madison, WI, faltered 62¢ to $2.72/mile
Elizabeth, NJ, to Boston dropped 34¢, but still averaged $4.24/mile
Green Bay to Des Moines declined 31¢ to $2.44/mile
Find loads, trucks and lane-by-lane rate information in DAT load boards, including rates from DAT RateView.