The national average rate for reefers added 1¢ last week, approaching a record high at $2.70/mile. But prices fell on a lot of the highest-traffic lanes. As we transition from spring to summer, the main focus of produce season shifts from the Southeast to the West Coast, chiefly California.
DAT load boards provide the largest and most trusted digital freight marketplace in the trucking industry, with more than 179 million loads and trucks posted annually, plus insights into current spot market and contract rates based on $45 billion in real transactions.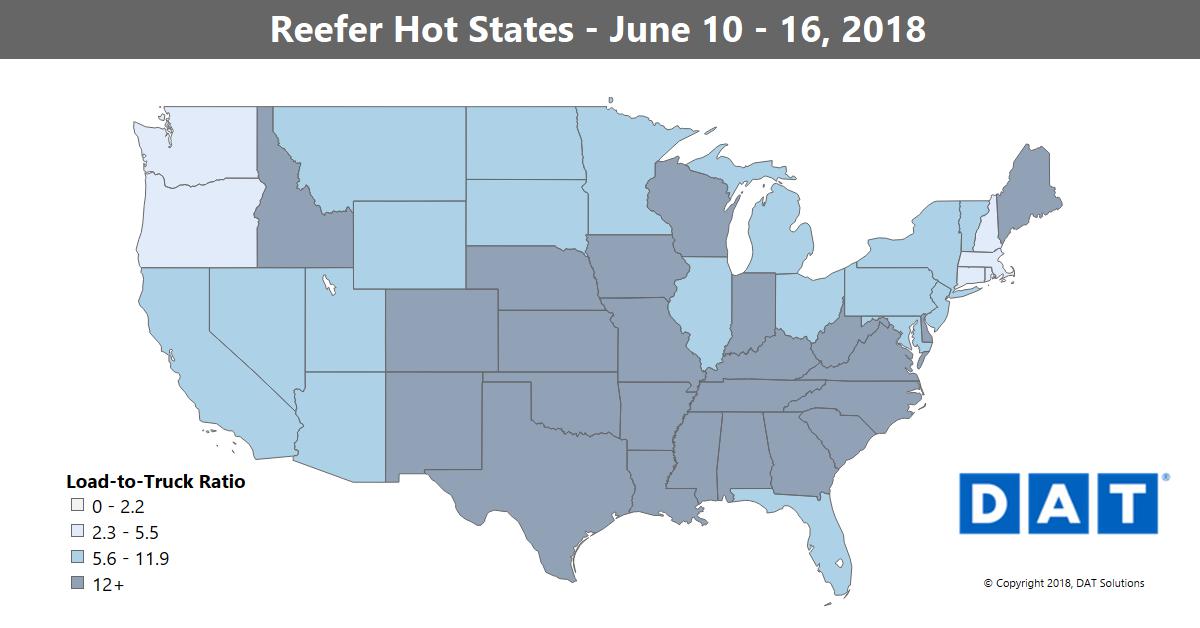 Load-to-truck ratios on DAT load boards are still higher east of the Rockies than they are in California and surrounding states. To put that in context, the national average is 12.6 loads per truck — even after a 15% drop last week — but when you take a more detailed look at a Hot Market map for June 19, you can see that there's plenty of demand within states that didn't turn dark blue on the map last week.
All rates below are averages, including fuel surcharges, based on real transactions between brokers and carriers.
WHAT'S HOT – California. Prices rose on lanes from California up to the Pacific Northwest. Los Angeles to Portland climbed 20¢ to an average of $4.13/mile.
WHAT'S NOT – Florida. Most rates out of Florida were down last week. Lakeland to Atlanta dropped 56¢ to $1.91/mile.
SURPRISES – One big surprise lane last week went against the trend: Miami to Baltimore jumped up 35¢ to $2.72.The biggest decline for a single reefer lane was from Dallas to Denver, which lost a whopping 70¢ but still averaged $2.94/mile.
Find loads, trucks and lane-by-lane rate information in DAT load boards, including rates from DAT RateView.