Load availability has been increasing steadily on the spot market, driving the average load-to-truck ratio over 7-to-1. Flatbed freight surged for the first four months of the year, increasing by more than 1,000 percent compared to 2009, before declining by 15% in May compared to April. The ratio for flatbeds stayed above 32 loads per available truck, however, so capacity is still constrained, and both reefers and vans are heating up in June.
Flatbed rates are still high, and some flatbed carriers report that they can "name any price" to haul freight. The broker rates on the spot market now exceed contract rates for flatbeds in some markets. This is a more common experience for reefer fleets in summer, and broker rates on the spot market are, in fact, on track to exceed contract rates by 10% for reefers in June. By comparison, spot market rates for reefers were 1% higher than contract rates in June 2009.
Your experience may vary, depending on the markets you serve. Each lane and equipment type has its own characteristics. How does freight availability look to you? What are your predictions for the second half of this year?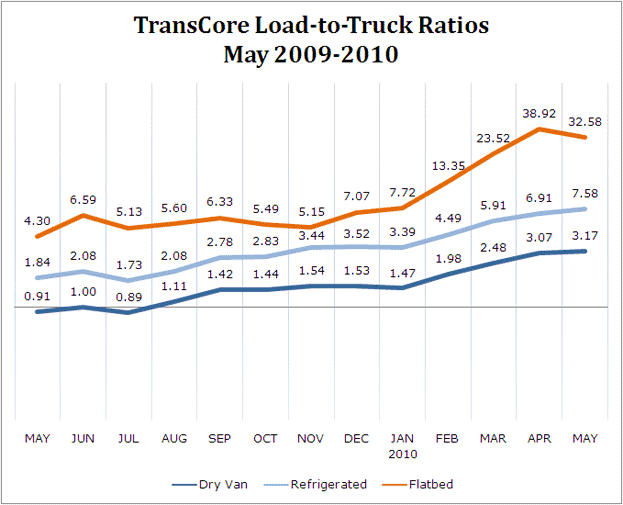 TransCore's spot market load-to-truck ratio for May exceeded 7 loads per truck, even though load postings declined by 3% compared to April. The decline was primarily due to a 15% slowdown in flatbed load postings, compared to the record highs of April. Loads increased in May for vans and reefers, in advance of the peak summer season.