Brokers and shippers have had an easier time finding trucks in recent weeks, at least when compared to the first half of the year. That's taken some of the pressure off of pricing, but rates are still high.
Spot market volume is also now on par with 2017, with load-to-truck ratios for each trailer type finally coming back to earth. Dry van ratios are still well above where they were a year ago, but for the flatbed and reefer segments – both of which spent the first half of the year setting records – the ratios are actually lower than they were at this time last year.
Prices are still well above last year's pace, though, and that still suggests that the fall shipping season will be a busy one.
DAT load boards provide the largest and most trusted digital freight marketplace in the trucking industry, with more than 270 million loads and trucks posted annually, plus insights into current spot market and contract rates based on $57 billion in real transactions.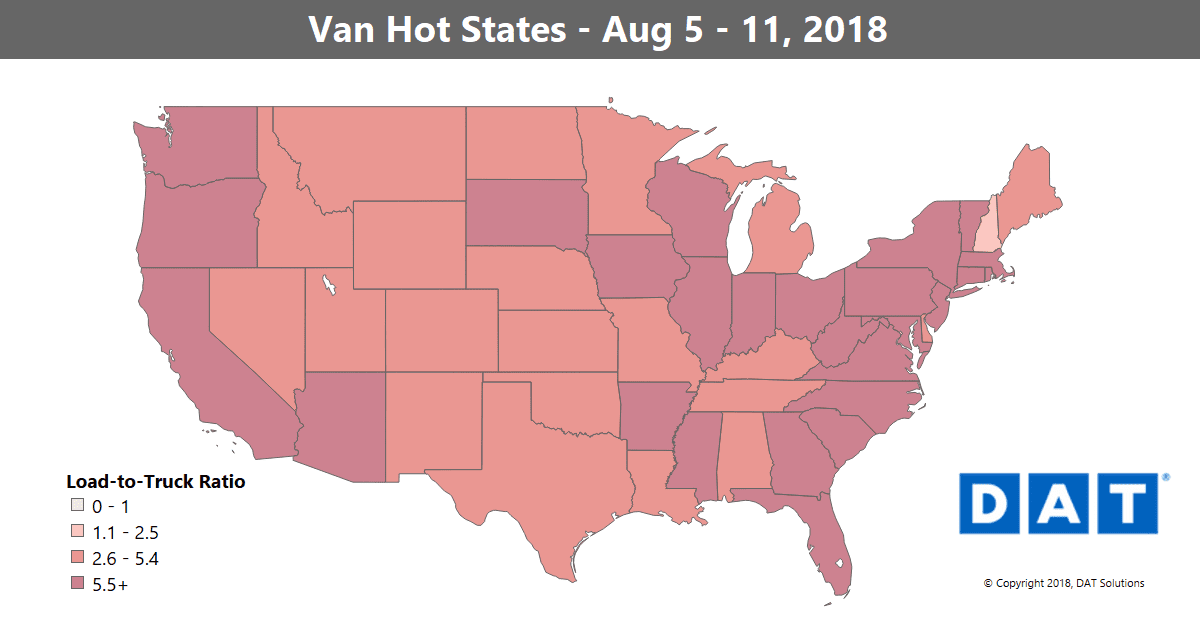 All rates below include fuel surcharges and are based on real transactions between brokers and carriers.
Demand for trucks rose in Los Angeles and Atlanta, but that was offset by declines in Texas (more on that below). Rates held up the best out of the Midwest.
There isn't much urgency for long-haul freight at this time of year, so a lot of shipping has moved over to rail. Rates did rise on a handful of regional lanes:
Columbus, OH, to Buffalo, NY, climbed 23¢ to an average of $3.77/mile
Buffalo to Allentown, PA also added 11¢ at $3.46/mile
Out West, Seattle to Eugene, OR, jumped up 12¢ to $2.97/mile
Falling rates
The spot market cooled in Texas, and outbound rates in Dallas and Houston have fallen more than 10% in the past month. Pipelines are filled to capacity the West Texas oilfields, leading to a slowdown in drilling. Steel tariffs have also made new projects more expensive, since it's not easy to source domestically.
Dallas to Denver lost 25¢ at $2.59/mile
Memphis rates also fell sharply, with the lane to Indianapolis down 21¢ to $2.59/mile
Atlanta to Philadelphia dropped 24¢ at $2.64/mile
Los Angeles to Denver also lost 20¢ at $3.15/mile
Find loads, trucks and lane-by-lane rate information in DAT load boards, including rates from DAT RateView.