Van rates have been stable as a national average, but they could be trending up very soon. In ten days
At $2.14/mile, the national average spot van rate was unchanged for the fourth week in a row. The number of van load posts increased 3.1% while truck posts rose 2.2%, a promising sign that volume is building. Overall, rates were up on 54 of the Top 100 lanes last week, while 41 lanes had declining rates, and five were unchanged.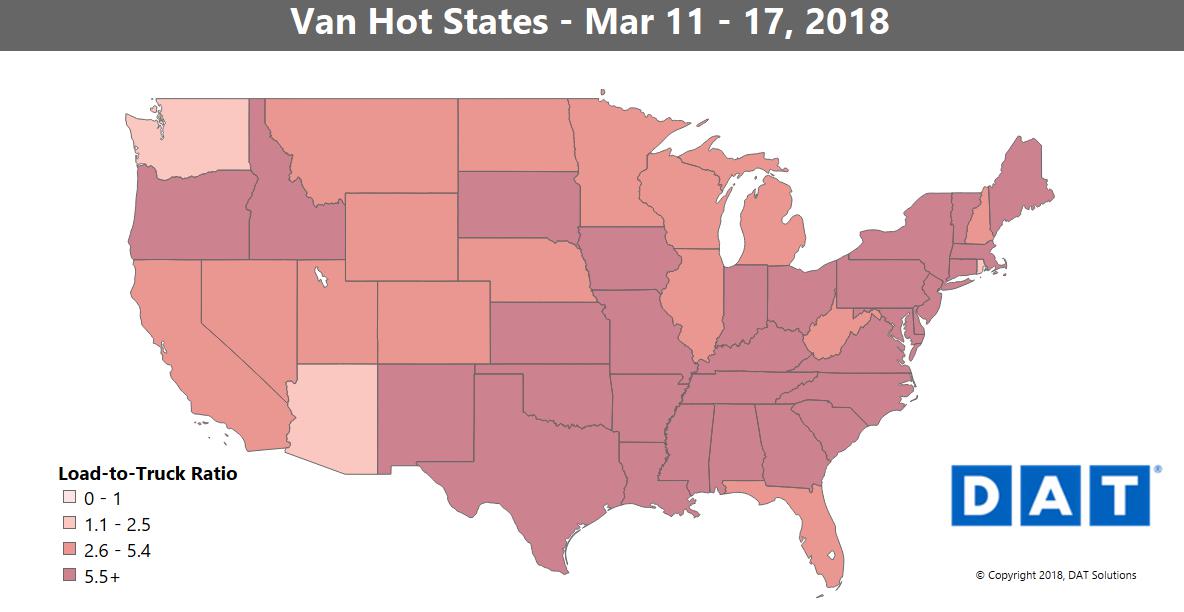 HOT MARKETS: Houston is the leading van market in terms of spot-volume growth in 2018. Volume jumped 4.6% last week and Houston to Oklahoma City — a key lane for energy-related freight —gained 22¢ to an average of $2.35/mile. Allentown, PA, volume increased 2.6% as final-mile retail freight activity picked up ahead of Easter. Rates spiked on Allentown lanes into Northeastern markets: Allentown to Boston was up 28¢ to $4.01/mile.
NOT SO HOT: Both Buffalo and Seattle had strong outbound volumes last week, but outbound rates dropped 2%. Their slide may be a case of inbound traffic being even stronger, bringing capacity into the market.
TRIHAUL – Allentown – Boston – Hartford – Allentown

These days, it's not to hard to find a good-paying load in Allentown, PA., which is a distribution hub for last-mile hauls to major cities in the Northeast. Over-the-road rates from Allentown to Boston are in the $4.00-per-mile range now, to cover the tolls and time spent sitting in traffic.
It can be hard to find a load out of Boston, on the other hand. If you get one, they were paying $2.30/mile last week, for a roundtrip average of $3.11/mile. That's pretty sweet, but the roundtrip is 600-plus miles, and you probably can't make it in a single day. Plus, if you can't find a load all the way back from Boston to Allentown, you could find yourself with a long deadhead.
Instead, look for a shorter haul from Boston to Springfield, MA, or Boston to Hartford, CT, to reposition your truck, and then find a second load to take you home. The route that takes you through Hartford is not technically a TriHaul – you hardly even have to take a detour on the way home. The stopover will boost your rate per mile by another 14¢ to $3.25, so you end up with $2,300 instead of $1,900 for a two-day trip. If it works with your schedule and Hours of Service, it's a good alternative to the straight roundtrip or a deadhead out of Boston.