Van rates hit $2.32 per mile at the end of June, a new record, only to skyrocket to the stratosphere during the 4th of July holiday week. The new peak is $2.45 per mile, although the national average is already down a couple of cents today, to $2.43. That's a rolling monthly average, updated daily, so the 2¢ drop is a result of adding Monday's rates into the mix. It's a signal that rates could continue to drift down over the course of this week.
DAT load boards provide the largest and most trusted digital freight marketplace in the trucking industry, with more than 270 million loads and trucks posted annually, plus insights into current spot market and contract rates based on $57 billion in real transactions.
We were ready to predict a downward trend when we looked at last week's national average load-to-truck ratio. The ratio dropped 16%, to 7.7 loads per truck, which is still very high for vans. Rates usually follow load-to-truck ratios, so you'd expect a dip in pricing. Instead, we got that bump in rates, which could be partly due to overflow from the previous week.
On the other hand, ratios remain elevated, and the holiday is over. If rates move down slowly, they could stay above $2.30 or even $2.35 for a few more weeks. Also, some big e-commerce promotions are scheduled for mid-July, which helped to boost volumes and rates last year at this time. We'll know more in a few days.
What's an "average" lane?
To get a little more perspective, today's $2.43 national rate is based entirely on lanes with lengths of haul above 250 miles. The average length of haul for the DAT RateView database was 601 miles for the first part of 2018.
Based on those criteria, an "average" lane for the week ending July 7 would be the roundtrip between Memphis and Houston:
Length of haul = 572 miles each way
Memphis to Houston rate = $3.00 per mile
Houston to Memphis rate = $1.95 per mile
Average roundtrip rate = $2.47 per loaded mile
Roundtrip rate increase, compared to June = 11¢ (4.7%)
That was last week's story, but when you add Monday's rates into the mix, the Memphis-Houston-Memphis roundtrip rate dropped to $2.32 per loaded mile, due to a decline on the eastbound lane.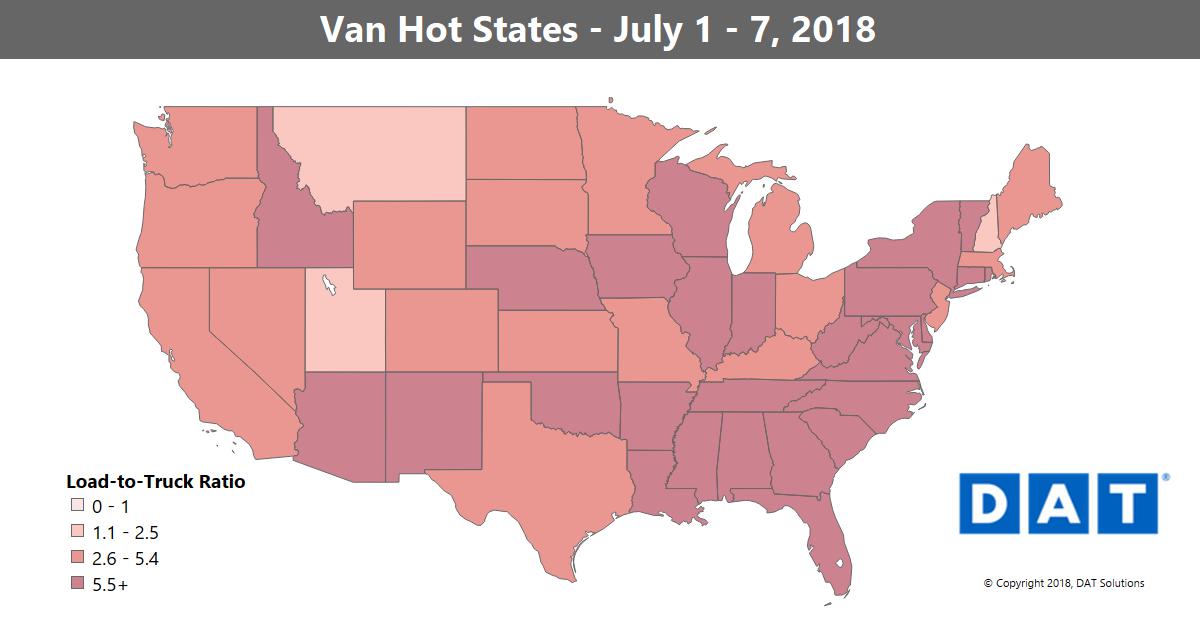 DAT Hot States Map depicts tight capacity in the Midwest, and along the Gulf and East Coasts. Darker regions have higher load-to-truck ratios, meaning that there were more outbound loads posted for each truck posted on DAT load boards in that state. Trends in the load-to-truck ratio typically signal an impending change in rates.
Find loads, trucks and lane-by-lane rate information in DAT load boards, including rates from DAT RateView.