As we begin the second quarter of the year, I've noticed that freight volumes have picked up in the van and flatbed segments, but the reefer segment continues to be a drag on the overall freight picture. Flooding and severe weather have pushed the typical spring upturn further into the future.
There are a number of exceptions. If you look at DAT's Hot Market Map and zoom down to the 3-digit ZIP code level, you'll see a number of hot spots for reefers throughout the country. Here are five of them.
Hot Market Maps are a powerful supply/demand tool available in the DAT Power load board and DAT RateView. Learn more.
1. Kingsville, TX – While nearby McAllen, TX in the Rio Grande Valley is much more well-known, Kingsville (ZIP 783xx) popped up with a load-truck ratio of 16.0 vs. McAllen's ratio of 6.2. You won't get the variety of crops, as Kingsville is best known for cotton and sorghum, but you might get a better rate.
2. Tuscaloosa, AL – Apparently this area (ZIP 354xx) should be known for more than just Alabama football. Several crops harvest in the spring, including asparagus, broccoli, cabbage, greens, and strawberries. Last week the load-to-truck ratio was 162.7 and on the last business day of the quarter numbers were 755 loads posted and no trucks posted!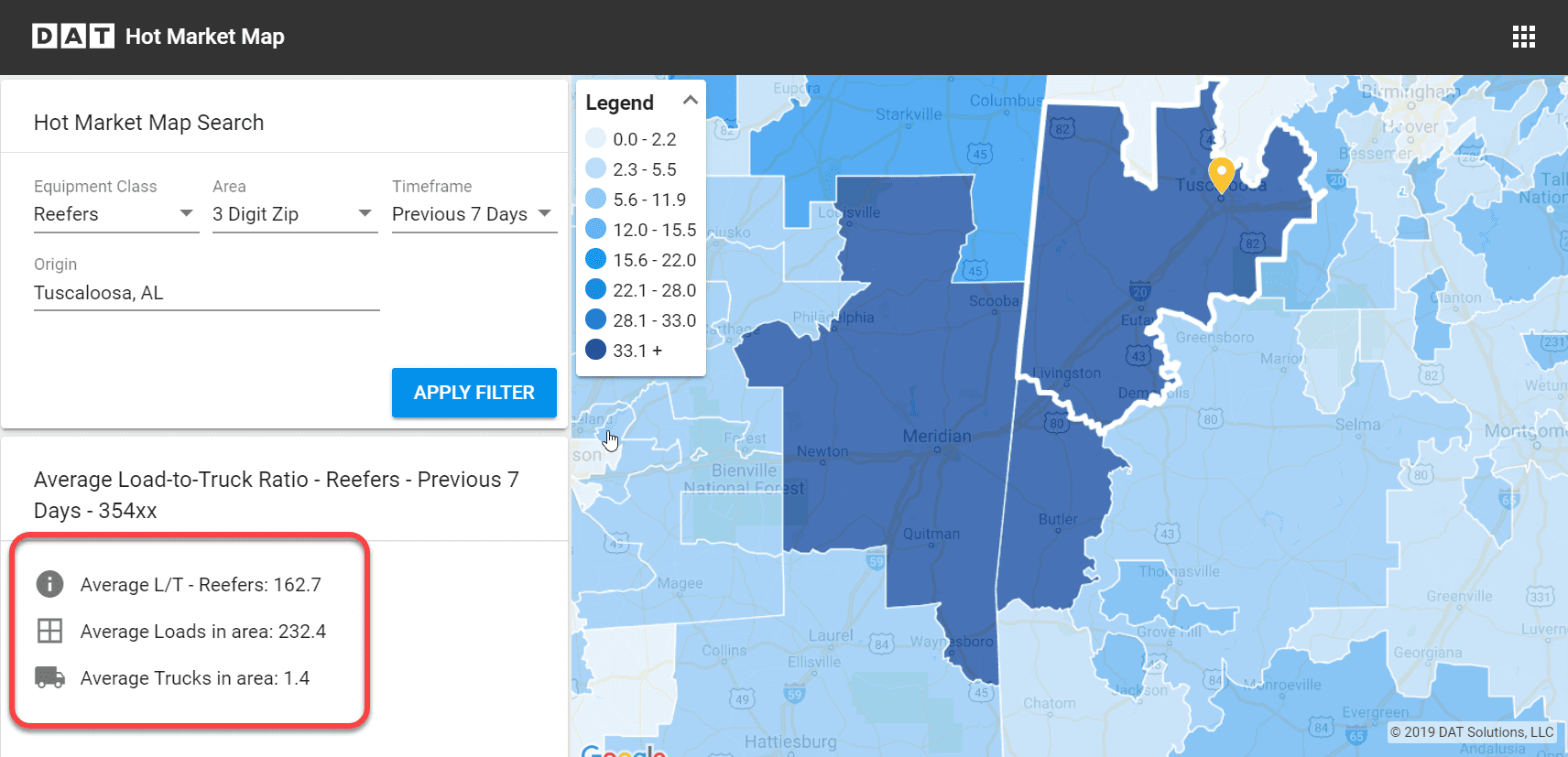 3. Pasadena, TX – This urban area (ZIP 775xx) may seem unlikely as a hot spot, but access to the port may be a consideration. Also, Pasadena has a long tradition of growing strawberries. In fact, Clara Barton, founder of the American Red Cross, brought strawberry production to Pasadena early in the last century. Friday showed 407 reefer posts and just 4 truck posts for a load-to-truck ratio exceeding 100. For the week, zip code 775 achieved an ratio of 31.9.
And then there is Florida. While we expect much of the state to participate in increased produce levels, here are a couple early leaders:
4. Melbourne, FL – This area (ZIP 329xx) achieved a load-to-truck of 52 on Friday, the result of just 52 loads posted versus one truck posted. For the week, the ratio was just 2.2, but Friday's surge may have been overlooked by many who were looking more towards Miami or Lakeland for freight. Off the beaten path often provides better rates.
5. Immokalee, FL – Immokalee, Florida (ZIP 341xx) doesn't fly under the radar with experienced produce haulers. Still, it provided a nice bump on Tuesday with 163 loads posted against just 5 trucks. For the week, Immokalee achieved a 16.0 ratio, so things may be trending up here first.
The ability to view 3-digit ZIP code data depends on your subscription level in DAT Power or DAT RateView. To learn how you can get supply/demand data and rates for areas as narrow as 3-digit ZIP code, contact your DAT account rep or send us an email.