The first truck show of the season is the Mid-America Trucking Show (MATS), and as usual, truckers can look forward to experiencing all four seasons in one week as we transition from Winter to Spring. It won't be surprising for truckers to be prepping their show trucks at this week in the rain, snow, sleet and hopefully sunshine. 
MATS offers three days full of exhibits, education, entertainment and networking – all at the largest annual trucking event in the world. In honor of MATS founder Paul K. Young, who founded the event in 1972, the PKY Truck Beauty Championship is held in conjunction with MATS. This elite competition hosts some of the best custom show trucks in North America, complete with a light show, awards ceremony, close-of-show parade and several exclusive competitor events. 
DAT went behind the scenes to look at what it takes to show a truck at MATS.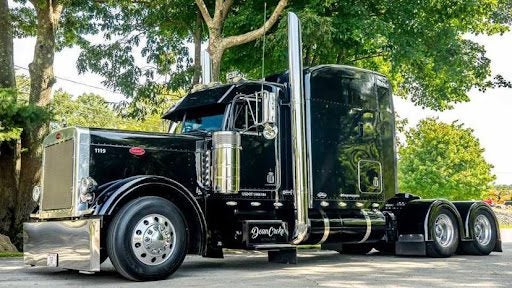 Do judges really wear white gloves during judging?
In addition to one million square feet of exhibition space, over 1,000 exhibitors, more than 72,000 attendees, including 18,000 owner-operators, there will be a few hundred glistening big rigs lined up outside the main pavilion. Some will be pure show trucks that no longer haul freight, but others will be working show trucks also vying for the top award.
Judging categories range from "Limited Mileage Class" to "Working Dump-Straight 
Truck" to "Working Interior Cab Only." Still, regardless of the category, every entrant will have already spent thousands of dollars and many weeks getting their big rig ready. The truck operator who has a non-working show truck will have their truck in the shop weeks in advance, getting all the winter grime removed, but it's a very different event for the working show truck.
After a winter of hauling freight and a buildup of salt and grime, truckers face an enormous task in getting their big rigs in show condition. Most trucks will go into the shop at least a week in advance and spend on average four days at the very minimum getting buffed, polished and waxed. Because it will almost certainly rain on the way to the event, drivers will have to do it all over again before judging starts on Thursday, March 24 at 9 am. Luckily the "Prep Lot," a dedicated staging area outside the main pavilion that includes a truck wash, opens on Sunday, March 20, giving contestants three to four days to prepare. 
Unlike most truck shows, MATS is a judged event, and it won't be uncommon to see drivers under their trucks in the Prep Lot cleaning the underside of chassis rails or even jacking up each wheel so they can dig rocks out of tire treads with a screwdriver. And yes, judges have been known to wear white gloves to ensure every spec of dust has been removed.
Rookie mistakes – yes, even professional drivers make them.
DAT Freight & Analytics spoke to Mike Gaffin, or The Boston Trucker as he's known to his 26,000 YouTube and 65,000 Instagram followers, about what it takes to work 60 hours each week and still keep a working truck in showroom condition. 
"I keep my W900 Kenworth spotless and wash it every day because it's my livelihood, plus I take pride in what I do and spend 3-4 hours cleaning it weekly," according to Mike, a 33-year trucking veteran. "I have a reputation for having a clean truck and can't be caught riding dirty." 
Mike was a first-time attendee at MATS a few years ago with a 379 Peterbilt and had some advice for those new to MATS. 
"The hardest part is getting the frame and the fifth wheel clean," he explained. "Everything else is easy, and at my first show, I rolled in with a greasy fifth wheel and dirty frame and lost judging points immediately."
Rags down…the big moment arrives.
Once judging begins, competitors will hear "rags down" over the public address system, which means drivers can't touch their trucks after they've been parked in the designated area aligned with the judging category each truck has been entered. The PKY Truck Beauty Championship is located in the J Lot, directly behind the West Wing and Pavilion, where you'll be able to meet with drivers as they wait for judges to interview them and inspect their trucks.  
The stakes are high, as are the bragging rights.
Once all custom trucks have been judged, it's time to celebrate these works of art and crown the winners. All attendees will be invited to the Awards Ceremony, where the winners of each class will be announced, along with Best of Show, People's Choice and other awards. 
For some, it's recognition of all the hard work and dedication to the profession, it's just for fun and bragging rights, but for others, it's a way to use awards and their prize-winning show truck for marketing their product and services. Either way, the stakes are high.